Artistic Tile Brings Style to Your Spaces
Explore exquisite lines available exclusively at Bella Pietra Design.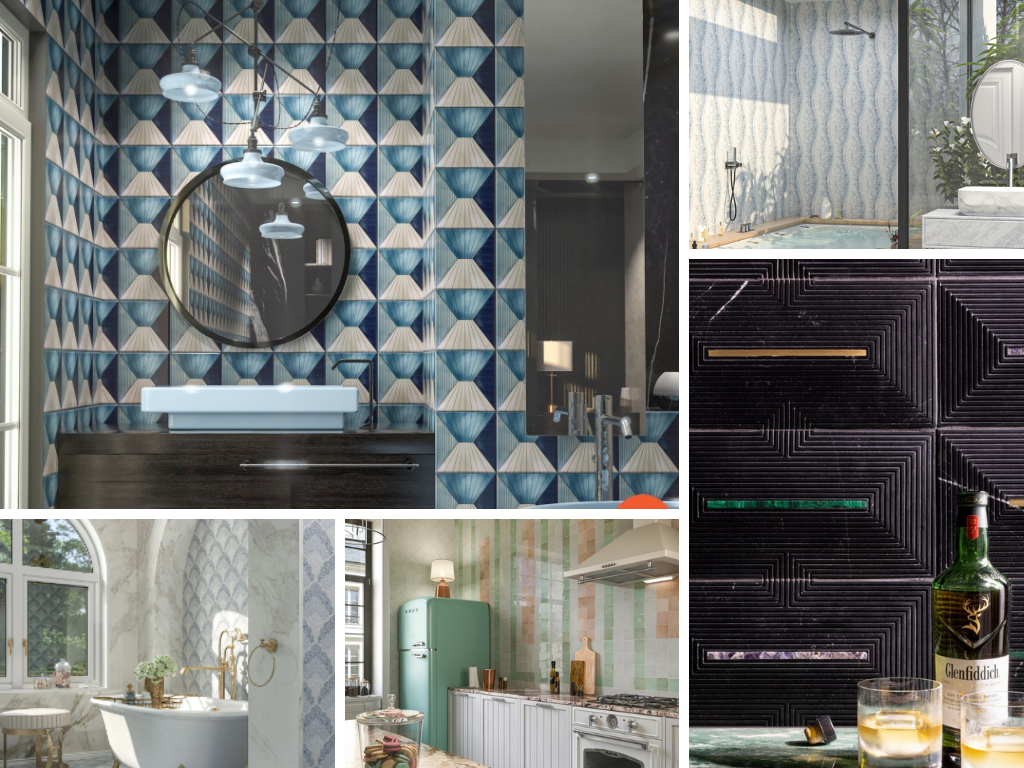 Artistic Tile shines in the world of stonework for its intricate and innovative products. Fresh prints, inspiring takes on tile application, and sustainable production make Artistic Tile a leading brand among homeowners and designers.
Bella Pietra Design in Honolulu is the exclusive carrier of Aristic Tile in Hawaii. "A really fun thing about working with Artistic Tile is they send up new product samples every month," notes Jensen, "which means for you as the customer, you are likely to get to experience beautiful new tile every time you come to Bella Pietra."
She adds that "their tile is what will really make your project stand out from other houses around you. The nice thing with all of these new tiles we are showing is that it doesn't take a lot to really make a huge impact. Just one accent wall or powder room with any of these tiles is sure to have your guests talking." Jensen shares her top picks from Artistic Tile's latest lines.
Adena: Stylish wall and flooring tile
A micro-mosaic tile style, the Adena line reimagines decorative fabric by designer Lori Weitzner. Adena is available in three colorways, with cream and gray shown here. "It is made of micro marble pieces that are tumbled and then individually laid by tile artisans," explains Jensen. "This is a great wall tile and could also be used for flooring as well."
Calypso: Modern mosaic tile
The Calypso line evokes the look and feel of effervescent bubbles in a glass. Jensen describes it as a flat "waterjet mosaic," that can create a three-dimensional look with the right application. "This tile can also be used for both walls and floors, including even shower floors," says Jensen.
Zellige: Fun artsy tile
Moroccan artisans craft the Zellige line by hand with techniques that have been passed down for generations. It comes in a range of colors that includes classic white to vibrant reds, yellows and greens. "This is the perfect tile for wall applications such as a backsplash," explains Jensen. "It can be used on floors, but only for residential light traffic — so something like a powder room floor could be a good application."
A Mano: Elegant and whimsical tile
This line represents a modern take on the Maiolica porcelain arts that have been prized by collectors since the Italian Renaissance. A Mano ceramic tiles are hand-drawn and hand-painted. There are three colorways available — blue, green and neutral — in either the Triangolo or Pyramide patterns. "This can be used on both wall applications and medium residential flooring applications," says Jensen. "I think this is a really fun and bold tile that would be perfect for a powder room, bathroom or rec room, but really it could be used anywhere you want to add a splash of fun."
Empire: Art deco tile
This field tile comes in three different stone colors. It is a dimensional and ridged tile that pays homage to the art deco spaces of New York. "The bars that you see inlaid into the stone can be selected separately in glass and also metal options," explains Jensen. "You can combine them as you see in the install picture or you can do all one consistent bar throughout your installation. The bars do come separately, but if you ask for it, Artistic Tile will install them into the tile for you prior to shipping. Because it is three-dimensional, this tile is for wall applications only. It's a perfect accent wall, backsplash or fireplace tile."
To explore more Artistic Tile options, contact Bella Pietra Design at (808) 587-7779 or visit bellapietradesign.com.