Bathroom Remodeling 101
What you need to know about redoing your bath.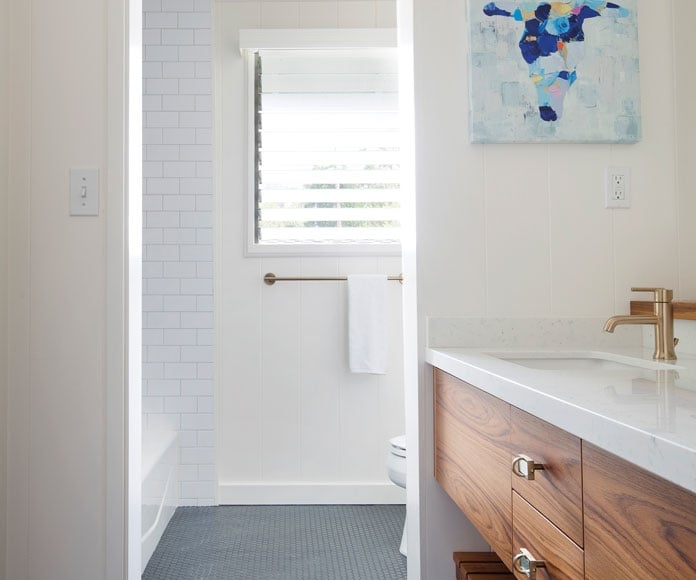 HOW MUCH?
"Anywhere from $10,000 for a bathroom to $20,000 for a master bath," says Nick Tang of Koolau Builders. "A lot of it really depends if you will be moving fixtures and if the existing plumbing lines are still good or if they need to be replaced."
WHAT'S MOST IMPORTANT?
Layout for a bathroom is critical. "That is always the starting point for our design approach," Tang says. "With a comfortable layout, the form of the space can follow easily. This may sometimes mean moving fixture locations or even extending bathroom space into adjacent areas."
WHICH ONE FEATURE SHOULD EVERY BATHROOM REMODEL INCLUDE?
"Mixed textures, which can be done with tile, countertops, wood accents, glass and mirrors," Tang says. "Whether it's a traditional or contemporary bath, the layering of textures gives the space depth and interest. For example, in a bathroom, tile is unavoidable. We focus on mixing textures and using color to create energy in a space. Color and light are also considered as these two elements can often be overlooked when finishing spaces."
WHY CAN'T I DO IT MYSELF?
"When remodeling a bathroom or kitchen, there are often required plumbing and electrical components that a plumber or electrician must perform by law," says Tang, who estimates that 60 to 70 percent of his projects include a bathroom remodel. "In addition, in such a small space — where so much money is being invested — every square inch matters. An experienced contractor can help you make the most of it."
WHAT'S THE BIGGEST MISTAKE PEOPLE MAKE WHEN REMODELING A BATHROOM?
Bathroom design and remodeling is fun and can be a space that you can be very creative in. If you don't have the time, energy or experience to create that space on your own, you must consult a designer to help with the process. Designers have the experience, market knowledge and network to help be sure you have explored all your options. Also, be sure to partner that designer with a good contractor who understands the ins and outs of bath and home remodeling.