Boy Scouts Work Together to Improve the Community
The 50th State's Boy Scouts are fixing facilities for communities across the Islands.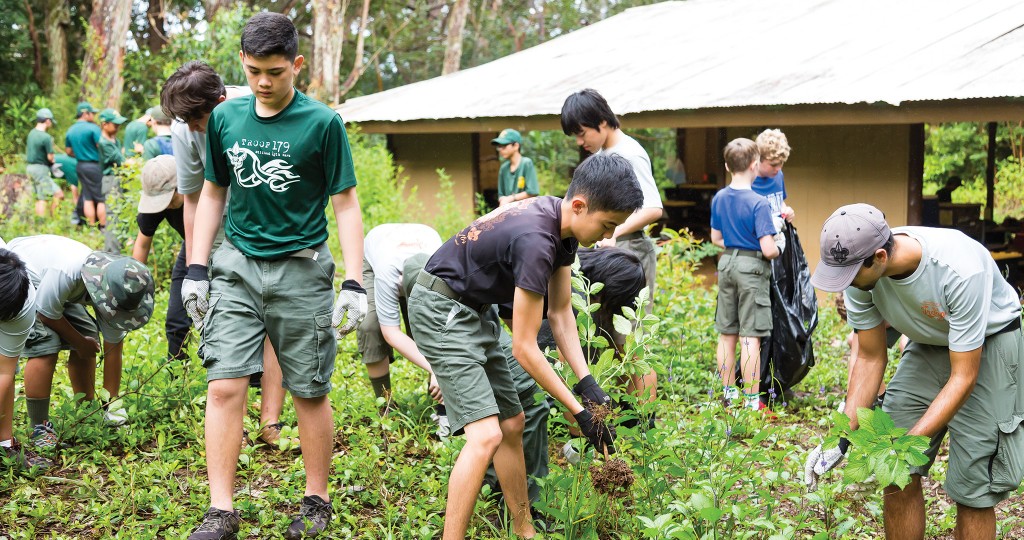 Boy scouts learn many skills as part of their program. As members of the Aloha Council Boy Scouts of America, they participate in myriad activities that help them build character, develop personal fitness and become responsible citizens — including repairing and restoring facilities across the Islands to benefit communities throughout
the state.
The Aloha Council — which serves Hawaii, American Samoa, Guam and the Northern Mariana Islands — is recognized by many as the premier youth leadership organization in Hawaii and the Pacific. Its members are guided by the Boy Scouts of America Oath and Law, and the council also incorporates traditional Hawaiian values of kuleana (responsibility), kokua (teamwork) and malama ka aina (respect for the land), with aloha.
"We are in the middle of a campaign to update and improve all of our camp facilities," says Ellise Fujii, director of development and marketing for the Aloha Council. This includes six sites on four islands: Camp Pupukea on Oahu, Camp Maluhia on Maui, Camp Alan Faye on Kauai and Camp Honokaia on Hawaii Island — as well as two other leased facilities on Oahu and Hawaii Island.
Fujii says that these locations serve thousands of Scouts and their ohana, but most haven't been renovated since the '60s or '70s. As many safety standards have evolved over the last few decades, the Scouts' first step was to ensure everything met EPA regulations. "We want to be in compliance with the law," Fujii says. This helps not just the Scouts, but the communities they serve, too; many of the facility spaces, in addition to being used for camping and other outdoor activities, can also be rented by the public. "We're aiming to make our facilities a more attractive place for the community."
Labor for the $8 million campaign has been provided by licensed contractors, and the Scouts themselves will be able to help during later stages. Experienced professionals and Scouting volunteers have also generously donated their time and expertise to the project. Fujii says that construction will be complete in two to three years — which means the Aloha Council will continue to need extra hands on the project for quite a while. Volunteer support is always welcome and interested parties should visit scoutinghawaii.org for more information.