Building Kahauiki Village
The community that made it happen.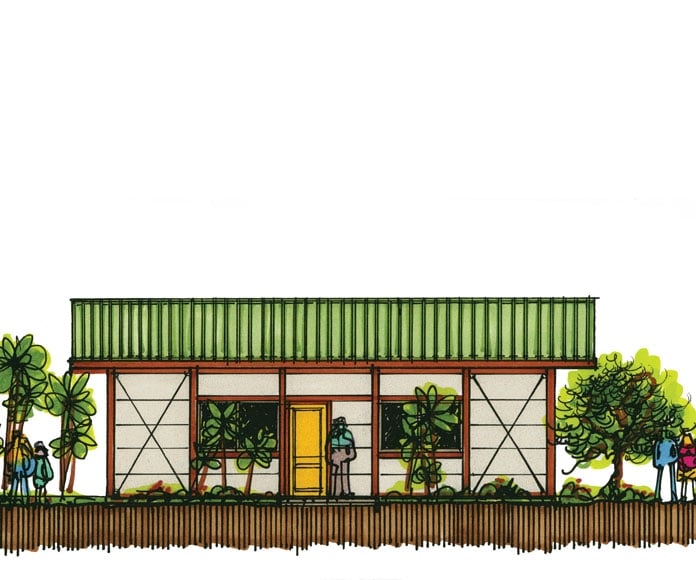 It takes a village to raise a child. But, in this case, it took a consortium of volunteers to build Kahauiki Village and provide families with hope and opportunity for the future, says Dexter Kubota of Bowers + Kubota Consulting. More than 75 local businesses, individuals and organizations have contributed to Kahauiki Village.
"Usually as a developer, you're struggling to get everything you need and it just takes awhile," says Mel Kaneshige, Kahauiki Village project developer. "Here, everyone is lining up. Everyone wants to help because it's such a great cause. Who can be against trying to help people get out of homelessness?"
In the first phase of the project, which is nearing completion, homes are being built for 30 families. When Kahauiki Village is complete, it will house 54 percent of the families that are currently living in transitional housing.
"That's what motivates us," Kaneshige says.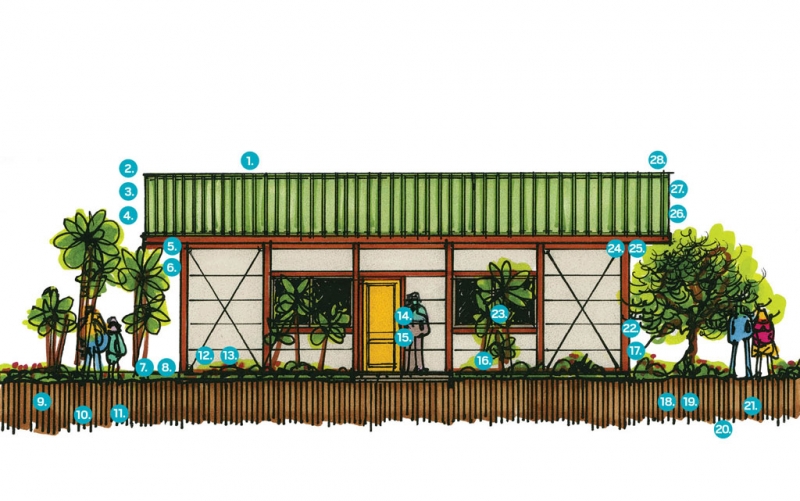 Kahauiki Village
1. Hawaii Carpenters Union: Early labor support, 2. Coastal Construction: Framing, drywall, finishing, 3. Apex Truss: Wood trusses, 4. Honsador Lumber: Lumber, 5. Painters Warehouse: Paint, 6. Painting and Decorating Contractors Association: Painting labor, 7. RMY Construction, U.S. Pacific Fleet, Hawaii Army National Guard: Labor for concrete foundation, 8. HC&D and Island Ready-Mix Concrete Inc.: Concrete, 9. PhotonWorks and InSynergy Engineering: Power, 10. Spectrum: Cable/Internet, 11. Pacific Pipe Co.: Irrigation pipe, 12. James Hardie Building Products: Siding and trim, 13. Rinell Wood Systems, Inc.: Framing hardware, 14. JBL Hawaii, Ltd.: Locksets, 15. Pacific Source: Doors and windows, 16. Volunteers from aio, Rotary Club of Honolulu, Rotary Hawaii District 5000, Hawaii Business 20 For the Next 20: Help to construct and paint the modular homes, 17. Cemco Steel: Interior metal framing, 18. Commercial Plumbing: Gas service connection and plumbing, 19. Hawaii Gas: Gas service material and equipment, 20. Koga Engineering and RMY Construction: Sewer and water, 21. RMY Construction: Site work, 22. J. Kadowaki Inc.: IHS Mangement Office Improvements, 23. Tint Factory: Window tinting, 24. GW Killebrew Co.: Insulation and drywall, 25. HD Supply White Cap: Fastners, 26. Roofline Supply and HPM Building Supply: Felt, 27. HPM Building Supply: Roof, 28. ALCAL: Roofing contractor.
---
"If everybody focuses as a team, this is what happens: you have something that can be done relatively quickly and quite successfully."
—
Dexter Kubota, Bowers + Kubota Consulting
---
Making a House a Home
The residences are designed to have all of the essentials for families to make a house a home. It was important to project organizers that each home be a private space for the family to retreat. Each family's unit will have its own kitchen and bathroom, as well as one or two bedrooms.
"By having a safe and comfortable place to sleep, a quiet place to study, along with facilities and a village to support each other, we're hoping it's a step toward a better future," says Ken Sakurai of Coastal Construction.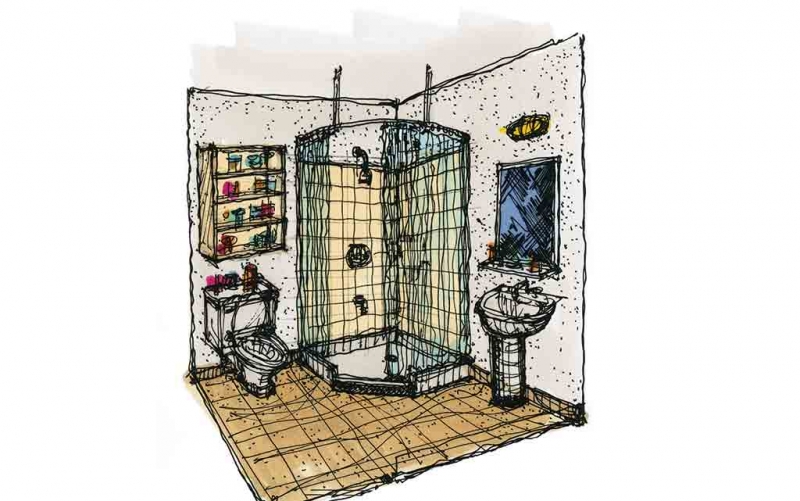 ---
"It's about the kids. They're so resilient. They're sitting on the side of the road and they're smiling, but how much better off could they be for their future having a running toilet, shower and kitchen sink?"
—
Tim Yee, Ferguson Enterprises
---
Comforts of Home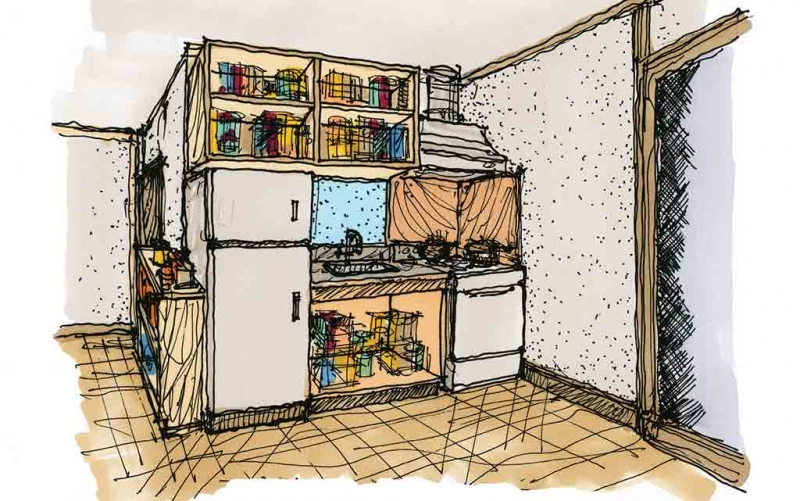 Not a workday goes by that Tim Yee, area manager of Ferguson Enterprises, doesn't see homelessness.
Ferguson Bath, Kitchen & Lighting Gallery is on Kokea Street in Kalihi, just across the street from the Kapalama Canal. He sees the homeless children who live alongside the canal with their families, walking to school in the morning and playing along the edges of the canal in the afternoon.
When the opportunity came up for Ferguson Enterprises to donate the toilets, sinks, faucets, shower bases and valves for the homes in Kahauiki Village, Yee didn't hesitate.
"It's about the kids," he says. "They're so resilient. They're sitting on the side of the road and they're smiling, but how much better off could they be for their future having a running toilet, a running shower and a running kitchen sink?"
Commercial Plumbing provided all of the plumbing installation and gas piping for the domestic water. About 40 of the company's employees volunteered their time on a Saturday to install piping.
"I think the employees will be proud that they were able to contribute," says Randy Hiraki of Commercial Plumbing. He notes that all kinds of businesses have been generous in donating time, money and materials to the project. "This is very unique and something that can only happen in Hawaii. I really feel the people of Hawaii should be proud of this accomplishment."
Craig Washofsky of Servco Home & Appliance Distribution was also eager to help with donations to Kahauiki Village.
"If you have the opportunity to help those who are less fortunate you should take advantage of the opportunity," Washofsky says. "I'm a father of two and I know how challenging it is to raise babies into adults. Imagine doing that living out of a car, or under the viaduct, or on the beach. That's on my mind."
Servco Home & Appliance Distribution is donating all kitchen appliances for the village: a 10-cubic-foot Haier refrigerator/freezer and 20-inch four-burner Hotpoint gas range with oven and Broan hood for each home.
Washofsky, along with many others involved in the project, hope Kahauiki Village will be a model that is replicated.
"We have to do it again, and we've got to do it on each of the islands. It's a model that can be replicated," Washofsky says. "From Servco's standpoint, we're thrilled to be able to be part of it."
---
Rooted in Service
By Tyler Shiroma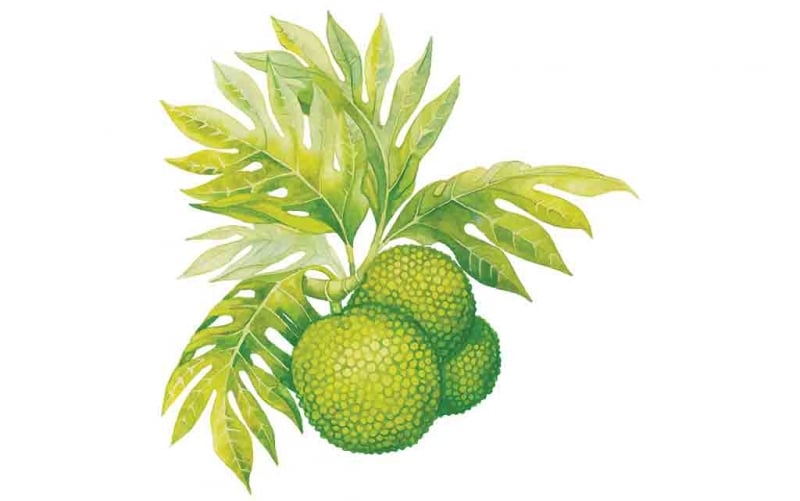 At 170 members strong, the Rotary Club of Honolulu will plant 170 trees around Kahauiki Village. "This year, Rotary clubs around the world have committed to plant a tree for each member," says Paul Saito, member of RCOH. The Rotary Club of Ala Moana will donate an additional 25 trees to the project.
Native canopy trees, palms and other small canopy trees will be planted around the village. Fruit-bearing trees such as avocado, banana, lime, longan, lychee and ulu will also be planted for residents to maintain and enjoy.