Buying a Beachfront Home in Hawaii
List Sotheby's International Realty highlights things to consider before purchasing shoreline real estate.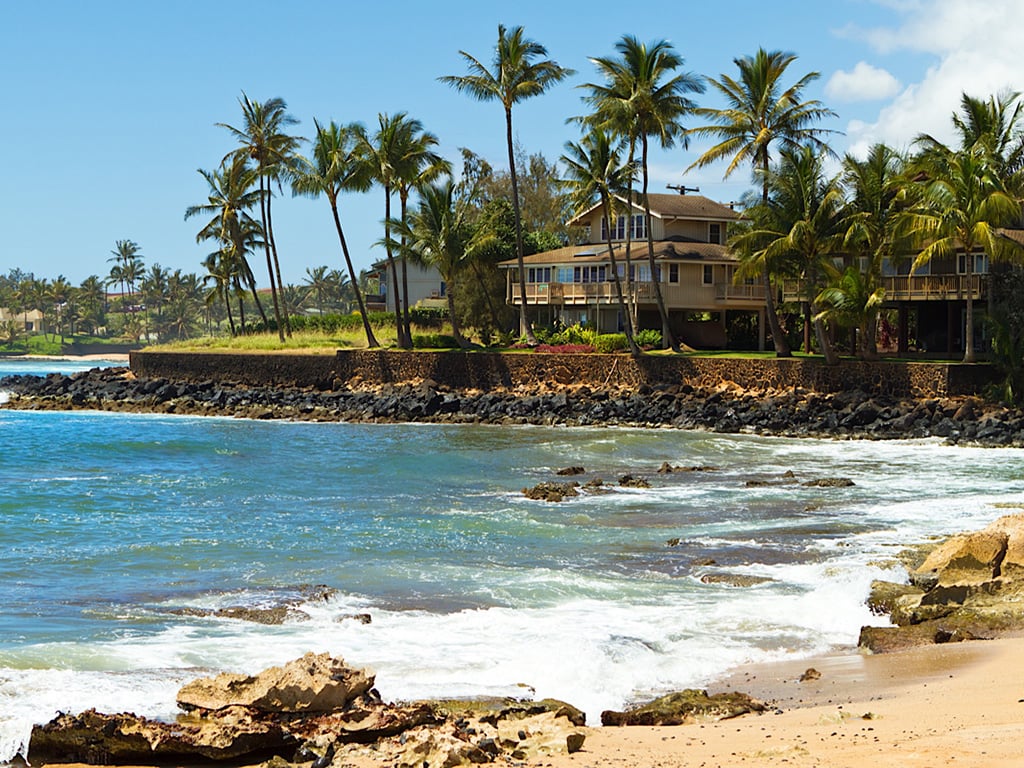 It's a beautiful dream to own a beach house in Hawaii. You can fall asleep to the sound of the ocean — and not the sounds of the ocean being played on your laptop — and wake up to views of the sea. However, buying a beachfront home is no simple task, especially here in Hawaii. Fortunately, top realty companies like List Sotheby's International Realty can help make it happen for you. But, be sure to consider these important factors before beginning your search on the market.
Your property may shrink
While oceanfront homes protected by outer reefs or those not fronting sandy shorelines may be safe from eroding coastlines, houses built directly on the beach are not. "The hot topic that's been in the news is going to be the shoreline, that's something to really strongly consider," says Jeff Hughes, a List Sotheby's International Realty agent who has sold numerous oceanfront properties to clients over the years. "There are a lot of issues right now with protecting an oceanfront property while also protecting the shoreline."
Worst-case scenarios of shoreline erosion can be seen on Oahu's North Shore, where houses and yards are quite literally falling into the ocean due to larger winter swells and waves sweeping away the very sand that many residences are built upon. So, what's the solution here? Understanding and researching which shorelines are most affected by coastal erosion is a step in the right direction. And, looking for properties that aren't necessarily on the beach, but across from it or very close by, can save you from stressing out about coastal erosion. "Our shorelines are really accessible, and there are rules and laws here that require neighborhoods and communities to have beach access paths," says Hughes. "If you're in a neighborhood closer to the ocean, a lot of people here will just ride a bike or walk. It's more realistic and cuts down on your budget."
The price of paradise
Unsurprisingly, it is very, very expensive to own a beachfront home in Hawaii. "Hawaii and Oahu, in particular, are very limited in oceanfront property," says Honolulu native and List Sotheby's International Realty agent Brandon Kim. "People need to understand that whenever they want to buy, it's going to be at a top-dollar price." So how much should you have in the bank before looking to buy? A starting budget should be at least $1 million dollars, while prices can easily reach the $30 million dollar mark — especially in areas like Kailua and the North Shore, where beachfront properties are a hot commodity.
Salt air and maintenance
Last, but definitely not least, is the salt air factor of owning a beachfront home. "Maintenance is always a consideration on the beach because salt air is so harmful to homes and appliances—it has the capability to rust stainless steel," says Hughes. "You have to be conscientious of the materials used when remodeling or building a shoreline home." Vinyl doors and windows, for example, will hold up better than aluminum, and wood that is properly painted and sealed will last far longer than unprotected materials. Electronics are also susceptible to damage from salt air, and warranties are highly recommended for any new purchases.
The finer details
There are, of course, so many great things about owning an oceanfront or beachfront property. You'll have easy access to pristine beaches in Hawaii people on the mainland can only dream about, and spend thousands of dollars to visit. (Of course, just because you own a beachfront home does not mean you own the beach — all beaches in Hawaii are open to the public, and anyone has the right to use the shoreline.) And there's nothing really more serene than looking out your window and seeing the beauty of the Pacific staring right back at you. So if you've carefully considered the points above and still want to make the move, you can always rely on the agents at List Sotheby's International Realty, like Hughes and Kim, for expert advice and great listings on beachfront homes.
Jeffrey A. Hughes, HI License RS-61227, (808) 478-2568, jeffrey.hughes@sothebysrealty.com. See his agent profile here.
Brandon E. Kim, HI License RB-18878, (808) 383-7603, brandon.kim@sothebysrealty.com. See his agent profile here.
---
For more Homebuying Hawaii insights from List Sotheby's International Realty, click here.