Changing Tides 
Barker Kapelle Construction reimagined this oceanfront condo kitchen to accent its coastal views.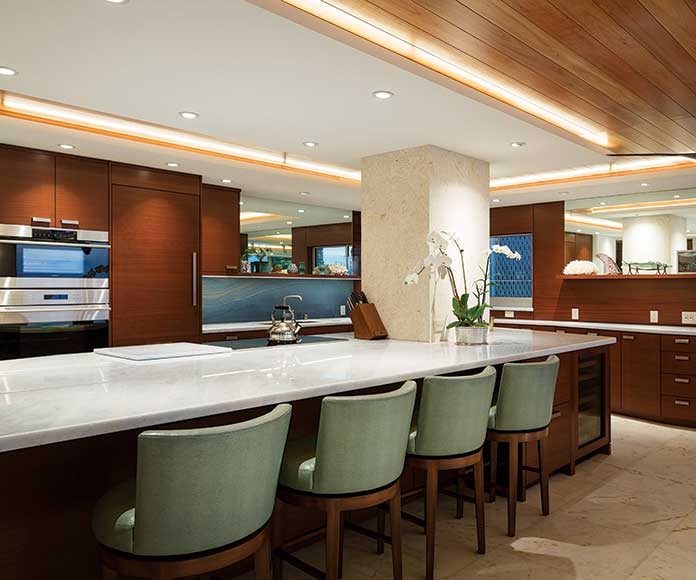 Just a few miles outside Waikiki, one Hawaii couple has managed to escape the crowds, endless traffic and general hustle and bustle, finding repose in a place they call home.
Situated along the clear blue waters of Honolulu's Gold Coast, the condo was due for a makeover that matched the spectacular natural beauty around it. With the help of Barker Kappelle Construction, the homeowners were able to reimagine their home the way they wanted it.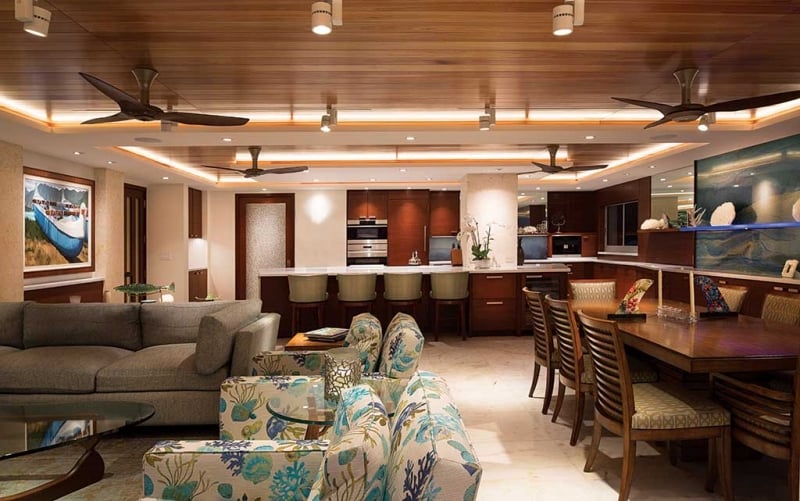 "It originally had this 1970s shag carpet and bamboo wallpaper," says Matt Rubio, project manager at Barker Kappelle Construction. Ventilation and lighting were also substandard, Rubio admits. The design and build firm collaborated with the homeowners to give the once-dated condo a complete renovation, rejuvenating it with a gorgeous modern design.
For the kitchen, the homeowners wanted an open concept design, accented with tropical motifs to truly reflect the paradise in which they live. With a design planned out and agreed upon, the team quickly went to work.
The ceiling was dropped from its original height to accommodate soffit and track lighting throughout the unit. The new ceiling sports Red Grandis Eucalyptus panels that extend from the kitchen into the bedrooms and bath. "Eucalyptus was chosen because of its natural color variations," explains Will Gilbert of Barker Kappelle Construction. "The wood covers a range of tones from light, neutral hues to dark, rich shades."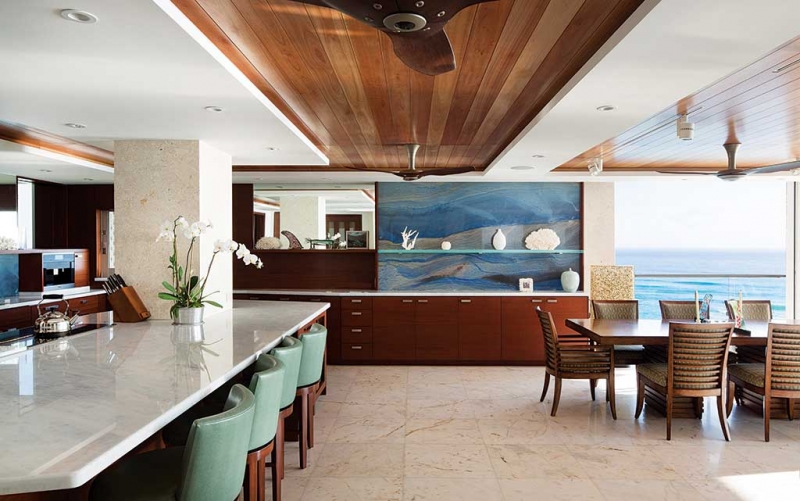 The walls are dressed in a rich brown Ribbon Sapele wood and match the rest of the cabinetry that lines the kitchen. The condo's support columns are adorned with coral, which seamlessly feeds into the white-sand Carrara marble floor. The kitchen's original island was upsized and topped with a milky white Calcite Caraibica granite and is the ideal spot for hosting meals and other events.
In keeping with the warm colors and ocean tones, the kitchen's backsplash was outfitted in a dreamy blue Calcite Azul granite. The natural, undulating pattern in the stone mimics the ebb and flow of the ocean below. Mirrors were strategically placed along the walls of the kitchen to reflect the glittering surface of the water on beautiful, sunny days.
"The homeowners simply enjoy it," Rubio says.