Chef's Delight
Childhood home redesigned to accommodate busy family.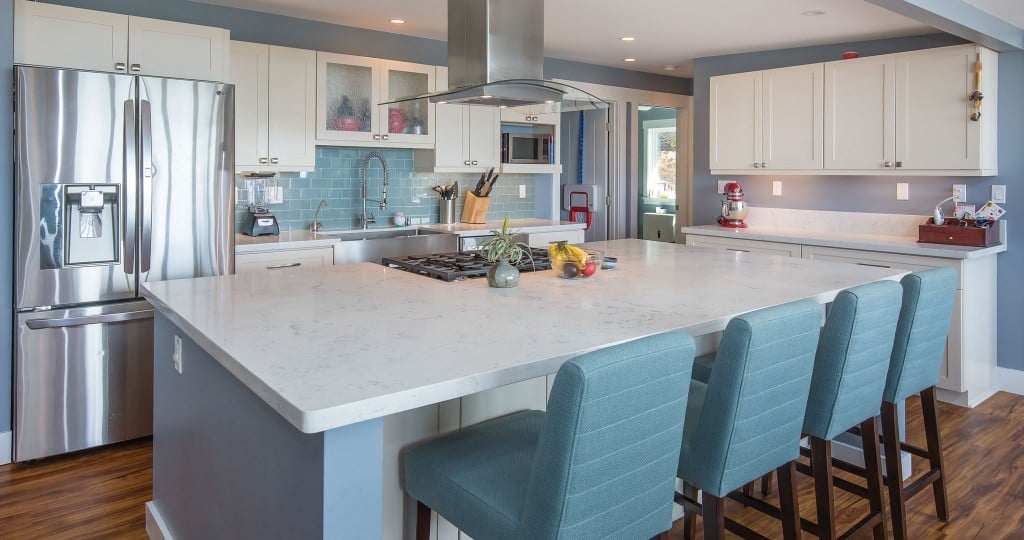 Ask Lorinda Riley about her new kitchen and she just smiles.
"I love it," says Riley, who has lived in this home since she was a child. "It's perfect for our whole family now."
In order to accommodate multiple generations — Riley's mother and her two young children — a complete remodel  of this 1951 home was necessary. "The kitchen was closed off," says Riley, who loves to cook. "It had a skylight, but that just made it hot. It wasn't very functional."
Enter architect Jeffrey Matsuki and general contractor Seth Sutherland. "We wanted to create a comfortable, open floor plan that took advantage of the views," says Matsuki.
Walls were removed from the compartmentalized home and the sunken living room was raised to create an open, single level. "This allowed the space to feel more open," says Matsuki. "The owner enjoys cooking so a large island and gas cooktop allows her to cook and interact with her guests."
The island, which is complete with a quartz countertop, acts as the hub for this busy family. "It's where my kids congregate to do their homework," Riley says. "We don't have a dining room, so we wanted to make sure everyone could fit."
Matsuki's favorite improvement came in the living room. "The custom exterior bi-folding doors create the largest opening to the lanai," he says.
The remodel – which included the addition of a second story for Riley's mother – took six months to complete. "The finished project turned out perfect for the homeowner's needs," Sutherland says.
Riley says she had a great team. "Jeffrey and Seth were the keys to our remodel," Riley says. "They did a great job of finding smart solutions that saved time and money.  I can't say enough good things about their work."
Where to Get It
Architect: Matsuki Designs, LLC (Jeffrey Matsuki)
General Contractor: SS Builders, LLC (Seth Sutherland)
Windows & Balcony Doors: Pacific Source
Stove: Pacific Source
Cabinets and Countertops: C & C Cabinets
Tiles: Bella Pietra
Flooring: ProSource Wholesale
Doors: The Home Depot
Closets: Container Store
Get your project publised. Have a great remodeling project to share? We want to hear about it. Email: tomk@hawaiihomemag.com.