Closets, Storage & Organization
Carefully crafted closets.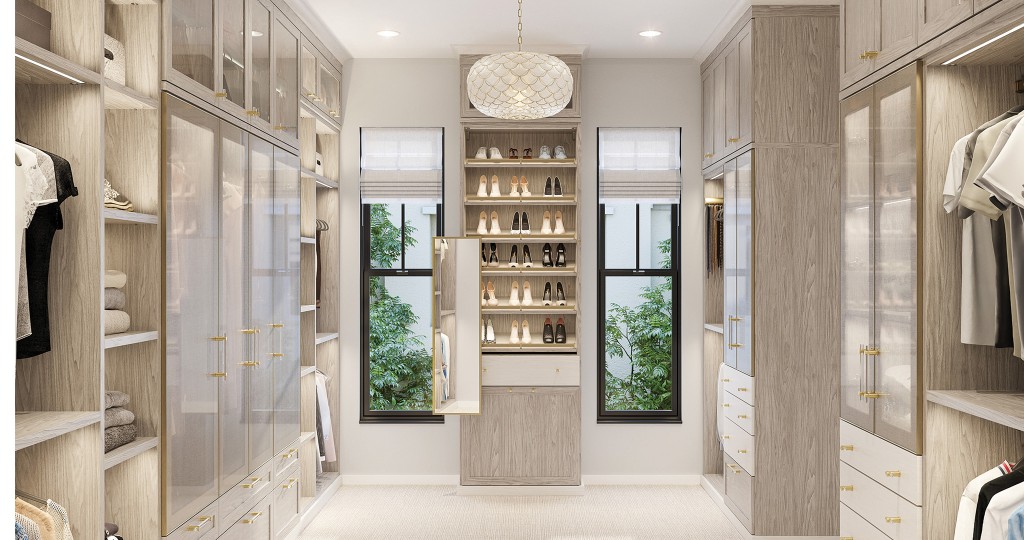 This article is part of the 2020 Hawaii Home + Remodeling Resource Guide, an organized and vetted directory of professionals, services and shops in the building and home improvement industry.

A personalized, organized closet can transform anyone's morning routine from a hustling, bustling rush to a peaceful — and possibly even enjoyable — experience. When every pair of shoes, each accessory and all articles of clothing have their designated spots, getting dressed is a cinch. No matter what the shape or size of your closet, California Closets can craft a system to accommodate your specific requirements.
"My favorite thing about California Closets storage solutions includes the ability to utilize an unusual or odd-sized space to its fullest with customized cabinetry," says design consultant Lylah Reid-Akana. She often helps clients by not only designing the ideal closet solutions for their needs, but by offering little tips and tricks to save space, too. "Turning your shoes in opposite directions and staggering them saves about 1 ½ to 2 inches on the width, allowing more pairs per shelf. The bonus," she adds, "is that our finish options are imported from Italy and used by the most high-end vendors, but we are able to offer them here at extremely competitive prices."
California Closets
4211 Waialae Ave., #1070, Kahala Mall, Honolulu, Oahu 739-7300; 75-1006 Henry St., The Crossroads in Kona, Kailua-Kona, Big Island, 808-327-3810; info@plusinteriors.com; californiaclosets.com.
---
1 Hot Garage
1738 Silva St.
Honolulu, Oahu
843-8011
1hotgarage.com
California Closets
Closets, pantries, home offices, garages, wall beds and more. Custom designed and manufactured on Oahu using contemporary finishes and accessories.
______________
4211 Waialae Ave Ste., #1070
Kahala Mall
Honolulu, Oahu
739-7300
______________
75-1006 Henry St.
The Crossroads in Kona
Kailua-Kona, Big Island
808-327-3810
info@plusinteriors.com
californiaclosets.com
Closets 'N Things
74-5626 Alapa St., Ste. 2A
Kailua-Kona, Big Island
808-326-9200
closetsnthings.com
De-clutter Hawaii
Honolulu, Oahu
779-6224
declutterhawaii.com
Dream Closets
Hawaii LLC
Honolulu, Oahu
387-0400
dreamclosetshawaii.com
INspiration Interiors
INspiration Interiors is Hawaii's premier contemporary furniture store with showrooms at Pearlridge Center Downtown, Kapolei Commons and in the Honolulu Design Center on Kapiolani Boulevard. Design services available.
______________
INspiration Interiors
at the Honolulu Design Center
1250 Kapiolani Blvd.
Honolulu, Oahu
956-1250
______________
INspiration Interiors
at Kapolei Commons
4450 Kapolei Pkwy.
Kapolei, Oahu
237-5480
______________
INspiration Interiors
at Pearlridge Center
98-1005 Moanalua Rd.
Aiea, Oahu
484-0245
______________
INspiration Warehouse
Campbell Industrial Park
91-262 Oihana St.
Kapolei, Oahu
682-1505
inspirationinteriors.com
Inspired Closets Hawaii
94-485 Ukee St.
Waipahu, Oahu
678-0096
inspiredclosets.com
John Cook Kitchens
623 Kakoi St., Bay 3
Honolulu, Oahu
599-3533
johncookkitchens.com
Lowe's
411 Pacific St.
Honolulu, Oahu
528-9370
______________
94-805 Lumiaina St.
Waipahu, Oahu
676-8381
______________
75-5677 Hale Kapili St.
Kailua-Kona, Big Island
808-331-3470
______________
214 Hookele St.
Kahului, Maui
808-872-1920
lowes.com
PODS Moving & Storage
799 Kahelu Ave.
Mililani, Oahu
682-7637
PODS.com
Simply Organized LLC
Hawaii's first and largest organization and storage store to help you organize your home and office. Buy online & pick-up in store at simplyorganizedhi.com today!
______________
4211 Waialae Ave., #1200
Kahala Mall (next to Longs Drugs)
Honolulu, Oahu
739-7007
info@simplyorganized.net
simplyorganizedhi.com
The Home Depot
421 Alakawa St.
Honolulu, Oahu
521-7355
______________
1021 Kamehameha Hwy.
Pearl City, Oahu
455-1200
______________
4600 Kapolei Pkwy.
Kapolei, Oahu
674-6120
______________
73-5598 Olowalu St.
Kailua-Kona, Big Island
808-326-6013
______________
380 Makaala St.
Hilo, Big Island
808-920-8400
______________
100 Pakaula St.
Kahului, Maui
808-893-7800
______________
4320 Nuhou St.
Lihue, Kauai
808-632-2740
homedepot.com
Tervola Designs
142 Kupuohi St., Ste. F6
Lahaina, Maui
808-385-9971
tervoladesigns@gmail.com
tervoladesigns.com
The Maui Closet Co.
310 Hukilike St., Unit M
Kahului, Maui
808-871-7996
mauicloset.com