Color Me Glad
Strike the right emotional chords with trending paint hues for 2023.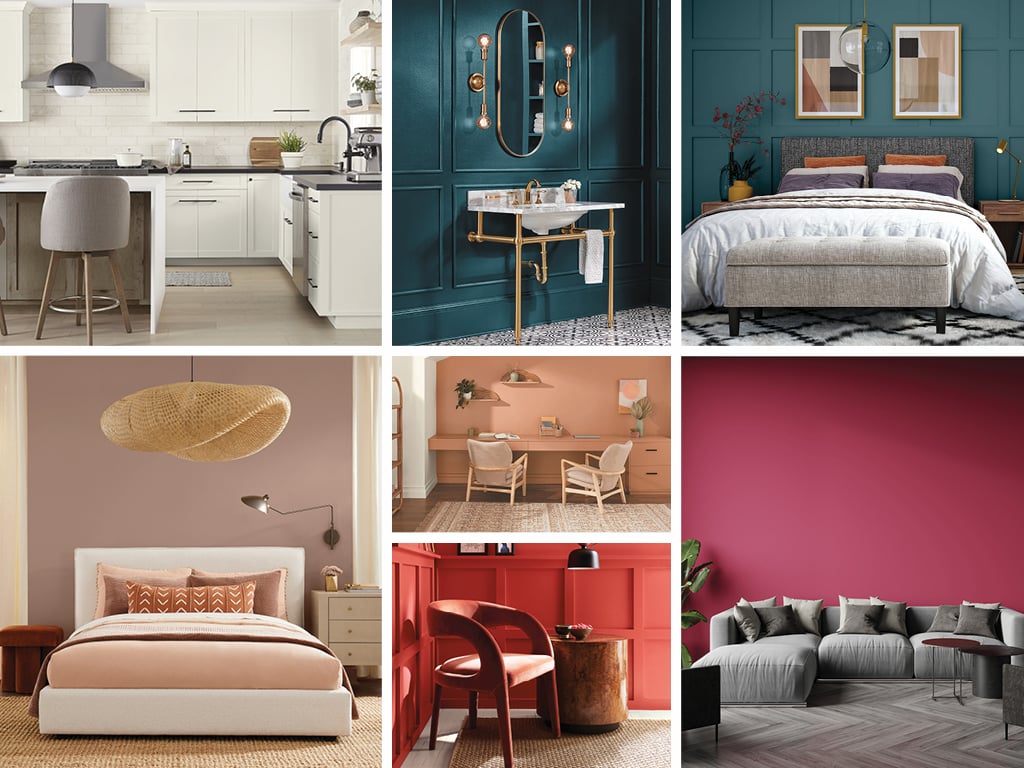 Color psychology is an intriguing area of study that has been parlayed into art, marketing, food, fashion, sports and other aspects of our everyday lives. When selecting their Colors of the Year, major paint companies delve deeply into how color can change the feeling of your home, drawing cues from current culture as well as aspirational insights. Check out our primer on how to incorporate the 2023 Colors of the Year according to the sentiments you'd like to achieve within your space.
Tranquility and Renewal
Blank Canvas (DC-003) — Behr Paint Co.
"As we look to 2023, we understand that comfort will still be a driving force behind design decisions and style statements," says Erika Woelfel, vice president of color and creative services at Behr Paint Co. Its color of the year, Blank Canvas, was developed based on a company survey in which 77% of homeowners polled agreed that the color white makes them feel positive. Blank Canvas is a hopeful and warm white that offers endless design and décor possibilities. Learn more at behr.com or visit The Home Depot for Behr products.
Elegance, Calm, Serenity and Little Moments

Everglade Deck (Lowe's: 5011-3) — Valspar
Vining Ivy (PPG1148-6) — Glidden Paint by PPG
Bluish-greens are having more than just a moment — these shades are holding their ground as modern foundational neutrals that are here to stay. In Valspar's 2023 color palette, the deep midnight blue of Everglade Deck (above left) exemplifies restoration of mind, body and home. Glidden Paint's Vining Ivy (above right) is a take on a jewel-toned teal that feels "energizing yet grounding, and it works in literally any space," according to Ashley McCollum, Glidden color expert. Valspar paints can be found locally at Hardware Hawaii, Lowe's and other retailers. Visit glidden.com to find a local Glidden vendor.
Compassion, Connection, Individuality and Warmth
Redend Point (SW 9081) — Sherwin-Williams
Desert Carnation (Lowe's: 2005-7C) — Valspar
"Redend Point was inspired by the idea of finding beauty beyond ourselves," shares Sue Wadden, director of color marketing at Sherwin-Williams. This heartening blush-beige (above left) serves as a grounding reminder to stay curious and empathetic. Desert Carnation (above right), a faded natural terracotta tint by Valspar, is also a good choice for home spaces where exploration of individual expression is encouraged. Visit sherwin-williams.com to find a Sherwin-Williams store near you.
Boldness, Confidence, Fearlessness, Optimism, Joy
Raspberry Blush (2008-30) — Benjamin Moore
Viva Magenta (18-1750) — Pantone
Power colors rooted in reds are all the rage as designers and homeowners strive for unique, empowering spaces that reinvigorate the spirit. "People are ready to bring color back into the home, taking a step outside their color comfort zones," says Andrea Magno, color marketing and development director at Benjamin Moore. The company's 2023 Color of the Year selection, Raspberry Blush (above left), inspired an upbeat song by electro-funk duo Chromeo. Pantone's Color of the Year, the nuanced crimson hue Viva Magenta (above right), also shines for those with sass and assertive personalities.