Community Builds Temporary Housing for Big Island Residents Impacted by Kilauea's Lava Flow
HPM Building Supply is part of a community effort to put up the first micro shelters for displaced residents.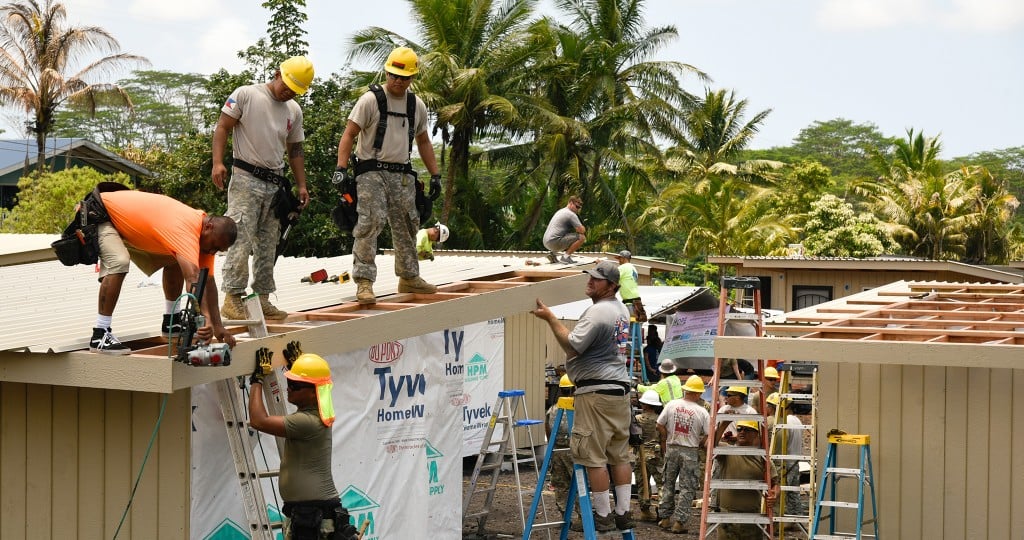 Big Island is in a state of emergency, with more than 500 homes destroyed and 5,914 acres of land impacted by Kilauea volcanic eruptions that began in early May, as reported by Hawaii Island Civil Defense. The destructive path of lava has left thousands of residents displaced, many without a home.
While Big Island residents try to figure out their next steps, community members have taken it upon themselves to provide some relief by building the first temporary housing solution, with little government assistance.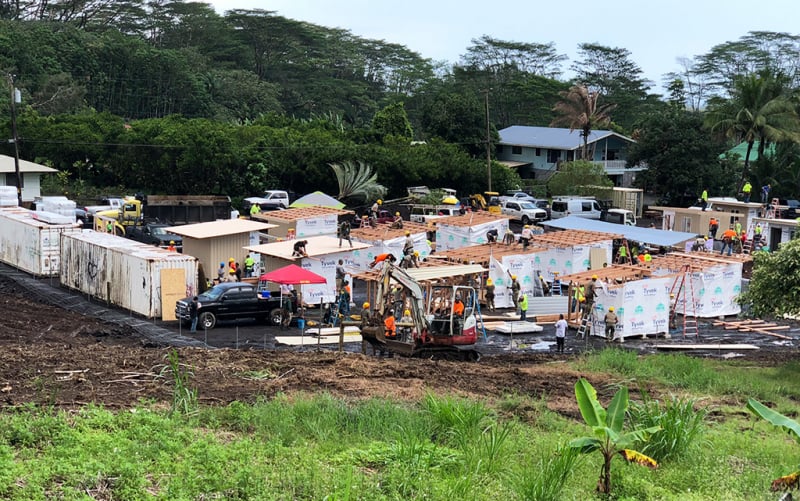 In early June, Hope Services Hawaii, HPM Building Supply, many other community partners — Big Island Electrical Service LLC, Haunga General Contracting LLC and Hawaii Island United Way to name a few — and volunteers began building 20 micro shelters on an 8-acre plot of land behind Sacred Heart Church on Pahoa Village Road. The site, leased by Hope Services Hawaii, will also have a few restroom and shower facilities, as well as a pavilion.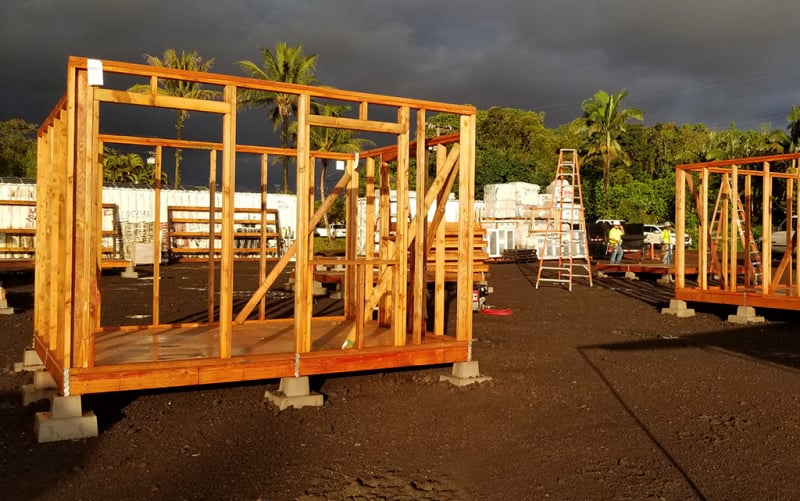 "You can imagine many people that are displaced are living in a car or out of a tent," says Darryl Oliveira, safety and internal control manager for HPM Building Supply. So, while the micro shelters are a tight fit with just 120 square feet of space, many families believe it's an improvement as it keeps them together under one roof.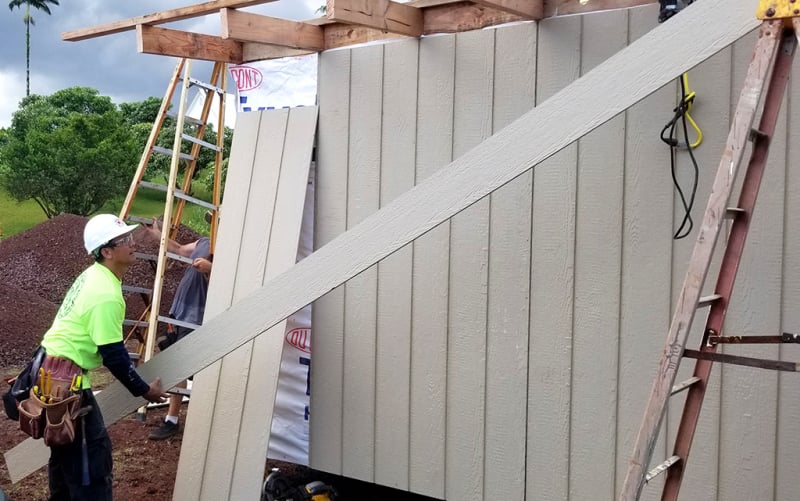 HPM Building Supply originally intended for the 10-by-12 feet micro shelters to be storage units, but the company instead decided to repurpose them as emergency shelters in response to residents losing their homes.
"Ideally, these structures become revolving doors where individuals come in [and] it gives them the time and opportunity to sort things out, connect and find permanent housing, then transition out … then the next group comes in," says Oliveira.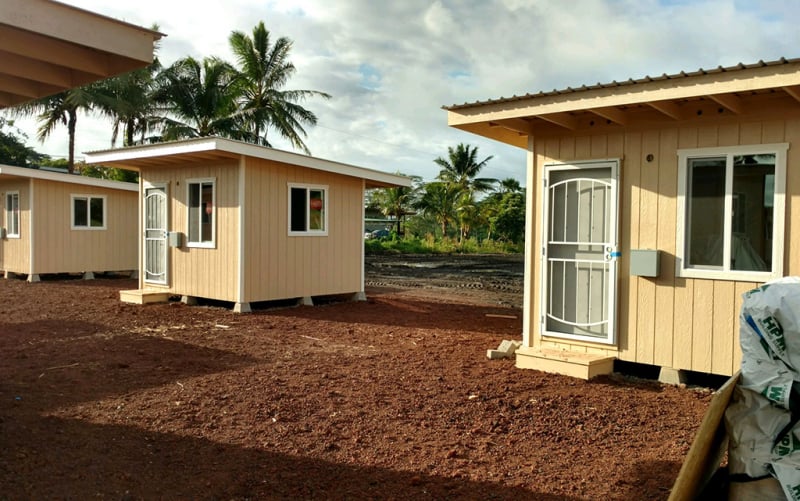 It was a "natural fit" for HPM Building Supply to lend a helping hand, mentions Oliveria. The company and its vendor partners were able to provide material, supplies and donations, including labor and assembling parts, to keep the project moving, which kept the initiative affordable and cost effective.
HPM Building Supply's vendor partners include Hardel Mutual Plywood, Jensen Distribution Services, Kwikset, Lynden International, Matson, Milgard Windows & Doors, Pratt & Lambert Paints, Rust-Oleum, Simpson Strong-Tie, Tower Sealants, Tree Island Steel and Vandermeer/LP.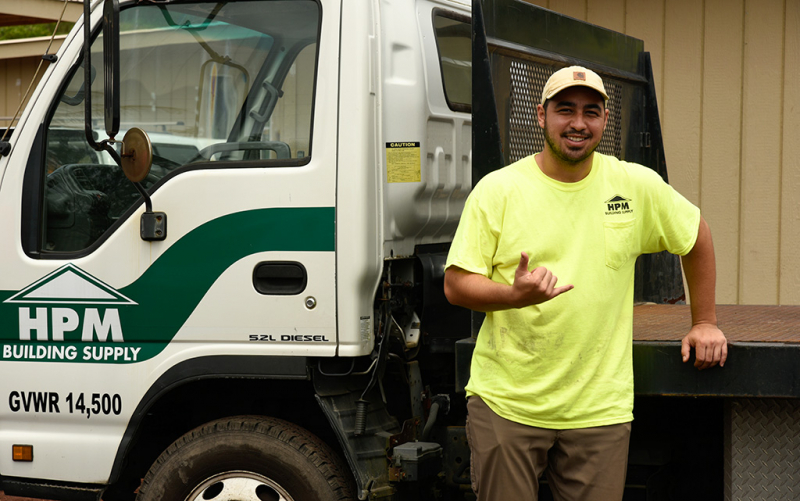 Oliveira says when looking at the history of HPM Building Supply — being family established, owned for decades, and having endured two tsunamis — he thinks the Fujimoto family has a personal experience and history to reflect on, and can understand and appreciate what people are going through and how difficult the recovery process can be. For them, it was natural: "How can we help our community?"
Families and individuals will be able to move into the micro shelters in the coming weeks.
"This is a start," says Oliveira, who believes this will lead to more discussions and efforts on providing more housing options in the future.
NOTE: You can help those on Hawaii Island by showing your support of local businesses — click here for a list of local stores and businesses you can shop online, and for more information.