Connecting Family
Architect designs multigenerational home that meets the physical needs of family, while honoring its past.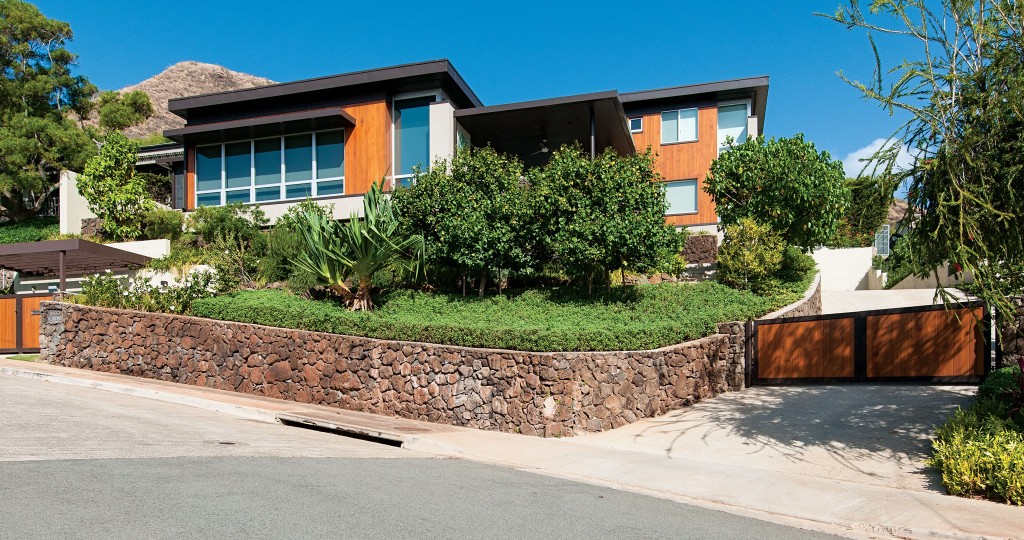 2017 AIA Honolulu Design Awards – Editor's Choice Award, Finalist.
---
This multigenerational home on the steep eastern slopes of Diamond Head may look modern, but it is full of tradition found in design details that not only incorporate the previous house on the property, but also pay tribute to its previous owners.
Geoffrey Lewis Architect Inc. was tasked with designing a new house on the property that could accommodate multiple families and their needs, including accessibility. The client's parents had retired in the previous home on the property, the gathering place for their family. The new house needed to have the same welcoming feeling, with space to entertain but also retreat to separate peaceful bedrooms, all while being accessible, capitalizing on the view and honoring the family and its past.
"The original house was incorporated both physically and spiritually into the new design," says Geoffrey Lewis, AIA.
Large dark, wooden beams that previously framed the original house, deconstructed by Re-Use Hawaii, were repurposed and incorporated into the circulation tower, in the new form of open stair treads. This circulation tower is the connecting point of the house, a meeting of the first-floor living areas and upstairs bedrooms, which are separated for different generations of the family to live in.
There are four net-shaped lights decorated with a school of metal fish hanging above the stairwell, paying homage to a family member who was a fisherman. "Since this area of the home fuses both the current and future living spaces, it is the heart of the home – symbolizing the past but also connecting the future generations of the family and space," the homeowner says.
The design team worked with the property's existing topography and maintained its retaining walls. "The green space between these two walls creates a wonderful procession up the residence," Lewis says, noting that, previously, the family had to walk up the steep, concrete driveway.
Lewis incorporated an expanded three-car garage. An elevator runs from this ground-floor level up to each level of the home, providing accessibility for all family members, and convenience for weekly Costco and grocery shopping.
Father and son team Ian and Chuck Osborne of Custom Built Cabinetry built the casework throughout the home, including kitchen and bathroom cabinets, built-in and pass-through features.
Lewis incorporated indoor/outdoor living and biophelic principles, including central courtyards that provide natural light, airflow and connection to nature.
Lewis quickly learned how important family is to his client. Hearing their stories while getting to know them helped to inspire his design process.
"We knew that Geoffrey Lewis would build us a home and not just an interesting house," the homeowner says.