Continuing the Mission
Hikianalia sails to California, sharing gifts of knowledge and sustainability.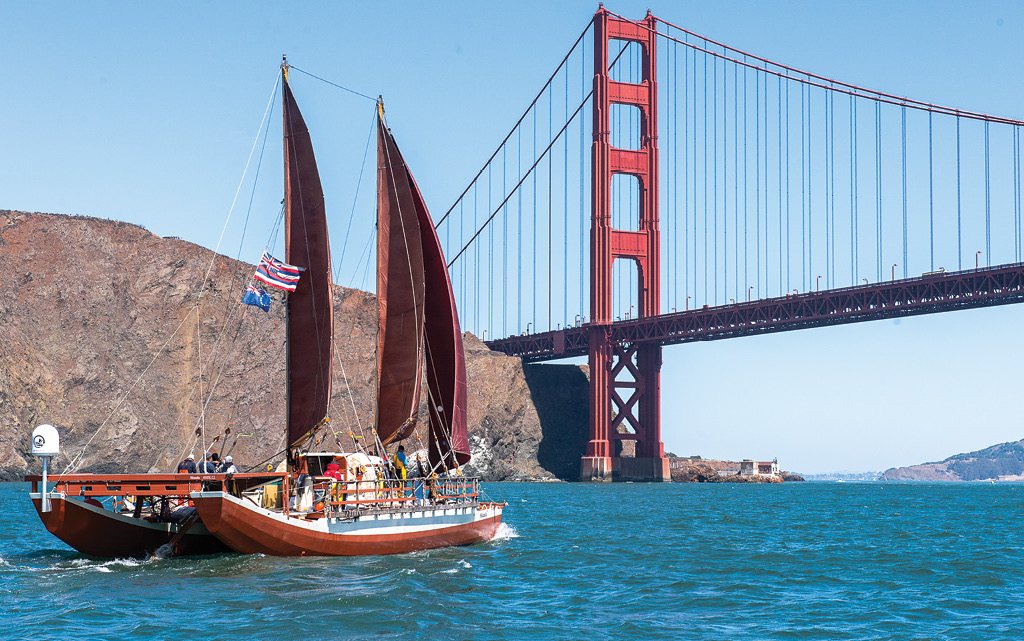 It was an epic journey that went down in history. Two Polynesian double-hulled voyaging canoes, the Hokulea and sister vessel Hikianalia, circumnavigated the globe, covering 60,000 nautical miles and visiting more than 150 ports in 23 countries and territories worldwide. But when the three-year voyage was completed on June 17, 2017, its "Malama Honua" mission of teaching people to take care of the earth didn't end. Just a few months later, the two canoes sailed again on a "Mahalo, Hawaii" tour around the Islands that continued into 2018.
"What we did before we ever left on the worldwide voyage was to travel to all our communities in Hawaii," says Lehua Kamalu, who's sailed on the Hokulea and Hikianalia as lead navigator and captain. "So when we came back home, we sort of revisited that idea of going back to our communities, who really support the voyage and who are part of it and who we certainly feel are with us as we voyage around. It's really a mahalo, or thank you, to all those people who made it so special."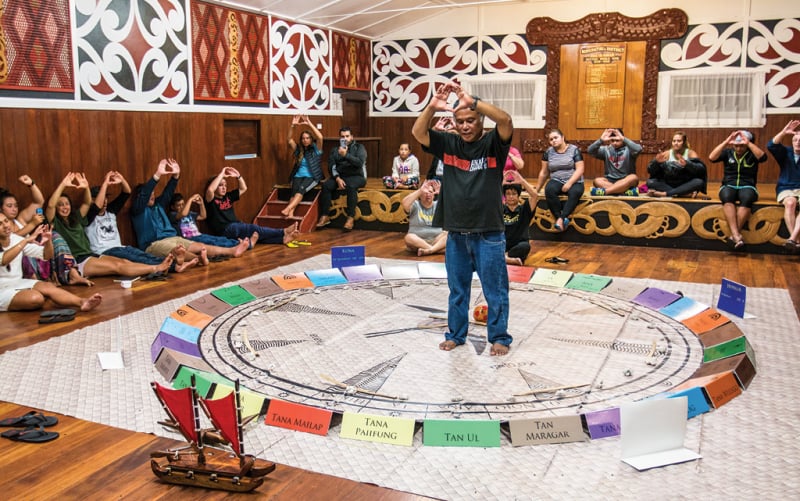 Then on Aug. 18, 2018, Kamalu took the helm of the solar and wind-powered Hikianalia as captain. Using wayfinding techniques, she traveled with a crew some 2,800 miles over 23 days to Half Moon Bay in California. Known as the Alahula Kai o Maleka voyage, Hikianalia arrived Sept. 10, 2018, then made its way down the coast to seven ports: Ventura Harbor, Channel Islands Harbor, Santa Cruz Island, Redondo Beach, Catalina Island, Dana Point and San Diego.
The last time a Hawaiian canoe visited California was the Hokulea in 1995, but the Alahula Kai o Maleka voyage was the first time a crew took on the challenge of actually sailing the North Pacific to reach the California coastline. On arrival, the crew was overwhelmed by the outpouring of support from the many people from Hawaii, now living on the continent, who welcomed them—in some cases, with more than 70 outrigger canoes.
"It's really a mahalo, or thank you, to all those people who made it so special."
—Lehua Kamalu, Polynesian Voyaging Society

"We have an extremely large community of folks who are from Hawaii, who are Native Hawaiian, who are very much interested in Hawaiian arts and practices, and who I know have been waiting for many, many years for us to come back," says Kamalu.
At the various ports, the crew met with a total of roughly 12 school groups and talked about wayfinding, the canoes, seamanship and the history of the Polynesian Voyaging Society.
"We did that during the day with the students and kind of interacted with them, and then at night, we opened the presentation to the community," says Mark Ellis, captain and apprentice navigator, who sailed Hikianalia from San Francisco to San Diego. Not only did the crew meet with students and the public, but they connected with indigenous communities and businesses in California, too.
"What Mau Piailug (the Micronesian navigator who first shared wayfinding techniques with the Polynesian Voyaging Society) taught us was that we sail to bring back gifts to our community. In ancient times, those gifts could be food and such, and in modern times those gifts are ways people are being sustainable, or gifts of knowledge, so that's what we're bringing back to Hawaii. We sail, meet these people and then bring back those gifts of knowledge. But also, at the same time, we're sharing with them our gifts of knowledge and what we're doing."