Counter Intuitive
Selective Stone provides expertise and innovative products to upgrade your surfaces.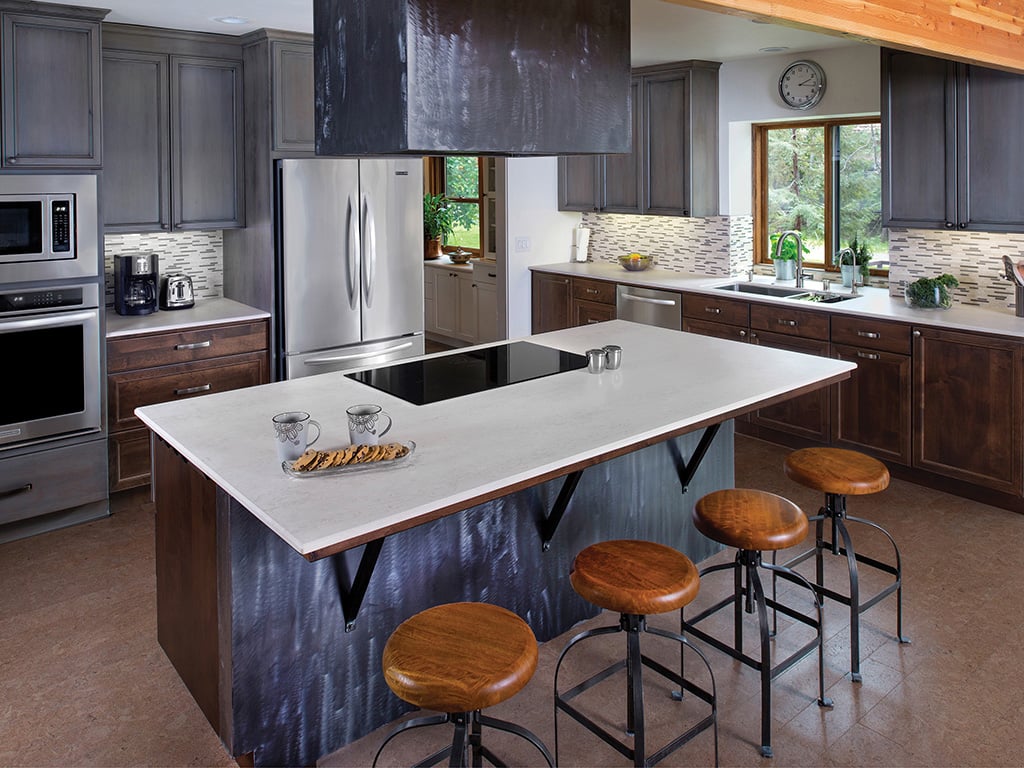 Finding the right materials for surfaces for your next kitchen or bath remodeling project is crucial. With many factors to consider — among them aesthetics, cost, practicality — the variety of countertop options can be both inspiring and overwhelming.
The specialists at Selective Stone are here to help local homeowners with their needs. As a direct distributor statewide of prefabricated granite and marble panels since 1999, Selective Stone has a team with decades of experience in the industry. Founders Kevin and Jinny Nip have earned a reputation for quality inventory, bringing the latest products to the Islands through a global network of notable manufacturers.
Selective Stone staff understand that choosing new countertops for your home requires thoughtfulness and professional guidance. According to Kevin Nip, when evaluating countertop materials to complement the look and feel of your overall space, it's also important to consider changing your cabinetry as well. Doing so can be key to ensuring cohesiveness in design, he says.
Engineered quartz is a "trendy" option for countertops, says Nip. The lighter, whiter shades available in engineered quartz are comparable to the contemporary aesthetic typically achieved through its natural stone counterparts — with the benefits of added durability.
"The choice of countertop material for design, color and maintenance is important," says Nip. "Engineered quartz is water-and stain-resistant. It's impervious to the cooking elements and heat. However, as a preventive measure we still recommend an impregnator sealer be applied to the tops.
"We have also seen a resurgence of natural quartz stone in lighter shades" for people who prefer variations on Mother Nature, he adds.
Prefabricated countertop materials that resemble high-end Italian marble slabs are also in demand by Selective Stone clients. These options evoke elegance, carrying the timelessly luxurious patterns and hues that Italian-imported marble would traditionally bring to a kitchen or bath.
"It's truly a designer's delight," shares Nip, "especially a book-matched waterfall on the (kitchen) peninsula."
Nip also notes that for countertops, thinner porcelain and Dekton ultracompact slabs in 1.2 cm are gaining in popularity. Dekton, an innovative and widely coveted line by Cosentino, is "a sophisticated mixture of more than 20 minerals extracted from nature" that are synthesized into surfaces that offer "outstanding technical properties, high performance, and distinctive colors and textures," according to the Cosentino website.
"With fabricators gaining more experience working with these materials, we will see an increase in demand," shares Nip.
Nip and the Selective Stone team are available with these options and more for your next countertop upgrade. For additional information, visit their website at www.selectivestone.net.