An Expert Guide to Kitchen and Bath Surfaces
Counter measures to take.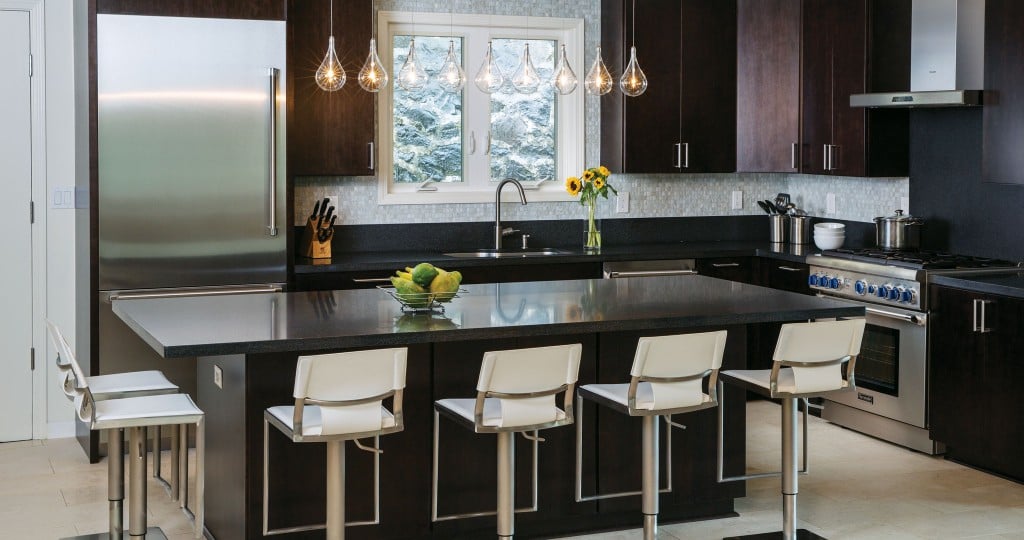 Choosing the right countertop for your bathroom or kitchen is an important decision. After all, countertops will be in your home for decades to come. When considering one, "Figure out your objective — your intent. Think about your property," says Randall Omoto of Homeowners Design Center.
Here are more expert tips to help you pick and maintain the right countertop for your home.
Durable and Trendy: Quartz
Quartz countertops in both kitchens and bathrooms are on the rise. For Todd Branson Stoneworks, they account for 90 percent of its business in implementing quartz countertops that look like marble, according to Haunani Jones, Allied ASID of Todd Branson Stoneworks.
Quartz is scratch resistant, looks similar to natural stone and requires almost zero maintenance. It also comes in an abundance of colors, ranging from simple to glittery.
Maintenance
Wipe countertops down regularly, but avoid using harsh chemicals such as bleach or acetone as they can tone down the finish. Quartz requires no sealing and doesn't stain.
Affordable: Prefabricated Panels
Prefabricated quartz or granite are panels mass produced in another country, such as China. The slabs are cut and edges finished before they make their way to the store, saving both cost and time. "Of course, the drawback is, 'What you see is what you get,'" says Omoto.
Maintenance
Regular cleaning with soap and water, and avoid harsh chemicals, like bleach. Treat countertop as you would if it were quartz or granite.
Tough and Worth it: Neolith
Neolith is a new, versatile surfacing product called a sintered or ultra-compact surface that can be used for countertops, floors and walls. "This surface combines the best elements of granite, quartz and glass into one product," says Shelby Moriguchi of Pacific American Lumber. "Neolith is scratch, heat and stain resistant and is also UV stable, meaning it won't fade in the sun."
Maintenance
Neolith countertops are easy to clean, low maintenance and tough, too. Moriguchi recommends cleaning with soap and water daily. Feel free to use abrasive cleaners or even bleach.
High-End Look: Natural Stone
Natural stones, such as marble and granite, are still the preferred choice for homeowners because of their elegance and unique patterns. "Natural stone is going to be shinier, it's going to have depth to it," says Omoto. "It's going to be a one-of-a-kind piece." Although both can be used for your kitchen and bathroom, marble is often used in bathrooms because of its "softness," while granite is used in the kitchen, says
Omoto. These countertops are easy to integrate with your sinks, creating a seamless look.
Maintenance
Clean with soap and water daily. Avoid leaving high acidic items on marble countertops as they can create etching. Regular sealing should be scheduled to keep the surface looking its finest. Any improper sealing can lead to staining.