Countertops
Choosing the right countertops are an important decision in your kitchen or bath renovation .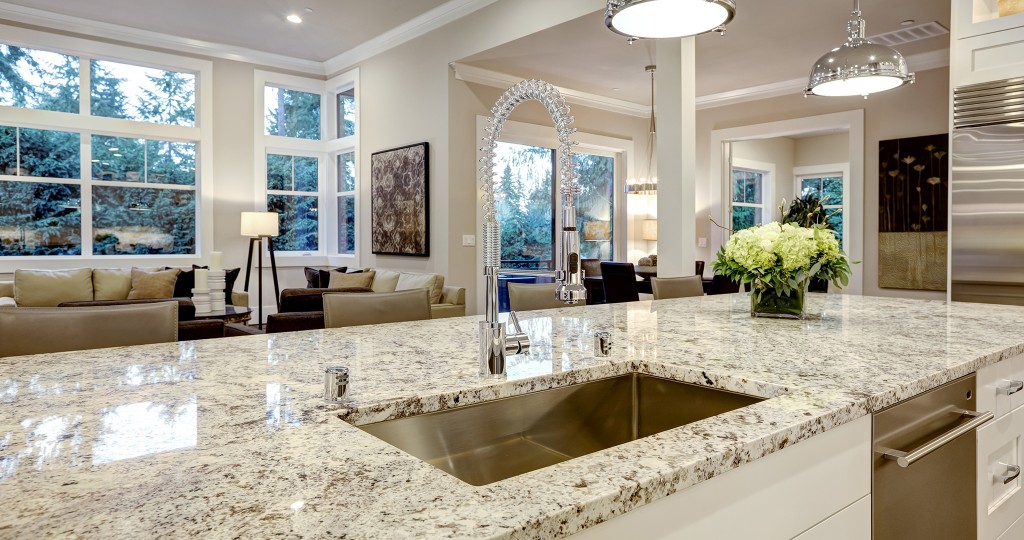 This article is part of the 2020 Hawaii Home + Remodeling Resource Guide, an organized and vetted directory of professionals, services and shops in the building and home improvement industry.

An important decision to make in your kitchen or bath renovation is the selection of your countertops. From natural or engineered stone to textured or polished finishes and a wide array of colors and patterns to choose from, there is a lot to consider. One of the most popular surfaces for kitchen and bathroom countertops is quartz, for its ease of maintenance, durability and variety of colors and patterns. Natural stone, like granite, adds elegance to a space and is easy to maintain with at-home polishing. Manufactured stone is an even more durable option for countertops and is available in specific colors and patterns.
---
Ace Tile Inc.
Honolulu, Oahu
371-0555
acetilehawaii.com
All Natural Stone Fabrication Inc.
74-555 Honokohau St.
Kailua-Kona, Big Island
808-324-0410
allnaturalstonefabrication.com
American Cabinetry
725 Kapiolani Blvd., Ste. C101
Honolulu, Oahu
838-7770
americancabinetry.com
AMK Construction LLC
2073 S. Beretania St.
Honolulu, Oahu
944-4632
amkcohi.com
Bamboo Maui
1878 Wili Pa Lp.
Wailuku, Maui
808-244-2299
bamboomaui.com
Bekin Cabinets
In-stock, semi-custom and full-custom cabinets. North American solid wood. Full kitchen/bath design. Call for estimate.
______________
565 Kokea St., #G6
Honolulu, Oahu
843-2284
build@bekinhawaii.com
bekinhawaii.com
Bella Pietra Design
560 N. Nimitz Hwy., Ste. 107A
Honolulu, Oahu
587-7779
bellapietradesign.com
Big Island Countertops
261A Kekuanaoa St.
Hilo, Big Island
808-961-6633
______________
73-5568 Kauhola St.
Kailua-Kona, Big Island
808-326-2822
bigislandcountertops.com
CAA Hawaii Cabinet
570 Dillingham Blvd., #100
Honolulu, Oahu
537-5711
hawaiicabinet.com
C&C Cabinets Granite Inc.
500 Alakawa St., #106
Honolulu, Oahu
853-2088
cccabinetsgranite.com
Cosentino Hawaii
2678 Kilihau St.
Honolulu, Oahu
427-5192
cosentino.com
Cultured Marble
1726 Republican St.
Honolulu, Oahu
832-2535
culmar.org
Cunningham Cabinets Ltd.
1911 Kalani St.
Honolulu, Oahu
842-4733
cunningham-cabinets.com
Custom Countertop Inc.
94-059 Leokane St., #1
Waipahu, Oahu
677-5050
customcountertopsinc.com
Da Wing Trading LLC
98-1277 Kaahumanu St.
Honolulu, Oahu
487-3288
Davis Tile & Marble Inc.
74-5522 Kaiwi St.
Kailua-Kona, Big Island
808-327-0028
davistile.net
EnCounters Solid Surface
94-150 Leoleo St.
Waipahu, Oahu
678-8800
encounterssolidsurface.com
Essential Cabinet Refacing
AllStar Countertops
212 Mohonua Pl., #C3
Honolulu, Oahu
847-7835
essentialcabinetrefacing.com
Eurotech Maui
Pukalani, Maui
808-877-0222
eurotechmaui.squarespace.com
Golden Cabinets & Stone
1125 N. King St., #201
Honolulu, Oahu
836-8181
admin@goldencabinetsstone.com
goldencabinetsstone.com
Hawaii Home Remodel
1020 Auahi St., #5010
Honolulu, Oahu
683-6009
hawaiihomeremodel.com
Hawaii HydraStone
Maui
808-283-0046
hawaiihydrastone.com
Hawaii Kitchen & Bath
201 Kapaa Quarry Pl., Unit 701
Kailua, Oahu
261-0357
hawaiikitchenandbath.com
Homeowners Design Center Inc.
1030 Kohou St., Ste. 201
Honolulu, Oahu
847-0216
lori@homeownersdesign.com
homeownersdesign.com
Honolulu Tile & Marble Inc.
1602 Auiki St., Ste. B
Honolulu, Oahu
845-3775
INSOLID
94-425 Maikoiko St.
Waipahu, Oahu
676-5522
insolidhawaii.com
Island Style Kitchen & Bath
430 Alamaha St., #102
Kahului, Maui
808-871-5877
islandstyledesigns.com
JCB Remodeling Solid Surface Kitchen & Bath
Ewa Beach, Oahu
391-3317
John Cook Kitchens
94-117 Malakeke Pl., #102
Waipahu, Oahu
599-3533
johncookkitchens.com
Josh Design Build
Honolulu, Oahu
388-4268
joshdesignbuild.com
Kitchen & Bath Remodeling Inc.
2333-C Alahao Pl.
Honolulu, Oahu
848-8151
kbremodeling.com
Kona Kitchen & Bath
74-5491 Kaiwi St.
Kailua-Kona, Big Island
808-327-0001
konakitchenandbath.com
Liquid Stone Hawaii
15-566 Keaau-Pahoa Rd.
Ste. 188-130
Keaau, Big Island
808-987-6890
liquidstonehi.com
Maui Counter Tops
1261 Lower Main St.
Wailuku, Maui
808-242-5610
mauicountertops.com
Maui Laminates Inc.
269 Papa Pl., Unit 5
Kahului, Maui
808-871-6500
mauilaminates.com
Maui Marble & Granite Inc.
874 Alua St.
Wailuku, Maui
808-242-8400
mauimarbleandgranite.net
McKillican International Inc.
2858 Kaihikapu St.
Honolulu, Oahu
839-4404
mckillican.com
N-Hance
Mililani, Oahu
256-8441
nhance.com
Naka's Marble & Sold Surface LLC
1110 Makepono St.
Honolulu, Oahu
841-5434
nakasmarble.com
Newport Pacific Cabinets Inc.
99-129 Waiua Wy.
Aiea, Oahu
486-6008
OCG Building Supply
1199 Dillingham Blvd., A101
Honolulu, Oahu
744-6814
ocgbuildingsupply.com
Ohana Building Supply
2815 Kaihikapu St.
Honolulu, Oahu
833-8338
______________
94-101 Malakeke Pl.
Waipahu, Oahu
671-3388
ohanabuildingsupply.com
Oriental Cabinet & Granite LLC
1320 Kalani St., Bay 106
Honolulu, Oahu
841-9425
orientalcabinetandgranite.com
Pacific American Lumber
Pacific American Lumber supplies interior and exterior finished products to Hawaii's building industry. Flooring, countertops, decking, millwork and more.
______________
142 Mokauea St.
Honolulu, Oahu
845-8700
sales@pacamlumber.com
pacamlumber.com
Pacific Craftworks
3219 Koapaka St.
Honolulu, Oahu
839-2345
pacificcraftworks.com
Pacific Source
180 Sand Island Access Rd.
Honolulu, Oahu
450-2400
pacsource.com
______________
73-4278 Kulikoa Dr.
Kailua-Kona, Big Island
808-331-2574
______________
2524 Kolo Rd.
Kilauea, Kauai
808-828-6606
______________
4473 Pahee St., Ste. J
Lihue, Kauai
808-246-3500
______________
515 E. Uahi Wy.
Wailuku, Maui
808-986-0380
______________
Mainland – Seattle, Washington
888-343-1515
Pacific Tile Imports
2995 Aukele St.
Lihue, Kauai
808-245-1765
pacific-tile.com
Pohaku Fabrication
1757 Haleukana St.
Lihue, Kauai
808-246-9480
pohakufab.com
Premier Stoneworks
99-920 Iwaena St., Ste. A103-104
Aiea, Oahu
486-8888
premier-hawaii.com
Roy Lambrecht Woodworking Inc.
73-5573 Kauhola St.
Kailua-Kona, Big Island
808-326-9585
roylambrechtwoodworking.com
Rui Construction Supply Inc.
155 Sand Island Access Rd.
Honolulu, Oahu
848-8820
ruisupplyandconstruction.com
Selective Stone
One of Hawaii's largest suppliers of prefab stone. Full line of stone tiles including granite, slate, quartzite, travertine and more.
______________
2979 Koapaka St.
Honolulu, Oahu
839-2979
kon@selectivestone.net
selectivestone.net
Stone Concepts
2909 Ualena St.
Honolulu, Oahu
844-2929
stoneconceptshawaii.com
Stoneworks LLC
74-581 Honokohau St., Unit D
Kailua-Kona, Big Island
808-327-6555
stoneworkspacific.com
T. Oki Trading
2933 Koapaka St.
Honolulu, Oahu
834-2722
tokitrading.com
Tervola Designs
142 Kupuohi St., Ste. F6
Lahaina, Maui
808-385-9971
tervoladesigns@gmail.com
tervoladesigns.com
Tile Warehouse Inc.
2865 Koapaka St.
Honolulu, Oahu
840-8855
honolulu@tilewarehousehawaii.com
______________
73-4076 Hulikoa Dr.
Kailua-Kona, Big Island
808-329-8855
kona@tilewarehousehawaii.com
tilewarehousehawaii.com
Todd Branson Stoneworks
201 Kapaa Quarry Pl., Bldg. #45-A
Kailua, Oahu
230-8424
toddbransonstoneworks.com
Top Priority
94-061 Leokane St.
Waipahu, Oahu
638-3838
toppriorityhawaii.com
West Maui Marble Works
30 Halawaii Dr., Ste. 4
Lahaina, Maui
808-667-9229
westmauimarbleworks.wordpress.com