Create a Functioning Outdoor Space
Key components that'll make your outdoor space more usable.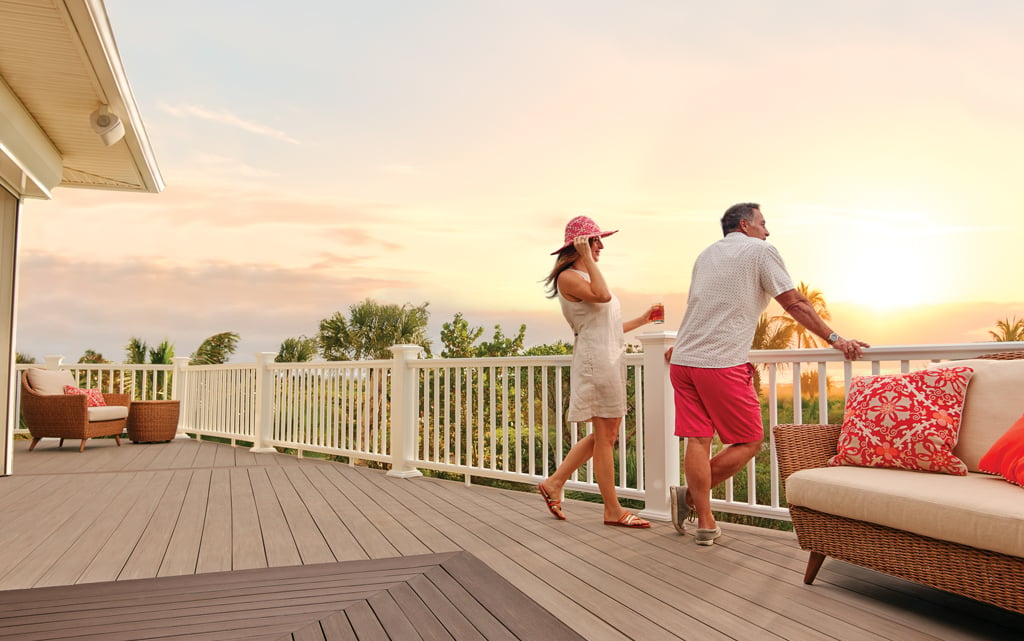 The start of a new season means new opportunities for indoor-outdoor fun, and with the latest advancements in the home industry, creating an optimal outdoor space is easier than ever.
"As the line between indoor and outdoor living continues to blur, there are more options than ever before for creating beautiful — and functional — outdoor spaces," shares Jennifer Wilde of Feeney Inc. "From adding a fire pit or water feature to building an outdoor kitchen, it's easy to create spaces that shine."
Wilde also recommends making different activity zones for dining, unwinding and entertaining if you have enough room. "Even small spaces can be turned into inviting havens through the strategic use of space," she adds. For example, trellises or garden walls use vertical space to provide privacy.
Make sure you are making the most of your deck or lanai with these key components that'll enhance your home and create a functional, stylish space to celebrate the outdoors.
Decking
Possibly the most essential piece to your outdoor space is your deck, the base of all your get-togethers under the sun. Consider TimberTech AZEK™ decking, which is made of a composite material and designed to handle it all — rain or shine. "A TimberTech deck can turn your yard, patio or lanai into the outdoor living space of your dreams," says Patrick Barnds of TimberTech/AZEK. "TimberTech uses technology and recycled materials to make beautiful decking products that look just like natural wood, but are more sustainable, longer lasting and virtually maintenance free."
This makes it well suited for Hawaii's tropical climate. Plus, there are numerous collections for you to choose from, like the Harvest collection, which offers soft tones and traditional styles, and the Vintage collection, the most versatile selection. Mix and match sizes — narrow, standard and wide — and select from an array of colors and styles.
Railing
"Railing not only adds an element of safety to the outdoors, but it can also make a style statement, helping to 'frame' an outdoor living area," says Wilde. For a low-maintenance option, aluminum railing systems like Feeney's DesignRail® can be made to match other features of your exterior for a cohesive look, or to create a nice contrast.
"We're seeing more interesting designs and patterns in railings along with more customization options," shares Wilde. "For example, laser cut aluminum and wire mesh panel infills … add a lot of design flexibility and can really bring a 'wow' factor to an outdoor space."
Wilde also suggests Feeney's new powder-coated wood-grain finish, which mimics natural wood railings without the maintenance. "This top rail option for DesignRail® is not only highly durable, but also fade-resistant," she says. Find it in walnut, cherry and weathered gray.
You can find TimberTech AZEK™ products locally at Rinell Wood Systems and Hardware Hawaii, and Feeney Inc. products at HPM Building Supply and Rinell Wood Systems.