Create a Kitchen You Love
Find the inspiration you need to take on your next kitchen remodeling project.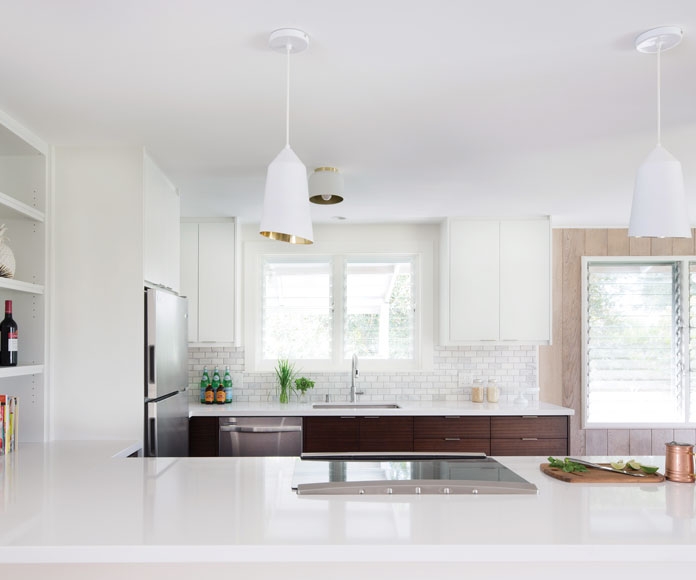 The modern kitchen has become more than just an area for food preparation. It's a space where many homeowners spend most of their time, whether it's catching up, doing homework or sharing a meal. A kitchen remodel can be one of the best investments you can make, enhancing your quality of life and increasing the value of your home at the same time.
If you plan to be living in your home long term, invest in areas of the kitchen that you'll enjoy the most. Otherwise, consult with your designer, contractor or Realtor on how to best proceed with your kitchen renovation to maximize the value of your home for potential buyers in the future.
---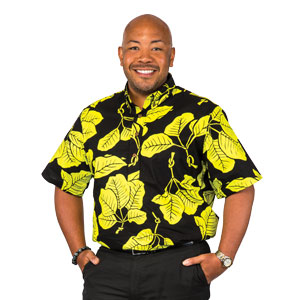 Factors to Consider
Sight Unseen
Set aside a portion of your budget to account for unexpected expenses, like hidden water damage or mandatory electrical upgrades.
Plan Ahead
Kitchen projects should cost no more than 10 percent of the home's overall worth to yield a fair return on investment.
---
"Big or small, HawaiiUSA is here to help you make your financial dreams become reality."
— Aaron Clevenger,
Main Branch Manager,
HawaiiUSA FCU
---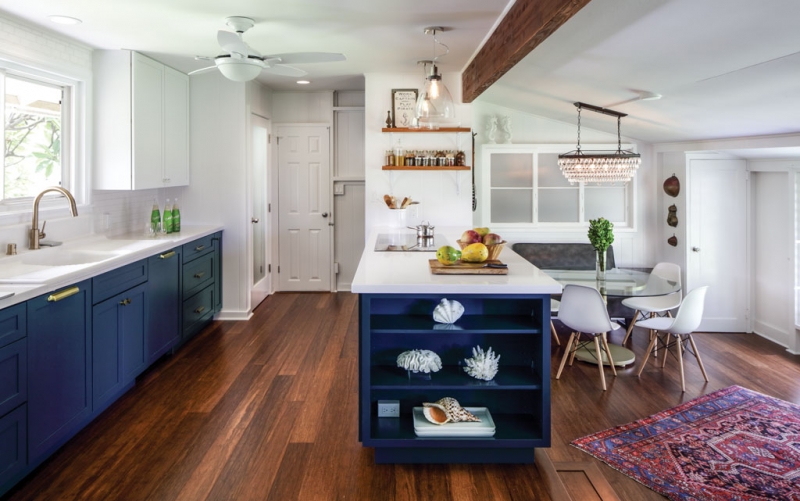 $ Cozy and Charming
Koolau Builders takes on projects of all sizes. And this kitchen was no different. The design and build firm reinvigorated this once-dated kitchen, renovating the existing structure and replacing appliances. It preserved the cottage style of the kitchen while introducing new elements that complemented the overall design. Keeping consistent with the rustic feel, tongue-and-groove boards were used for the walls, while a custom-made wood beam from Koolau Builders frames the ceiling and parallels the rich, brown bamboo floors below.
Champagne bronze Delta faucet
Cappuccino-stained bamboo flooring from Lowe's
Four-light bronze crystal tiered chandelier from Lowe's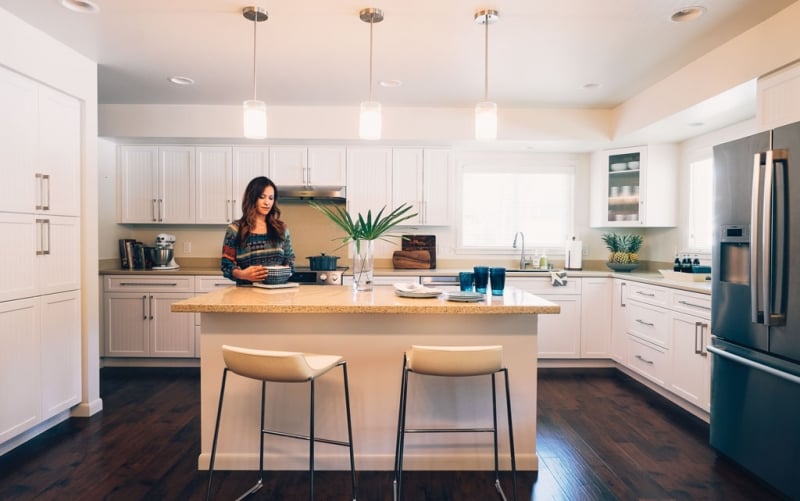 $$ Go With the Flow
Graham Builders rebuilt this spacious kitchen, allowing the living, dining and kitchen areas to flow together continuously. The kitchen, along with an adjoining pantry and laundry room, is the primary family space. The windows allow cross-ventilation from the cool valley breeze into the rest of the home. There is ample room for multiple people to come and go as they please, any time they wish. Pantry cabinets with rollout shelves feature full-extension hardware and Blumotion soft-close devices make storage a dream.
Hertco Couer D'Alene-style cabinetry with beaded panels
Silestone "Bamboo" countertops for the kitchen island
Karndean Coffee Maple vinyl floor planking
Milgard vinyl windows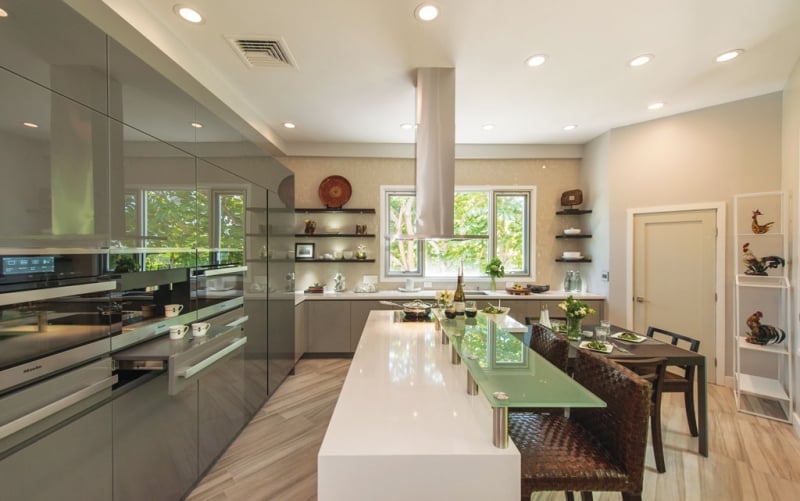 $$$ Ultra-Modern Concept
INspiration Interiors gave this kitchen a total makeover, taking its lack of natural light and nonrectangular floorplan and transforming it into an ultra-modern space with crisp colors and lustrous surfaces. The large picture windows are encased by Fleetwood aluminum and now let in an abundance of natural light. The Italian-made ValDesign cabinetry feature high-gloss lacquered surfaces that allow the incoming light to be evenly distributed throughout the kitchen.
ValDesign Forty/5 cabinets in gloss lacquer and reef vetri glass doors in piombo
Miele appliances, including coffee system, speed oven, induction cooktop and refrigerator
Fleetwood aluminum picture windows
Acacia Valley porcelain tile flooring by Daltile
---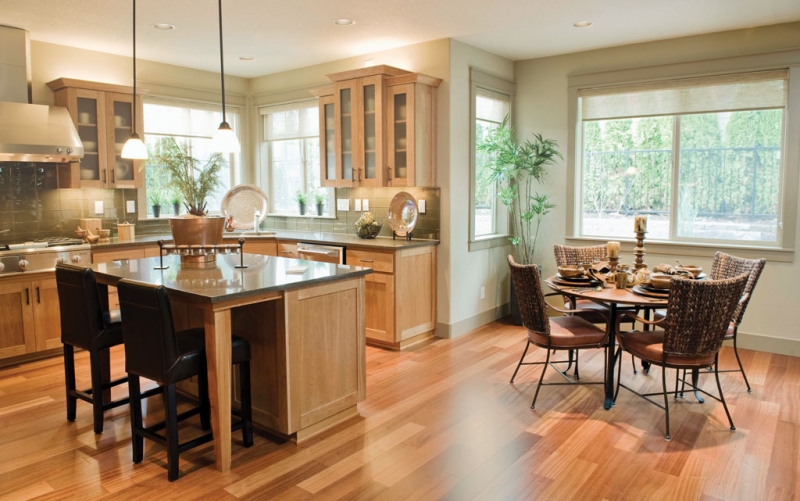 Financing Your New Kitchen
Find the option that best suits you when funding your next home remodeling project.
If you've decided to remodel a part of your home, be sure to work closely with your designer or contractor for costs you're comfortable with. For larger projects, such as a kitchen remodel, consider using a home-equity line of credit, or HELOC, to aid you in financing your investment. A HELOC will allow you to tap into a line of credit based on the estimated value of your home. With this type of loan, you draw on the amount you need and only accrue interest on the amount borrowed. Since a HELOC is secured by your home's equity, it may qualify for a lower interest rate than other types of loans.
Another great option to think about is refinancing your mortgage to access more funds. To do this, a borrower will refinance their mortgage for an amount greater than the current balance owed, taking the difference in cash to put toward their next big project. Consult with your credit union or bank to check your eligibility to refinance your home. You may find that your credit score will qualify you for a new, lower interest rate.
If you plan to live in your home for the long-term future, remember that your ultimate kitchen need not be done all at once. You can complete different parts of your kitchen over a period of time, helping to manage costs and allowing you to use other options, such as cash or a credit card with rewards.
Source: HawaiiUSA FCU
HawaiiUSA is not affiliated with Ko'olau Builders, Graham Builders, INspiration Interiors or their respective suppliers.