Create A Tropical-Themed Party Outdoors
Cocktails, cool breezes, and chill vibes are what's on the menu for this party season.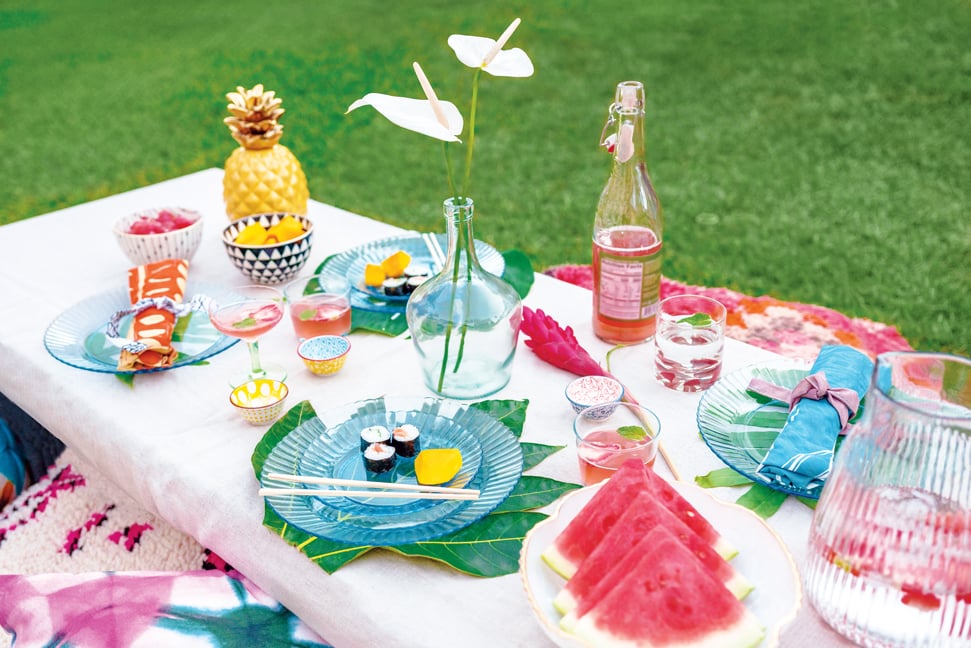 A big bash or super soirée might be iffy during the holidays. Unfortunately, nowadays, safety is not in numbers. But that doesn't mean the party is over — it just means we have to get our creative juices flowing. Here's a suggestion for your next get-together: Throw an easy-to-do, Hawaii-inspired backyard paina that will woo and wow your guests.
Setting the start time is important. Too hot, people get fussy. Too chilly, guests want to head indoors and your living room looks like a tornado, a teenager and a 3-year-old pre-partied there. We highly suggest sunset. The gorgeous, sherbet-hue glow at the end of a day and refreshing tradewinds encourage your invitees to chat, relax and sit back (outside). Another way to ensure your guests feel comfy-cozy is to keep the attire low-key. Sundresses, T-shirts, shorts and slippahs are welcomed. Party décor and dinnerware from local boutiques hype up the tropi-cool theme. (Turn to the next page for inspiration and tips.) Last, but certainly not least, food and drinks — think poke, pupu, fresh fruits and refreshing cocktails — should be bright, fun and memorable. Like this party!
Green Party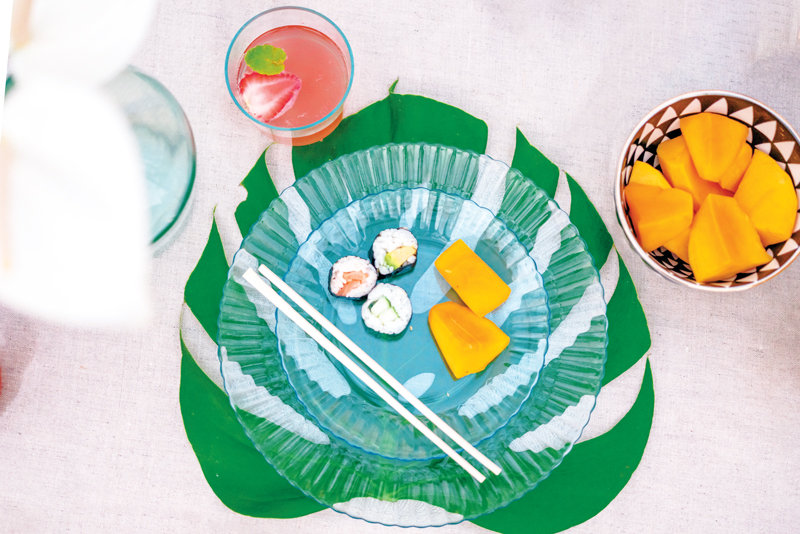 A lot of local florists sell tropical leaves that can be used as table décor. Bigger varieties like monstera and ulu are great substitutes for place mats, while slender and long banana and ti leaves can slide under pupu bowls and trays. If you're on a budget, free fronds from your own backyard or a neighbor's (of course ask first!) will work too.
B.Y.O.C.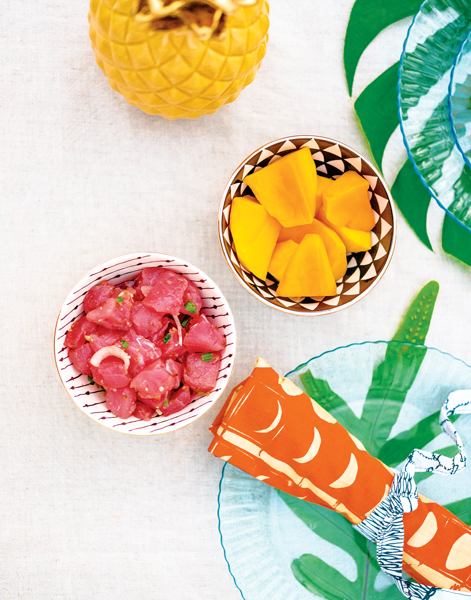 Bring your own cutlery. Encourage guests to bring their own locally designed, reusable utensil sets. It saves the earth, and time you would spend on washing dishes. You can also buy reusable sets and give them to your guests as party favors or holiday gifts.
Great Minds Drink Alike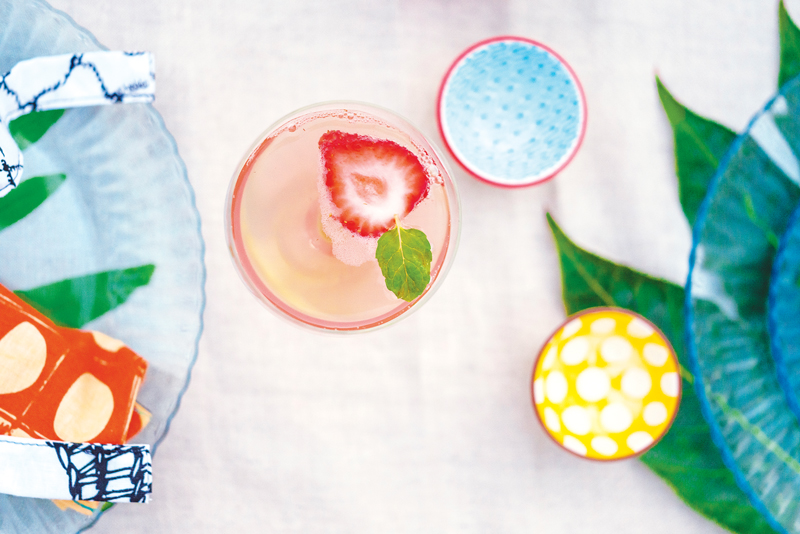 Your guests will definitely appreciate some luscious libations that are accessorized with edible flowers, sliced fruits or fragrant herbs. Look to local liquor labels and breweries for wines, spritzers and seltzers to add more sparkly spirit to the party.
Pillow Talk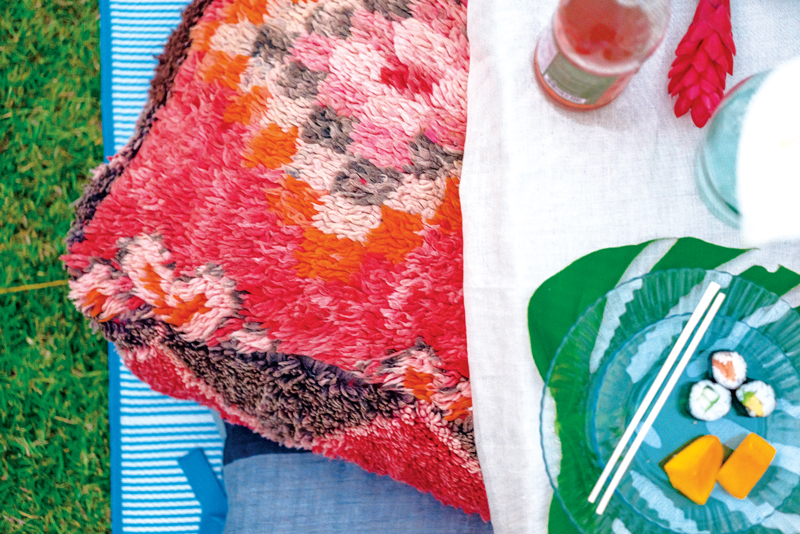 If you're going more for a picnic-style soirée, grab some pillows and poufs to enhance the easygoing ambience. A handful of local boutiques sell playful styles in poppy hues. Again, if you're pinching pennies, one alternative is to snag living room or patio set cushions that are washable. You know someone will spill their drink.
Products featured:
Vintage glass plates, $60 part of set, vintage cocktail glass, $7, vintage milk glass dish, $22, Sugarcane; Robert Flowers handblown glass with floral bottom, $80 for set of two, Donna magenta pillow, $60, Fishcake; Hawkins New York recycled glasses, $12, Showpony poufs, $180 each, Olive Boutique; Ceramic pineapple, $25.80, Creative Co-op ceramic gold-rimmed bowls, $9.80 each, stamped stoneware dipping sauce bowls, $5.80 each, glass vase, $15.80, glass pitcher, $32.80, SoHa Living; Reusable utensil set, $32 each, Kealopiko; Food and drink, Foodland Farms; Monstera and ulu leaves, anthurium, Kaimuki Lei Stand.