Creating a Rock Garden for Your Backyard
A low-maintenance way to liven up your outdoor space.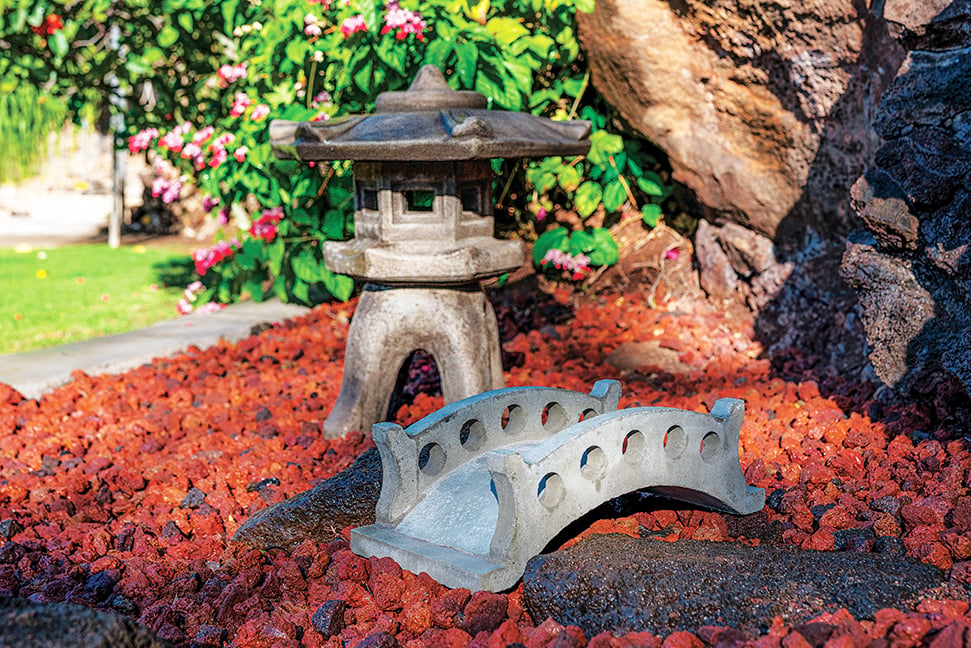 The beauty of a rock garden is in its simplicity. By design and material, it is a low-maintenance way to liven up your outdoors, with each garden element contributing to a balanced space you'll be proud to have crafted.
The owners of this home knew they wanted to add a rock garden in their backyard to fill a spot overrun by weeds. The goal was to keep it "clean and simple," shares the homeowner, who sought out supplies from Kiso Store in Waipahu, a local family-owned company that offers numerous outdoor concrete items that are great for low-maintenance landscaping and xeriscaping.
"We had gone there before to look at ideas for what we could do," the homeowner says. "When I got there, I got excited about the possibilities."
The rock garden features red gravel accented with a pagoda and bridge, two popular lawn ornaments from Kiso Store. "I wanted a pop of color and thought it would be a good contrast against the rock wall," the homeowner says of the gravel choice.
"Red is used more for accent and detail," adds Russell Tamanaha of Kiso Store. Although more brittle than blue gravel, which is used for its durability, these red ones are great for ground cover and offer a deeper look, he says.
Together, these pieces work to achieve a well-grounded space in this home's backyard.
There are so many options for you to roll with in your very own rock garden. Whether you want to create a themed space or decorate by color or design, visit Kiso Store to find a variety of materials for your outdoors.