Curated Condo
Galley Kitchen Is Redesigned to Complement Gallery Collection.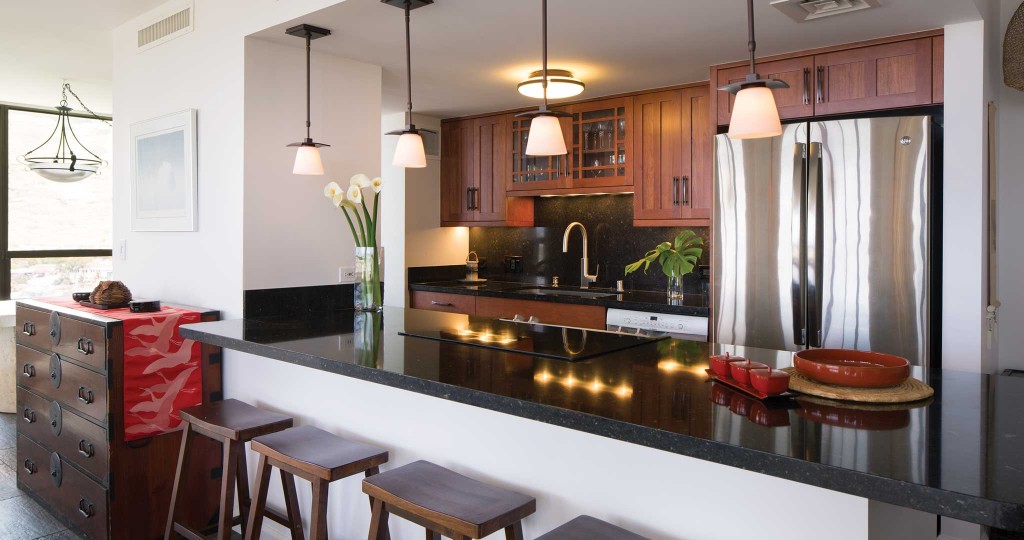 The owner of this Hawaii Kai condo knew there were a lot of features missing from her cramped kitchen when she bought the unit — including functional work space, storage, adequate lighting and modern appliances. But, above all else, the dated kitchen just wasn't her.
"It was clear it could be opened up," the homeowner says. "I wanted to make it a place that invited people to interact while providing more intelligent, more attractive storage."
The homeowner turned to award-winning designer Shelley Tanner of John Cook Kitchens for help in reimagining the centrally located kitchen. "The galley kitchen was very closed off to the dining and living rooms," says Tanner. "You weren't able to look out at the view from the curved windows spanning the whole end of the building. You were closed off from socializing with your guests."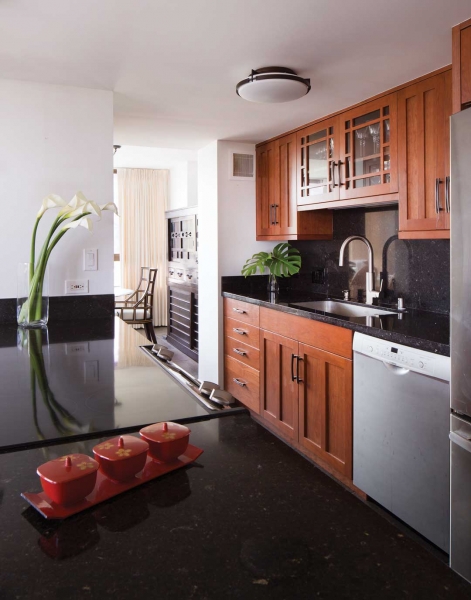 To open up space between the kitchen and dining room, Tanner and contractor Keld Christiansen of Copenhagen Kitchens removed two full walls and the pocket door, creating a large peninsula with new cabinetry and light fixtures. The pantry closet was replaced with a pantry cabinet with electrical placement for a microwave. Modern appliances, informal seating, functional storage and work spaces were added as well.
"The new storage options enable us to keep the area as uncluttered as possible," the owner says. "I don't like a lot of things cluttering countertops."
The cabinet colors, door styles and handles were given a specific feel to tie in with the rest of the home's décor. The search for the perfect flooring was a particular challenge, as the owner combed through stores in five states before finally finding what she wanted here in Hawaii — a 12-inch-by-24-inch tile from ProSource of Honolulu. "I was looking for an option that would evoke Kyoto and a gritty, elemental, shibui industrialism," says the homeowner. "I was determined to find the understated, but dramatic flooring that we finally installed."
Tanner says her favorite parts of the remodel are the new open feel and modern finishes. "The space now feels so rich with the darker color," she says.
"A lot of people say they don't want to use dark colors in a small space, but because they have tons of natural light and good general and task lighting, it works fine."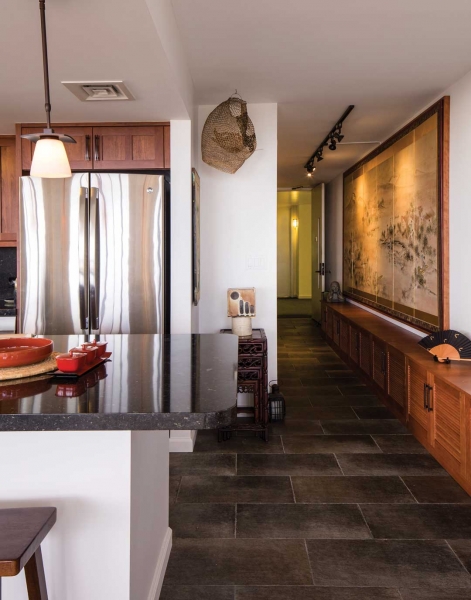 The homeowner credits Tanner and her team for the two-month project, which included upgrades to the gallery hall and guest bath. "I am very pleased with how it has turned out, particularly the gallery, the flooring and the openness of the kitchen," she says.
Tanner agrees. "It looks 100 times better than before – more cheerful. It makes you want to cook. It's so much more open and now has character due to the finishes. It's not so plain Jane!"
Owner's Wish List:
• Create a feeling of openness.
• Have kitchen reflect the Asian theme to match furniture.
• Improve storage layout for ease of use.
• Clear the clutter.
WHERE TO GET IT
Backsplash: Cambria/Blackwood; Cabinetry: Bellmont Cabinet Co., 1900 Series Line, Craftsman door, cherry wood with auburn stain; Countertops: Cambria/Blackwood with full-height backsplash in same material; Dishwasher: Servco Home & Appliance Distribution, Bosch Ascenta; Faucet: Ferguson Bath, Kitchen and Lighting Gallery, Moen Ascent pull-out with stainless steel finish; Flooring: ProSource Flooring, Anima, color nero; Range: Servco Home & Appliance Distribution, GE 30-inch slide-in; Refrigerator: Servco Home & Appliance Distribution, GE profile counter-depth; Sink: Servco Home & Appliance Distribution, Franke Grande.