Customers Have a Huge Role in Meeting Renewable Energy Goals
Hawaiian Electric offers many renewable options to choose from.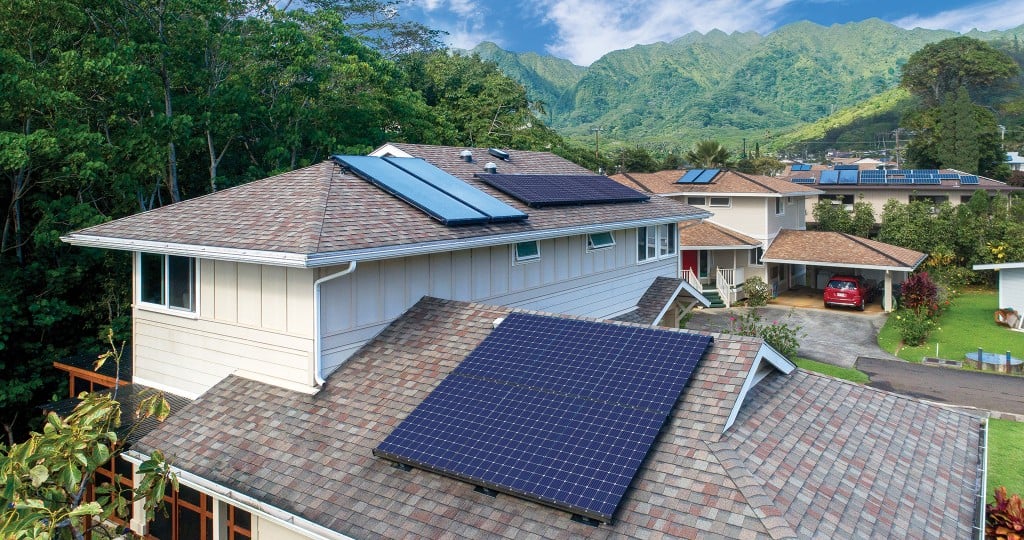 It's all hands on deck as Hawaiian Electric works toward 100% renewable energy by 2045.
As the electric utility works with developers, community organizations and state agencies to add more large-scale renewable projects, more and more residents are also contributing to make Hawaii a national leader in rooftop solar adoption.
New rooftop solar systems are helping the state reach the milestone of 30% renewable energy by the end of 2020, as roughly 3,500 new solar energy systems were connected to the grid across Oahu, Hawaii Island and Maui County in 2019, and a similar number is expected in 2020.
"We foresee a great need for even more of these customer energy resources," says Lani Shinsato, co-director for Customer Energy Resources at Hawaiian Electric. "To achieve 100% by 2045, we need to nearly triple customer participation."
To meet this target, the electric utility offers a variety of renewable energy programs for customers to join. These include Customer Grid-Supply Plus, Customer Grid-Supply, Customer Self-Supply, Smart Export and Net Energy Metering Plus.
Under Customer Grid-Supply Plus, residents get a second meter connected to their solar energy system to allow Hawaiian Electric to monitor system performance remotely and to control the system in times of emergency.
Another option is Smart Export, designed for those with renewable systems linked to a battery, giving customers the option to export energy to the grid from 4 p.m. to 9 a.m.
Customer Self-Supply is for residents with private rooftop solar systems connected to the grid that do not export electricity but are able to serve their own household needs and receive electricity from the grid as needed.
Those who enroll in Customer Grid-Supply are credited for the electricity their solar energy systems send to the grid. This is similar to Net Energy Metering, or NEM. In 2015, state regulators announced that NEM had hit its limit and closed it to new customers.
Customers who are grandfathered into NEM and want to add more solar panels (or a battery) are eligible for NEM-Plus. With this program, NEM customers can add more solar panels, but those additional panels cannot export any electricity to the grid.
Another program in the early stages of development is a community-based renewable energy program, more commonly called community solar.
"We're excited about this program," Shinsato says, noting that it was created with apartment dwellers, renters and customers with low-to-moderate incomes in mind. "We want them to be able to participate in the solar movement as well so we will be offering 'solar without a roof' to meet their needs."
Hawaii residents' interest in renewables continues to grow, with 77,801 systems interconnected through the end of 2019, up from 74,331 through 2018. This means roughly 19% of single-family homes in Hawaiian Electric's service territory of Oahu, Molokai, Maui, Lanai and Hawaii Island are now using rooftop solar. On Oahu, it's 33%.
Hawaii's percentage of residential customers with rooftop solar is nearly three times that of California, second in the nation at 6.6%, according to an analysis of 2018 data by the Smart Electric Power Alliance.
Being ahead of the curve means more eyes watching the Islands' progress.
"Other utilities and even other countries are looking to us and want to learn from us — how we are planning on growing even more and how we are integrating more customer resources on the grid," Shinsato says.
Customer energy systems are certainly not the only tool needed to create a 100% renewable future, but the role Hawaii rooftop solar owners will play for themselves and for their neighbors makes the Islands' renewable energy future notable.
"That's what makes Hawaii unique," Shinsato says. "We will be very dependent on these resources to provide us energy and grid services. Customers with solar will be benefiting all customers."
Lani Shinsato, co-director of Customer Energy Resources at Hawaiian Electric, answers questions about how homeowners can take advantage of solar offerings.
Q: I have rooftop solar under Net Energy Metering – can I add more panels?
A: Yes. You can enroll in the Net Energy Metering Plus program to add panels to your system but those panels cannot export electricity to the grid.
Q: If a community has very high levels of rooftop solar, what options are available to homeowners who still want to get in on rooftop solar?
A: We now have advanced technologies like advanced meters and advanced inverters that help us manage challenges on the grid where we have high levels of rooftop solar, so we still encourage customers to apply to any one of our open programs and we will review their application. Customer Grid-Supply Plus, Customer Self-Supply, Smart Export and Net Energy Metering Plus still have a lot of room available and are open to customers.