Designing a Nursery for a Firstborn Child
For new Hawaii parents Davin Jaime and Emily, it's a handmade labor of love.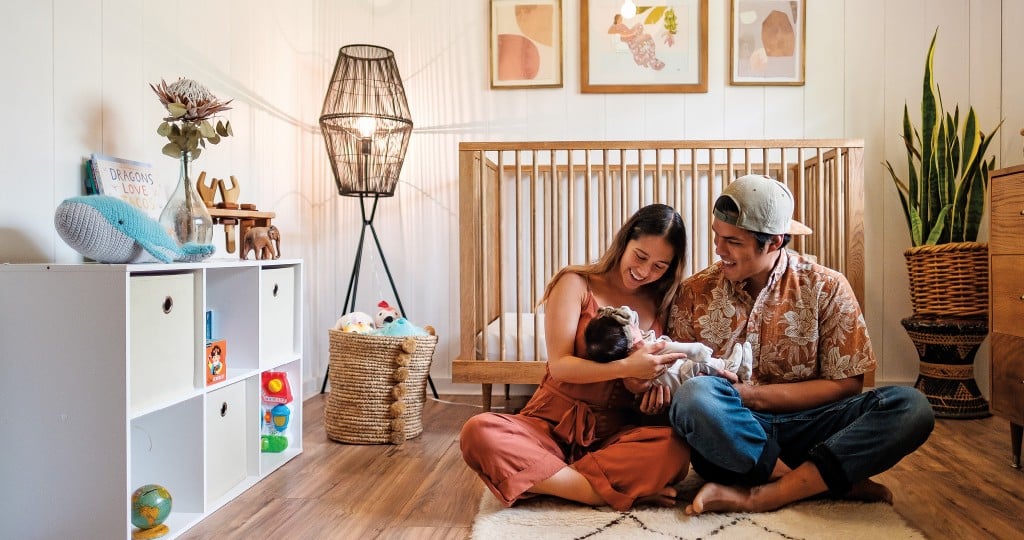 In the months leading up to the birth of their firstborn daughter, Kailua-based business The Splinter Concept's Davin Jaime and YIREH fashion designer Emily poured their love of design into their baby's nursery. Both avid travelers with a passion for art, the couple focused the nursery around key pieces that are as fashionable as they are functional.
Envisioning his future as a father, Davin took to his workshop to create custom, one-of-a-kind furniture for his baby. The task was as heartfelt and emotional as it was inspiring for Davin, who envisioned the pieces as keepsakes that would stand the test of time.
"I wanted her to have a timeless piece like the dresser that could grow with her through many stages of her life. I also wanted to make the crib so that I knew she was sleeping safely in a sturdy piece of furniture," he explains.
Mood boards guided the couple as they discussed the look and feel they hoped the room would cultivate for their growing family. The result is a mixture of midcentury modern furniture with a rustic island flair, accented by bohemian touches that are a nod to YIREH's global aesthetic.
The dresser and crib were completed as focal points of the room, adding décor that showcased the couple's unique style. Clean lines, organic textures and treasured mementos make the space particularly sentimental to the pair.
Walking into the room today with Paisley Indah Rose in tow is a dream for the Jaimes. "It's surreal, to be honest, because we've realized the purpose of why we renovated this room and now it feels complete," Davin says.
The couple now sits in awe of their 2-month-old daughter in the home they created with her in mind. It is an oasis of calm that serves as a testament to their love story, and a safe haven for their greatest collaboration yet.
Dresser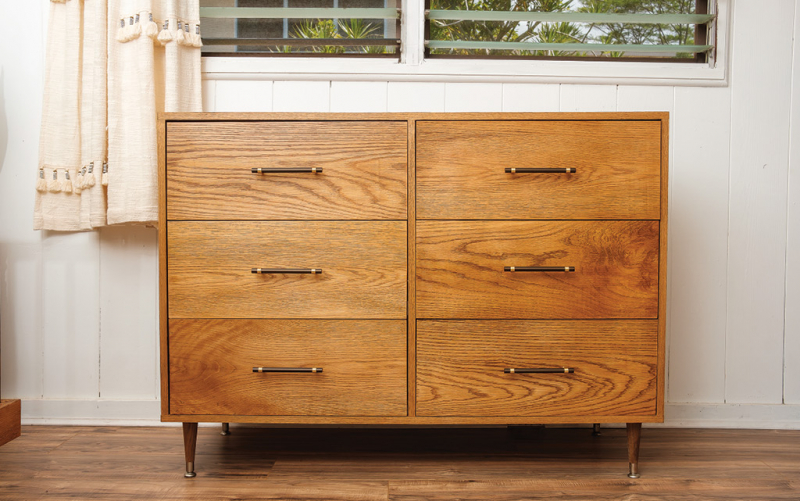 The handcrafted white oak dresser Davin made for the nursery is a standout statement piece. Featuring his love of stylish midcentury modern furniture with elegant hardware, it has become a treasured family keepsake. "I feel so much love when I walk into the nursery. It is amazing to see Davin's love for Paisley shine through in his work," Emily shares.
Floating Shelves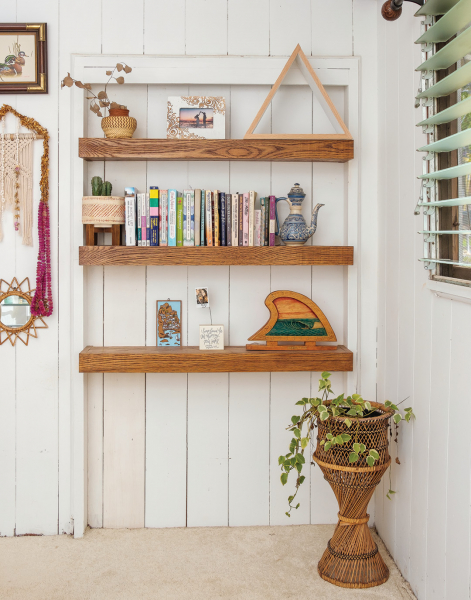 Evidence of Davin's handiwork is seen throughout the Jaime home. Rustic floating shelves house a collection of books and souvenirs from their worldly travels.