Designing for Multiple Families Under One Roof
A multigenerational home built with individuality, accessibility and connectivity in mind.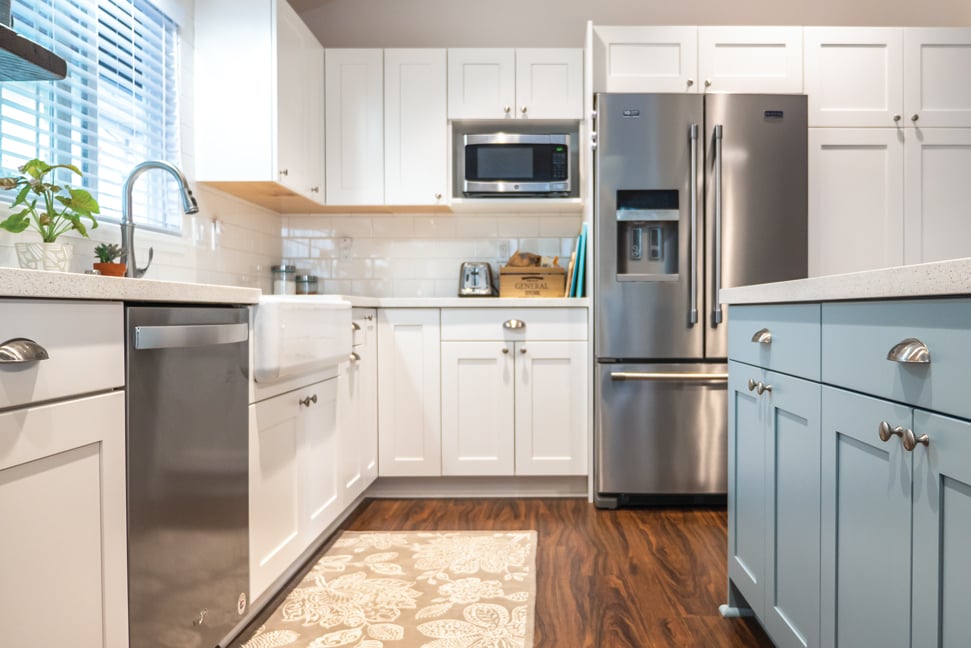 Multiple generations residing under one roof is commonplace in Hawaii — with large families living together, taking care of one another. When designing a new home to house more than one family, it's essential to create a balance of private and shared spaces. It also takes a knowledgeable team of experts, such as S. Tanaka Construction, to be able to meet the needs of each member and blend it into a cohesive home.
This local company makes family living harmonious — as seen in its work on this multigenerational abode. After several renovations, the owners of this home decided it was time to start anew when the needs of the family continued to grow. They trusted in S. Tanaka Construction to build a new home on a property that's been in their family for 80 years. "We wanted to make sure that we could have space for our family upstairs, as well as space for my aunt and uncle downstairs," shares the homeowner.
Multigen Design
"Multifamily or -generational homes can be a fun challenge to design as we have to take into consideration each family's needs and wants, and attempt to make it work fluidly," shares Ryan Tanaka of S. Tanaka Construction.
This home is divided into two floors, one for each side of the family, that have the same layout but are designed differently.
"This family had a great space to work with in that each floor had 1,500 square feet of living space so they were both able to get three good-sized bedrooms and two bathrooms," says Tanaka. "We were even able to give them separate entrances so there would be minimal disruption for both families as privacy is also another aspect to consider when designing multifamily homes. Overall this house had two great living spaces with open-concept designs."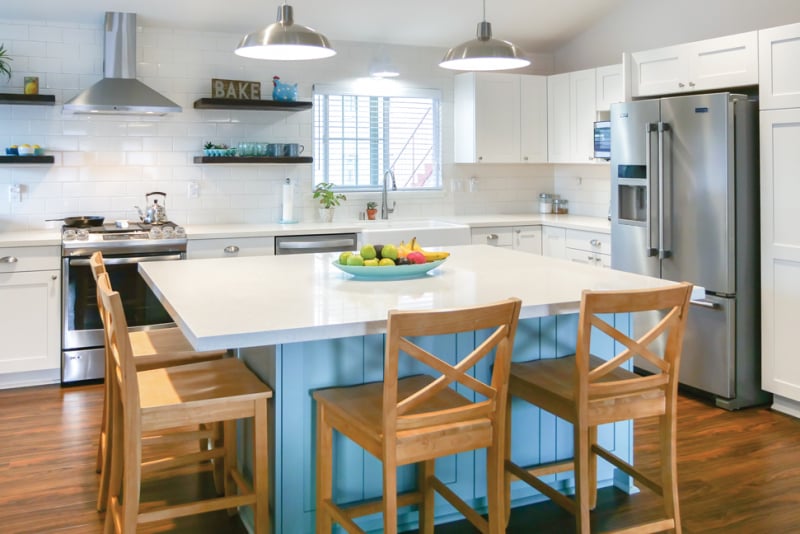 Making it Your Own
Upstairs, the niece and her family were able to create their own space that is bright and white, with clean lines and darker flooring to balance the lightness. S. Tanaka Construction helped them through the design and layout, making changes to fit their needs.
"We really just wanted to have enough room for our family. We weren't too specific on the little details, except for the kitchen," says the homeowner. "I was very particular about what I wanted — from the big kitchen island, farmhouse sink and white subway tile to the ceiling."
It's the homeowner's favorite place in the house and features white cabinets, large white subway tile and open floating shelves made from reclaimed barn wood. White quartz countertops have a hint of sparkle, but the star of the space is the large blue kitchen island. The family chose stainless-steel appliances — from the gas range and hood vent to the dishwasher and refrigerator — and all smaller appliances are stored when not in use.
A Place for Family
"We really love our kitchen and living room, and it's where we spend the majority of our time as a family," says the homeowner. "Our son loves to help cook and while we make dinner, I can watch my daughter while she plays in the living room. We have large windows that let a lot of light in and the vaulted ceiling makes the space feel much larger than it really is."
On working with S. Tanaka Construction, the homeowners share how helpful Tanaka and his team were from design to completion. "We had a lot of things thrown at us and we were able to work together to come up with solutions at every step," she says. "We would highly recommend S. Tanaka Construction to anyone looking to build or renovate a home."