Designing the Perfect Outdoor Space
Well-designed exterior living areas can also be affordable.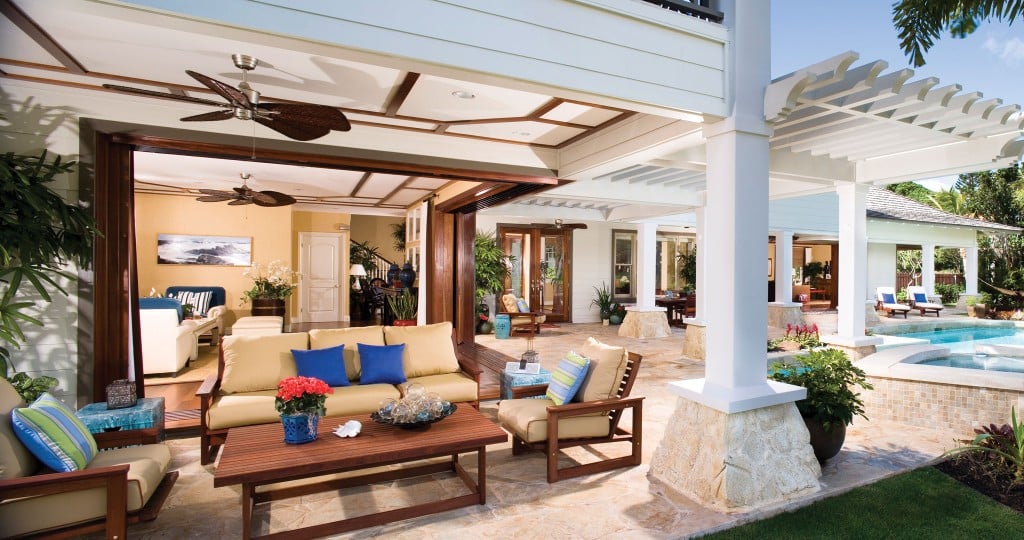 Outdoor living spaces are among the most sought-after features for homeowners looking for a change. Exterior design seems to be shifting its focus to create a full indoor-outdoor experience, rather than simply focusing on a pool or lanai. An outdoor living area provides a natural extension of the home, as well as extra living space without necessarily having to deal with heavy construction or remodeling.
Outdoor living spaces continue to be a major selling point for homes nationwide, and they are not just for elite custom home buyers, either. Exterior living areas can be affordable for every buyer profile if executed correctly.
WhiteSpace Architects, formerly Philip White Architects, has been designing stunning outdoor spaces for years, and prides itself on blending traditional and modern methods with a mindfulness toward environmental concerns.
"We don't look for the latest trends, rather, we shoot for timeless solutions and try to open the house on all sides so that there is access to comfortable outdoor areas no matter which direction the weather is coming from," Laura Ayers, AIA LEED AP, says.
It's important when designing your outdoor space to be careful where you find your inspirations and be open to the ideas of your architect.
"Picking various photos you want to emulate makes sense but does not ensure that the interior and exterior spaces will flow together aesthetically and physically," says Ayers. "Depend upon your architect to pull it all together. Get a good idea of the feel and aesthetic you hope to achieve."
Kealaolu Home
This residence was built in Kahala, overlooking the Waialae Golf Course. The house was constructed with the classic kamaaina feel and elegant finishes for a home that blends harmoniously into one of Honolulu's premier neighborhoods.
"It was a priority to open the home up to the stunning golf-course views, while protecting both the outdoor and indoor spaces from the strong trades blowing across the course," Ayers says. "The shallow lot had long streets and golf-course frontage that allowed the team to maximize open areas, cross ventilation and views to the golf course, while allowing all the lower-level rooms to have direct access to a covered deck or lanai."
North Shore Residence
The owners use the home as a vacation and weekend getaway.
"It made sense for much of the lower level to be designed as an open and outdoor space," Ayers says. "An 'elegant house that happens to be on the beach' is the exact vibe the homeowners were looking for." The open and tropical architecture with Asian influence and a contemporary floor plan create a home that showcases true indoor-outdoor living.
"It was important that the home be open to the trades, and exposed to natural light," Ayers says. "Also, easy access from the home to the yard was a top priority."
The 2016 Best in American Living Awards cited three outdoor living trends to watch over the next several years:
1. Intimate Outdoor Spaces that are geared toward smaller gatherings, as opposed to the extended family-size backyards of the past.
2. Indoor-Outdoor Convergence, which blurs the distinct line between two living areas by using floor-to-ceiling retractable glass walls and screens.
3. Low-Impact Design incorporating sustainable, green features into landscaping design, such as using permeable pavers and native species.