Designs on Collaboration
After one year on the job, AIA Honolulu leader is making all the right connections.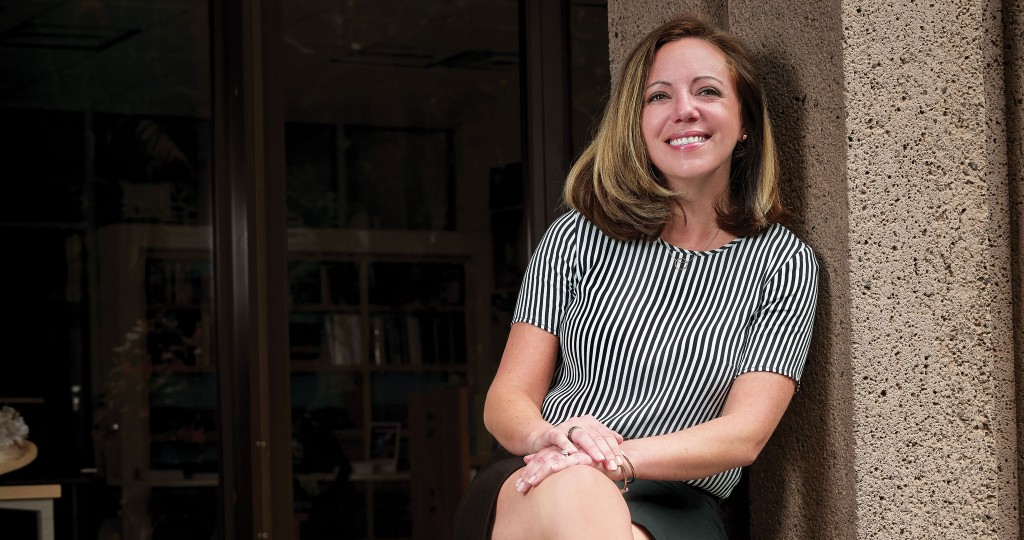 After one year on the job, AIA Honolulu leader is making all the right connections.
Hawaii Home and Remodeling: Moving from Pennsylvania last year, what surprised you most about Hawaii?
Abigail Mundell, Executive Vice President, American Institute of Architects (AIA) Honolulu: You mean beside the fact that there's no real 'winter' during winter? I'd have to say the kindness of the people around you. People in Hawaii greet you with a smile, make conversation, and take time to be friendly. I've never met so many smiling people. I think a big part of that is that the pace seems slower here, and a slower pace means you automatically have more time to acknowledge the people around you, and say a kind word, rather than always rushing from place to place with your head down and avoiding eye contact.
HHR: How has the industry changed in the past year?
AM: Right now, we're seeing a lot more partnering of firms, both local with mainland and local with local, in order to chase after larger projects and/or to suit the client needs. Those partnerships are beneficial for everyone involved because they allow for a broader project and client base.
HHR: What trends do you expect going forward?
AM: Overall there's a pretty good project workload right now, and that should continue even as the economy starts to slip. Clients have money to spend, but have been waiting to do so since costs have been so high. As costs start to come down, projects pick up, particularly for renovation work, as compared to new builds. Going forward, I think we'll also see more foreign investors doing purchases here in Hawaii.
HHR: What sort of impact does AIA have on home design here?
AM: While AIA members represent all project types, quite a few of our architects specialize in residential work, and AIA advocates for them by encouraging homeowners to hire an architect. This is especially important when it comes to renovation work, since the recent DIY trend makes people think they can singlehandedly tackle their own home renovation projects, just like they see on TV. There's a reason for the intense education, training and licensure requirements to become a licensed architect. Your home is a huge investment, so make sure licensed people design it. Architects have the education, training, experience and vision to maximize their client's construction dollar and ease the entire design and construction process. They can help find practical solutions to their client's unique vision and design challenges. Members of the American Institute of Architects adhere to the AIA Code of Ethics and Professional Conduct, assuring the client of their dedication to the high standards of professional practice. AIA architects also fulfill annual continuing education requirements to maintain their professional standing and to stay current in the profession. Architects provide an incredible value to their clients and the AIA is doing its part to best educate the public on both design issues and the benefit an architect brings. The message is simple: Start with an architect.
HHR: What makes Hawaii different from other markets?
AM: Hawaii is a small community. I think the smaller size of Hawaii leads to strong relationships, good fellowship and an overall sense of comradery.  Everyone really does seem to know everyone! The culture here in Hawaii is incredibly strong, more so than any other community I have lived in, and the people here love and respect the land and each other like nowhere else.  We also have less readily available resources at our fingertips, so we're forced to be more creative both personally and professionally. That means taking full advantage of what we can grow or make right here in Hawaii, and buying local is so important for the economy and our sustainability.
HHR: AIA has worked hard in the past year to develop partnerships to foster collaboration. How has that proven beneficial?
AM: It's simple — the more you collaborate with like-minded people, the more you can work together to accomplish the mission of the organization. Architects can't be successful if they don't collaborate — and neither can the professionals in the organizations we collaborate with. Architects, contractors, builders, landscape architects, interior designers, real estate agents, etc., they are all part of the puzzle, and when we collaborate we help all of our members build critical relationships outside of their own specific industry. Hawaii is not a huge place, and many of our members are also members of other professional organizations and community groups. Collaborating enables all of us to deliver high-quality, impactful programs and events, without sapping attendees by asking them to participate so often.  Our members work long, difficult hours, and it's our job to make AIA Honolulu (and other organizations) work for the members, not the other way around. What we've seen through these collaborations is greater attendance at events, which is, of course, important.  But what's even better is the excitement that's generating, because the members know that they won't just be networking with other architects. AIA Honolulu has a small staff, so it's difficult for us to put on a lot of events and programs, even with the amazing volunteers we have via our board, committees and members. Collaborating allows us to put less womanpower in, but get more out, which benefits everyone. Finally, one thing I have found here in Hawaii is that relationships are key, and it really is all about who you know. Collaborating broadens that circle significantly, which is good both professionally and personally, particularly for someone new to the area.
HHR: One of those partnerships has been with the University of Hawaii School of Architecture. What sort of things does AIA do with the school? Why is it important?
AM: The School of Architecture students are the next generation of professional architects, so working together with the school just makes sense for the future of our organization, and profession, here in Hawaii. In 2017, Dean Daniel Friedman joined the AIA Honolulu board, which has been valuable for keeping the two organizations tuned into one another. We cross-promote events for our organizations on a regular basis, and, in 2016, we incorporated a Student Awards component into our annual Design Awards, which was a tremendous success and gave the students visibility they hadn't had before with AIA members.  We display student projects at the Center for Architecture, and the students regularly volunteer at AIA events. As with our other collaborations and partnerships, we work with UH because, at the end of the day, we're all working toward the same thing – to shape our community through good design.