Detail Driven
Fujita + Netski Architecture incorporate clever design to fit into a neighborhood.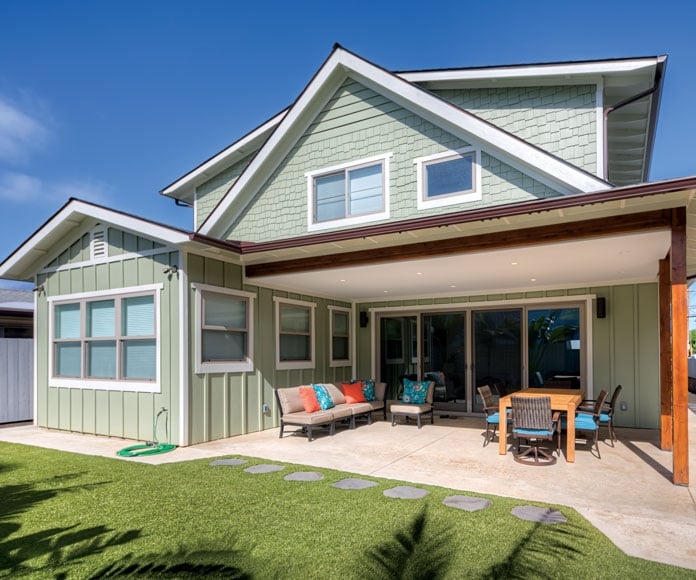 2017 AIA Honolulu Design Awards – Editor's Choice Award, Finalist.
---
The architects of this traditional, craftsman-inspired home set out to design a house that would blend into its Ainakoa neighborhood. A closer look at the house shows intricate details that change the perception from simply blending in, to fitting in, with sophisticated style.
Husband-and-wife team Ryan Fujita and Chris Netski of Fujita + Netski Architecture worked to ensure the 3,526-square-foot house would appear smaller from the street. "The framing of it was very difficult. The walls don't stack up," Fujita says, explaining that the shed dormers on either side of the tall gable help to make the house look smaller than it really is, contributing to its curb appeal. Further, the contrasting second-floor shingles and first-floor board-and-batten siding add visual interest.
Custom woodwork is found throughout the interior of the house, as well. The architects worked with cabinetmaker Jewells Woodworks and contractor H-1 Construction to create and install a custom banquet, bookshelves and cabinetry in the kitchen. White shaker cabinets pair with custom baby aqua ceramic subway tile and staggered glass buoy pendant lights to bring a sense of playfulness into the kitchen.
"I think the house really represents the homeowners very well," Fujita says. "It's classic, it's familiar, it's not overwhelming, but still beautiful and well designed."