Down to Earth
The North Shore's vegan queen shares tips and recipes for a healthful, plant-based lifestyle.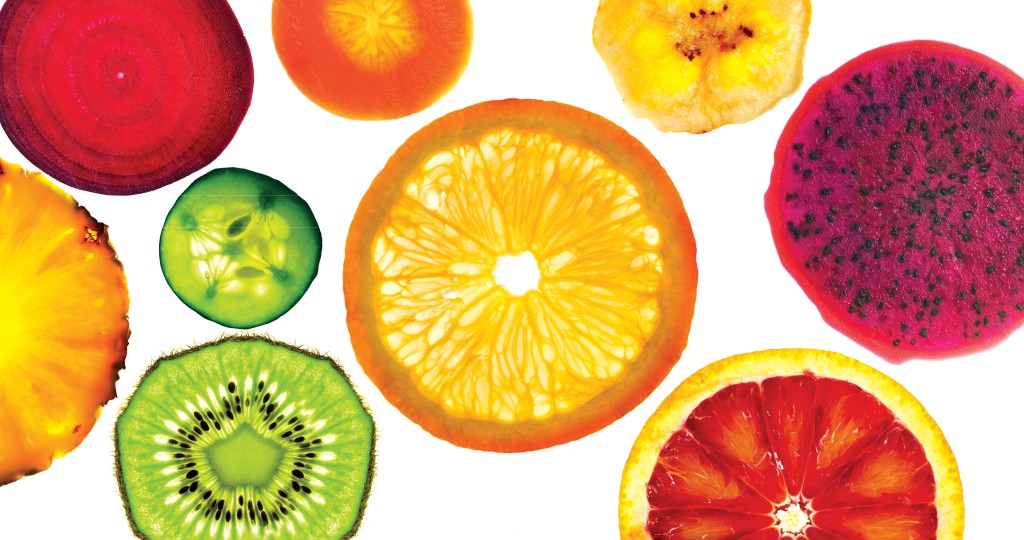 Her food is beautiful and her philosophy simple—plant over processed.
"If you were to put a title on my diet, I would be considered a high-carb, low-fat, plant-based vegan. How is that for a mouthful?" laughs Andrea Hannemann, the sun-kissed, Haleiwa-based blogger. "Actually, I would consider it more of a lifestyle than a diet. Eating well, managing stress and work, and exercising are all important. I'm trying to find a holistic approach to achieving health and happiness."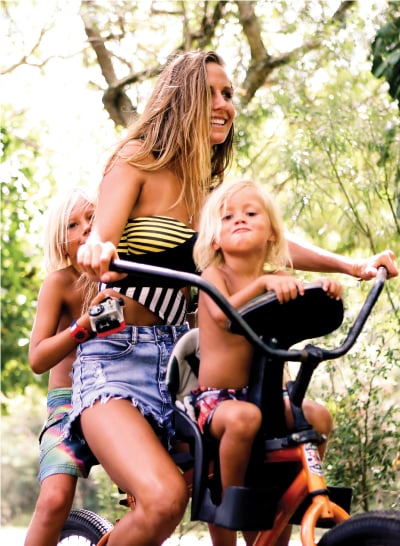 Last year, after enduring a lifetime of stomach spasms and health issues, Hannemann decided to adopt a strict, plant-based diet. And, as her ailments faded away, she realized it was the best thing she'd ever done. Hannemann felt renewed as a person, mother, wife and foodie — creating her online persona and inspirational vegan blog earthyandy.com. "When people saw the difference, they wanted to know more. I made earthyandy.com in hopes to help anyone out there looking for a similar solution and lifestyle," she says. Her virtual support and guidance — plus clicks and scrolls of her colorfully mouthwatering dishes — earned her more than 100,000 followers in just a few months. Establishing herself as a trusted name in the sea of online health chatter, Hannemann's website content and advice is all approved by health-care professionals, including naturopathic physician Dr. Diana Joy Ostroff.
Her goal was to develop a sustainable, healthy lifestyle that was also enjoyable and could fit into society, while supporting our planet's health. Dedication to whole foods (no, not Whole Foods the store) was the turning point to Hannemann's success. Consuming mostly raw, whole foods — nutrient-packed fruits, vegetables and legumes — provides her and her active family with plenty of protein, vitamins and energy. "I know many illnesses and health problems can simply be avoided, while simultaneously helping the environment, if we pay more attention to what we put into our bodies," she says. The plant-based path is also quite kind to the environment. Veganism has been regarded as a solution to cutting greenhouse gas emissions and reducing water consumption, both of which are associated with animal farming.
And, never has being an environmentalist looked so delicious. White rice paper hugs twirls of green-leaf lettuce, sticks of cucumber, carrot slivers and crinkles of purple cabbage. She prepares a tray of her Thai Basil Summer Rolls with her two young boys, their delicate hands folding the thin-skinned starch around the other ingredients as if tucking them in for a sleep. Hannemann creates vibrant meals that entice the eyes and conjure an inspired palette. Scrolling through posts on Earthy Andy, the thought I want to eat that rainbow is bound to occur.
Sourcing local and seasonal fruits and vegetables keep her flavors fresh. "Living in Hawaii we are spoiled — one friend has too many bananas, the other too many avocados, another too many grapefruits and mangos," Hannemann explains. "My family and I recently planted a garden and are enjoying the produce from there, too. We all share what we grow. But, local markets, such as the Waimea or Wailua markets, are the best for bananas, papayas and herbs."
Hannemann is also a promoter of balance and accessibility: Shopping at Costco for bulk organic produce and other staples such as potatoes, pasta and almond milk saves her family time and money.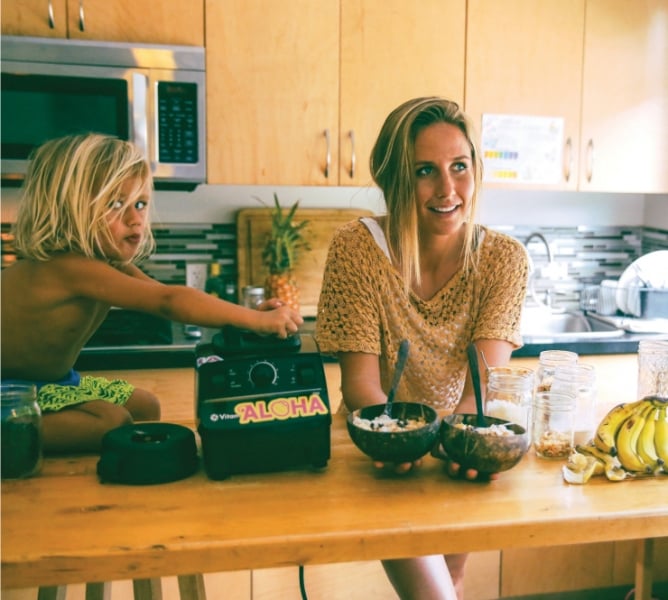 Offering recipes, meal plans, advice and an inside look into her daily rituals, Hannemann's blog shares a wealth of information and resources for anyone looking to boost their inner and outer glow via a plant-based makeover. "We are all different and, therefore, it is important to become an expert on ourselves," she adds. "But, it wasn't until I changed my attitude and my outlook on being more responsible that my health started to bloom and succeed."
---
HANNEMAN HOUSEHOLD STAPLES
Bananas
Apples
Dates
Kale
Cucumbers
Rice paper sheets
Nori sushi sheets
Coconut sugar
Coconut flakes
Oats
---
EARTHY ANDY'S TIPS TO KEEP KIDS HEALTHY
1. KEEP JUNK FOOD OUT OF THE HOUSE
I'm often asked, "How do you get your kids to eat salad and veggies and all this 'healthy food?'" Well, it definitely is an area I'm always working on, but I will tell you right now – if you're competing with ice cream and cookies, you will most likely always lose. Solution? Keep it out of the house or hidden, at best. After one or two days of junk food being out of the home, they are over it.
2. KEEP IT LIGHTHEARTED AND FUN
Take the spotlight off the veggie and move it on to something else. We like to have "How loud of a crunch can you make?" competitions with my boys. It turns not wanting to eat carrots or cucumbers into a crunching frenzy. Giving funny names works wonders as well. For example, spaghetti squash in our home is "monster hair" and green smoothies are "Ninja Turtles' secret ooze." I tell them fruits and veggies make them strong and for every veggie they eat a muscle will grow in their sleep. "Oh, you want to do an air on your skateboard? Broccoli gives you the power to do that!" Have them involved in cutting, prepping, taste testing and, if you can, have a little garden and get them involved.
3. GIVE IT A TRY
There is a rule in our home: "You don't have to like it, but you have to try it." Give at least seven chances at introducing a new food like this and they will hopefully acquire the taste. A lot of the time it just takes getting used to something they have never had before. One of my kids' favorite meals is sweet potato baked fries with leafy greens, a slice of sweet mango, green smoothie and a few homemade date balls.
4. BE PATIENT
Lastly, we practice patience. Health takes time. Starting with the elimination of snacks and adding sit-down meals was huge for my little family and has had an incredibly positive influence on our family's dynamics and state of health. My kids are not kids who eat everything naturally, so I understand it takes work, but, when they start asking for healthy stuff, your heart will sing with success. Not only will you be happy but your kids will take pride in knowing how to eat well, too!
---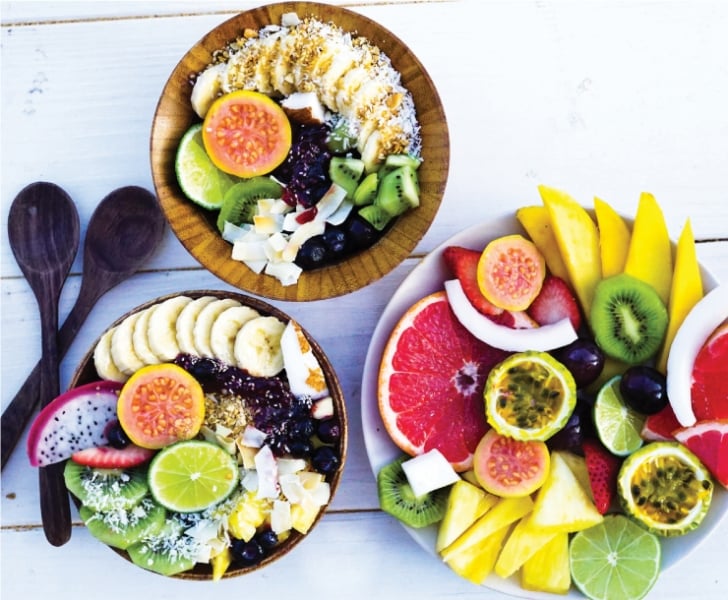 ACAI BOWL NICE CREAM STYLE
INGREDIENTS:
4 – Frozen Ripe Bananas
2 – Acai Packets
1 – Fresh Mango
DIRECTIONS:
Put first three ingredients in blender. Wait for bananas to defrost a little bit (3 minutes), then blend while mashing down.
Stop and stir then continue blending and mashing down for about 1 minute, until you see a smoothie swirl.
Top with whatever fresh goodies you love. Dried coconut flakes, granola or rawnowla, some chia seeds or nuts are also great.
TIPS TO MAKE NICE CREAM
To make "nice cream" (which is nondairy, usually sugar free, with a base of bananas or coconut) it's best if you have a good blender like a Vitamix or a food processor.
If you don't, it will still taste amazing, it will just be a little harder to get a thick ice-creamlike consistency.
Freeze in bulk peeled, spotted bananas and store in a closed container or bag (bananas are a good base because of their creamy texture). Mangoes are also a great base. Using fruits like berries will give you a more slushy texture.
---
THAI PEANUT CHILI SAUCE
INGREDIENTS:
13.5 ounces – Unsweetened Coconut Milk (full fat for better consistency and full flavor)
¼ cup (2 ounces) – Thai Red Curry Paste
¾ cup – Unsweetened (natural) Creamy Peanut Butter
½ teaspoon – Salt
¾ cup – Coconut Sugar
2 tablespoons – Apple-Cider Vinegar or White Vinegar
½ cup – Water
DIRECTIONS:
Put all ingredients into a pot and, whisking constantly, bring to a very gentle boil over medium heat.
Let simmer for 3-5 minutes over low heat.
Take off heat and cool.
Store leftovers in a container in the refrigerator. (Sauce will thicken, so heat before serving and add a little water if necessary.)
---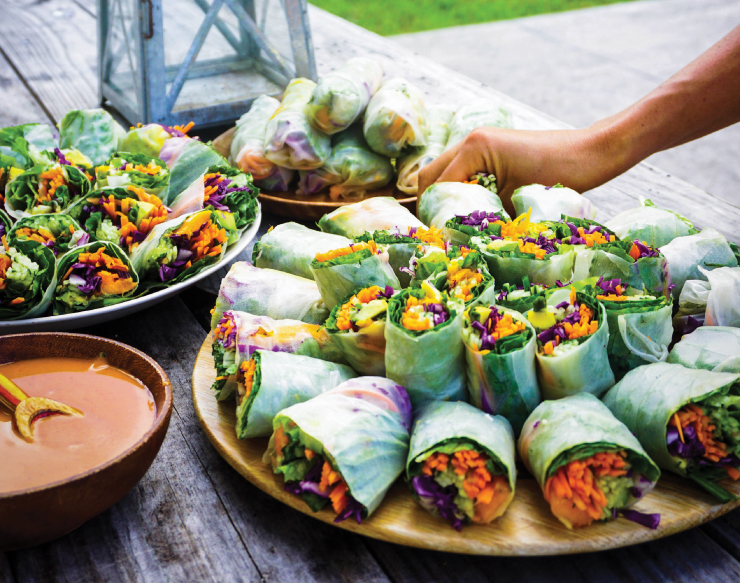 THAI VEGAN MANGO BASIL SUMMER ROLLS
INGREDIENTS:
8 – Rice-paper wrappers
A few torn leafy greens (butter lettuce or other soft lettuce is great)
1 – Medium cucumber
2 – Medium carrots
¼ – Small red cabbage
A handful fresh mint or Thai basil
1 – Avocado
A couple of green onions
1 – mango
Crushed peanuts for topping
DIRECTIONS:
Slice all necessary ingredients into thin strips about 3 inches long. It's okay to slice the avocado and mango into thicker pieces.
Soak one rice-paper wrapper at a time in a bowl of warm water for about 15-30 seconds.
Put rice paper on a counter or cutting board and arrange a few of the vegetables and herbs in the center of the wrapper horizontally, starting with the leafy greens and ending with the avocado and mango.
Wrap like a burrito, fold top over and push ingredients back and then the left and right sides toward the middle. Fold over, tuck and roll delicately but firmly. (If your first ones fall apart, they will still taste good, so no losses!)
Cut the rolls in half if you want to enjoy their beauty and place on a serving platter.
Drizzle with or dip in your choice of sauce or wrap individually and store in an airtight container for later.