Drab to Fab
Four fabulous transformations that keep the homeowners' lifestyles in mind.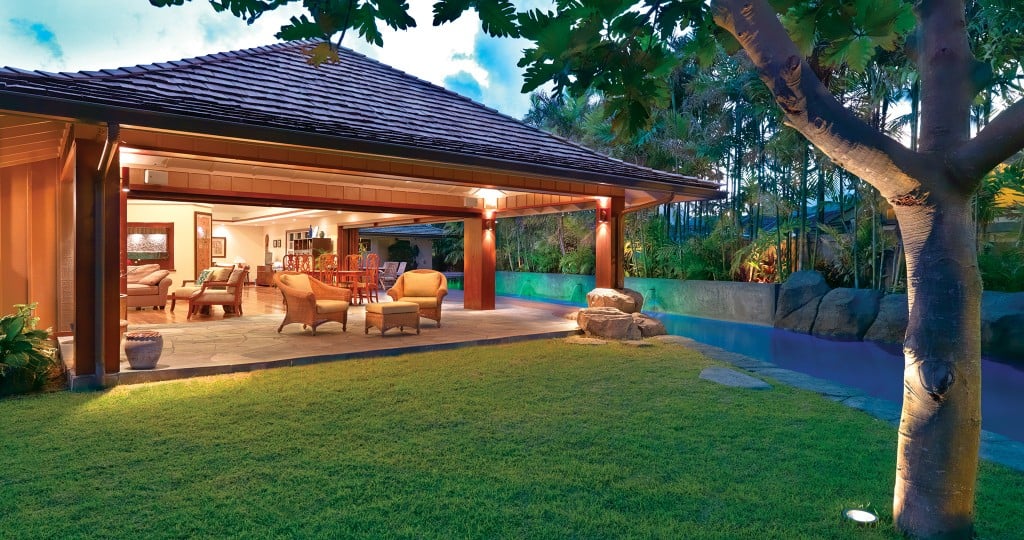 Your home shouldn't just reflect your style; it should facilitate the way you live. When the owners of these four properties found themselves in need of a fresh new look, they decided to take action. With the help of some talented build teams, their dreams became realities on the spot.
Barker Kappelle Construction LLC
The owners of this laidback Windward retreat pined for an area that not only combined the indoors and outdoors but also their passion for beach and mountain living. "We wanted to create a residential oasis that made you feel you were in the mountains, but still living beachside," says the homeowner. After extensively researching different design plans and surface materials, they turned to local design/build firm Barker Kappelle Construction LLC to help them narrow down the possibilities.
"I was impressed with the diligence of the owners on how they personally sourced products both locally and from overseas," says Brett Kappelle, partner at Barker Kappelle Construction LLC. In-depth meetings among the homeowners, architect Keith Cockett of Keith Cockett & Associates, Inc., designer Jonathan Staub of Philpotts Interiors and Barker Kappelle Construction LLC ensured that everyone involved had the same expectations.
Once they had a cohesive plan, the team got to work. To accommodate the homeowners' use of the newly installed Debiasi Pacific pool and spa, Barker Kappelle Construction LLC installed locally built custom doors with German stainless steel top-hung hardware, along with screens and shutters, which open up to the new covered lanai, built and installed by Barker Kappelle Construction LLC.
To bring even more light in, Barker Kappelle Construction LLC installed a ridge skylight in the center of the expansive kitchen. "Having more than 50 feet of open-wall design with an 8-foot by 8-foot ridge skylight achieved our goal of infusing the outdoors into our home," the homeowner says. A new roof and gutters and ipe decking and fencing by Barker Kappelle Construction LLC, as well as a photovoltaic system installed by RevoluSun, provide the finishing touches.
The seamless look of the lanai, pool and landscaping is proof of the success of this drastic change. "The remodel has truly enhanced our lives by surrounding us with natural beauty," says the homeowner. "We simply worked through the details as they arose to address their concerns and produced a quality product that they will enjoy for years to come," adds Kappelle.
Graham Builders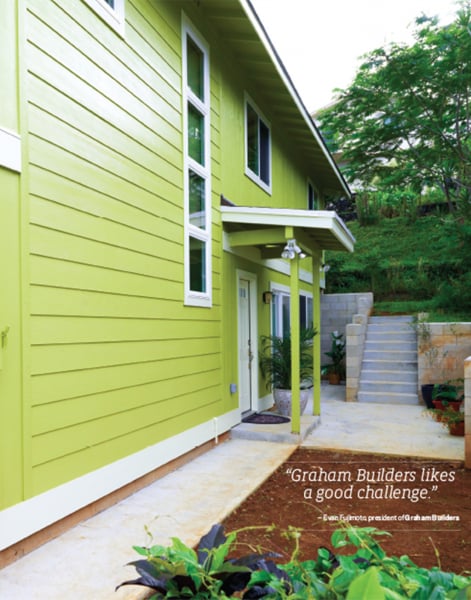 Sharlene Fujisato was tired of hauling groceries up an uncovered flight of stairs to her kitchen. Inadequate storage and a shortage of bedrooms for her multi-generational family only increased the frustration she felt in her existing home.
"My parents have been living here for 30 years, and until now, it has never been renovated," says Fujisato. "It even had the original carpet."
The outside steps, weak from years of enduring the Kaneohe rains, needed to be replaced.  Fujisato also told the pros at Graham Builders that she wanted a kitchen, family room, bathroom and entryway on the bottom floor, all of which would be accessible for her aging father. In short, they needed a completely new bottom floor.
"There are certain projects that contractors love to get started on," says Evan Fujimoto, president of Graham Builders. "And then there was the Fujisato project."
The whole-house project required the build team to support the existing split-level home with I-beams so they could excavate beneath the house to make space for all the new rooms. Graham Builders also poured a new concrete slab and added a 9-foot CMU retaining wall to the slope behind the house for support. Additionally, the interior walls of the top story were rearranged in accordance with a completely new floor plan.
With all the work involved, why didn't Graham Builders just tear this home down and start from scratch? "Two words: cost and challenge," says Fujimoto. "And Graham Builders likes a good challenge."
"I didn't realize from a contractor's standpoint that it was a huge job," says Fujisato. "But Graham Builders was within budget and on schedule."
The home is now a fully functional refuge with a few extra comforts, such as the new patio space off the first-floor family room. "Now this home is comfortable and roomy and will allow this family to enjoy it for another generation," Fujimoto says.
"It just makes sense for our daily life now," adds Fujisato.
Organized Hawaii
Chaos abounded in this Hawaii Kai home, where the owners struggled with which direction they should take their spare room. "It was supposed to be my craft room, but we decided to make it a home office as well," says the homeowner. "Pretty soon, it became the catch-all room, where all things without a designated place were stored."
That's when Organized Hawaii stepped in to tackle the disorder. "We inventoried the items they needed to store, then based on the room layout we considered the best location to position everything to maximize their space," says Kamuela Potter, owner of Organized Hawaii.
Organized Hawaii installed two freestanding cabinet systems complete with large drawers to help the homeowner, an avid crafter, keep all her supplies organized. They placed low cabinets along two adjacent walls to provide seating space, as well as offer ample storage underneath without blocking the windows.
The cabinets are also spacious enough to house a media corner, where the homeowner can watch TV without disturbing her husband while he works at the built-in desk from Organized Hawaii in the opposite corner. The Organized Hawaii crew added shelving and cabinets above the desk to take advantage of vertical wall space and frame a spacious area where the homeowners can finish paperwork, pay bills and check email.
"Now everything is within easy reach and well-organized.  The most rewarding part is having a happy client at the end," says Potter.
With all this storage around the room's perimeter, there was enough space to add a large wooden craft table, much to the owner's delight. "Before, it was so crowded," says the homeowner. "Now this room gets a lot of use.  And we don't just work in here.  We like to watch the news after dinner and just relax in here."
Anchor Systems Hawaii
This hillside wall is part of the landscape that the property owners have cherished for years. Though the owners knew it was time to repair this cracked and displaced structure, their goal was to salvage the natural look of the wall, as well as the native Hawaiian plants around it.
They turned to the experts at Anchor Systems Hawaii, who carefully considered the homeowners' requests. "Rather than tearing the wall down we drilled Tie-back Anchors (Grout-injection Micropiles) through it from the outside back into the bank and locked everything together with rebar," says Heidi Levora of Anchor Systems Hawaii. "Then we shot it with Gunite (a type of concrete applied using a nozzle to add texture), carved it and stained it to look like it 'grew' there."
Where To Get It
Anchor Systems Hawaii
254-8797
www.anchorsystemshawaii.com
Barker Kappelle Construction LLC
664-9212
www.buildhawaii.org
Graham Builders
1144 Young St.
593-2808
www.grahambuilders.com
Organized Hawaii
94-547 Ukee St., Unit 307, Waipahu
678-0096
www.organizedhawaii.com