Inside the Picture Plus Founders' Dream Home
Home evolves to meet family's changing needs.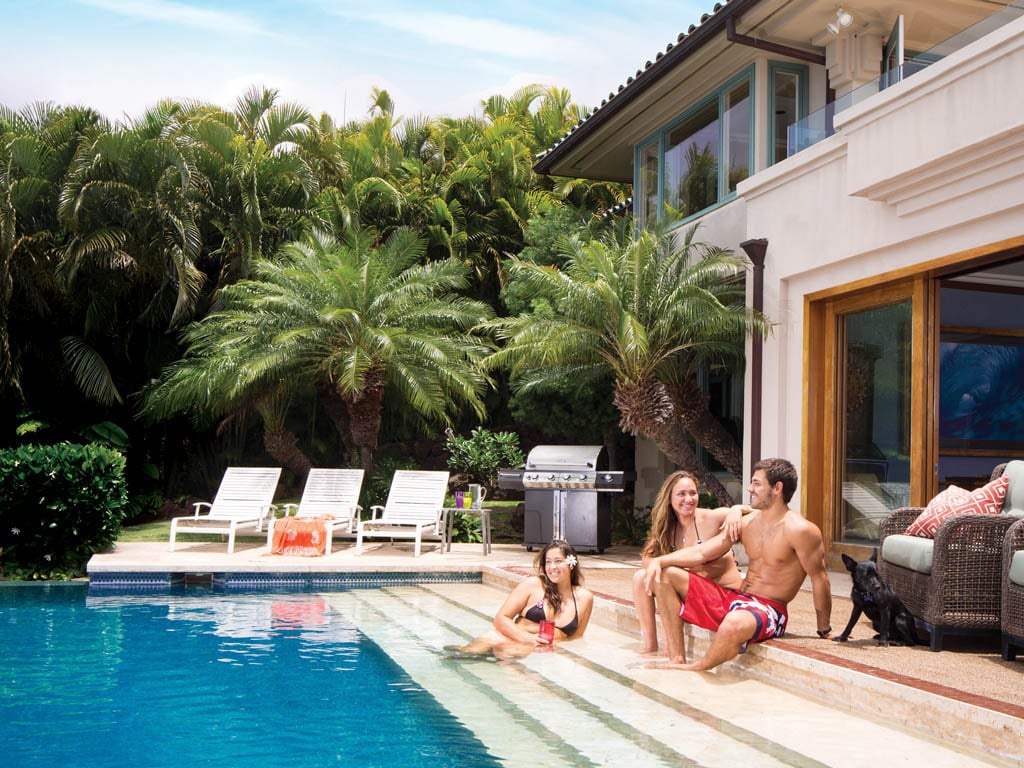 Pictures Plus founders Kent and Lori Untermann know how to turn dreams into reality. Right after graduating college from the University of Hawaii, they transformed a small venture — buying and selling picture frames at a local swap meet — into a successful multimillion-dollar company manufacturing koa-veneer frames and furnishings. They also custom built their own palatial dream home using many of the koa products that are made in their woodshop and sold through their stores.
Having a nice home for his young family was Kent's ultimate incentive and reward for working hard and taking risks. "One of my big inspirations for Plus Interiors is my love of having a great home environment for my family and making that process easier for others by streamlining customizable things for the home for both the homeowner and the contractor," Kent explains.
An expansion of Pictures Plus, Plus Interiors offers an impressive selection of customizable products as well as design consultation for home interiors.
The Untermanns purchased raw land in Hawaii Loa Ridge in a foreclosure auction and started building their dream home in 1996. They worked with an architect and builder, Dean Strong, to create a timeless local design with a pitched roofline, an open and airy great room and views from every room. "We wanted something timeless, with its own unique character," Kent says. "The lot has spectacular views of Diamond Head, and we wanted to feature Diamond Head from the entryway."
The Untermanns embarked on a second remodel in 2005 to expand and upgrade the home, adding a game room, an infinity-edge swimming pool and an expansive outdoor balcony off the master bedroom. They wanted to create a more indoor-outdoor feel with travertine patios for entertaining, large koa sliding doors and space for their two children — then teenagers — to feel at home.
"When we redid everything our kids were both teenagers so we really wanted them to be around the house more and to feel comfortable bringing their friends over," Kent explains.
A long-lasting Gladding, McBean roof made from a high-quality clay tile enhances the roof details and angles with its rich teal color. "Because we are a flag lot and you drive down, the roof is a featured piece of our home," explains Kent, "which is why we wanted really nice tile and nice lines on the roof, because you actually come down and see the roof instead of looking up at the roof."
Kent prefers working with high-quality, substantial materials, even bringing in large travertine slabs from Europe for the new pool hardscape. "Maybe because I am a big guy, I like bolder, bigger, thicker, stronger materials, whether it's a picture frame molding or pavers, I like proportionately bigger things. I like wider floors and longer planks, so our house has a strong feel to it and that's what we wanted."
The great room has a grand staircase with wraparound balconies and custom-made maple-wood railings and solid maple hardwood floors made from long planks, "so it doesn't look chopped up." The original whitewashed pickled-wood ceiling made from clear cedar was sanded and painted to give it a darker, richer color. Jonathan Staub of Philpotts Interiors chose the wall color. "The room was all white before and Jon pushed us to take more risks with paint. He was like, 'Hey, it's just paint, you can repaint it,'" Kent recalls.
To capture the beautiful views, the Untermanns have an open kitchen with a central island where people can mingle and talk. "Our kitchen was already pretty oversized; it's definitely where we have parties: people hang out there, the food is there, and people can cook, talk and visit, so it's worked out really well."
Although the kitchen layout remained the same, the appliances were upgraded to stainless steel and the 1980s white-lacquer cabinet doors were replaced with a pillow-edge cabinet door made from koa veneer. "Koa is so timeless; it has been around for hundreds of years in Hawaii. Sometimes color trends change, but the richness of koa is never out of style. The koa cabinet — whether it is 5 years old or 50 years old — will still be very appropriate," explains Kent.
One foundation of their business is making koa-veneer furnishings more accessible to homeowners: Koa veneer is more resistant to moisture, more sustainable from a stewardship aspect and easier to match. "Koa veneer comes from the same log, so it looks nicer. With solid koa, the grain can be so wild you want to have some consistency. If it's more consistent in color, it works better," explains Kent.
It's more affordable, too. "Local exotic woods can be very expensive, so along the lines of picture frames, we are trying to bring value to the local exotic species by offering the veneer," Kent says. Because he loves koa so much, Kent did opt for solid-koa hardwood floors in his home office. "Koa is not very practical for floors because it's softer, but there is less foot traffic in my office," he explains.
Kent, who was recruited by University of Hawaii football coach Dick Tomey, still likes to work out and stay in top condition. "Whenever you do a dream home you want to have the stuff you dream about. I've always enjoyed working out, so it was important to me to have a nice home gym." His son, Luke, and Luke's longtime girlfriend, two-time world-champion surfer Carrissa Moore, are carrying on the tradition. "Carissa works out in the home gym all the time so can she ride those big waves," Kent explains.
Just like their homegrown business, the Untermanns home has evolved over the years, and morphed into a place where dreams really come true. "I feel incredibly fortunate that we've been able to live in this beautiful property in this beautiful neighborhood and this house that we designed for ourselves with these incredible views," Kent says.