Ease and Elegance
Create a timeless and functional kitchen.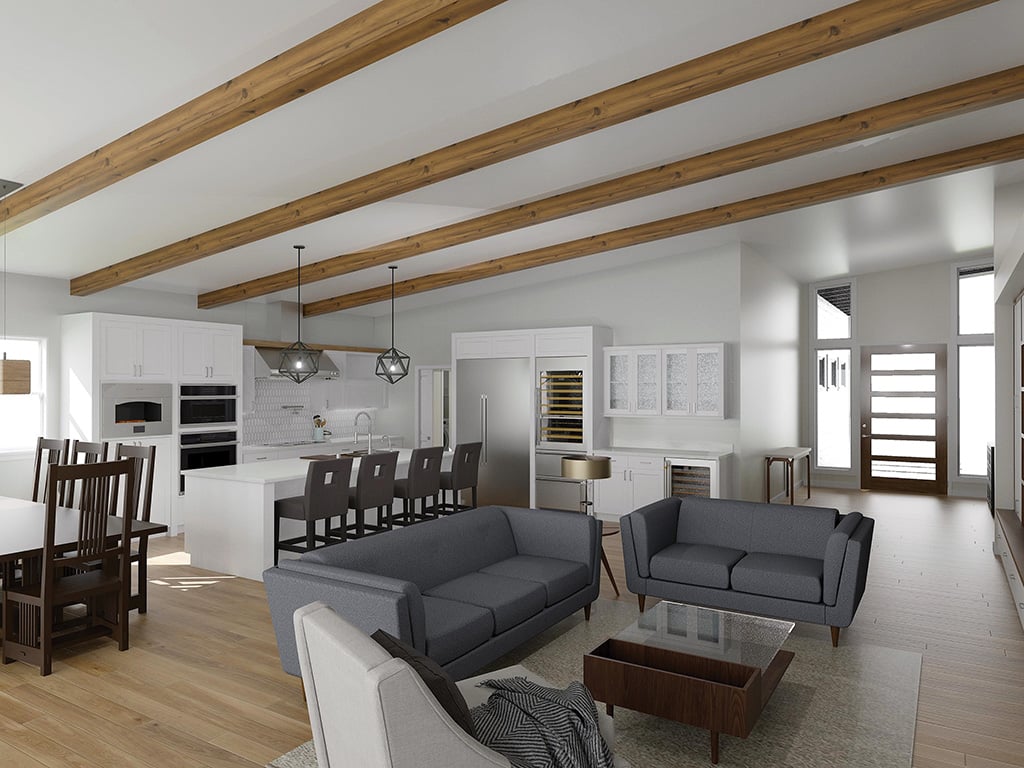 Transitional design, both practical and fashionable, is one of the most sought-after kitchen styles. Blending modern touches with classic design principles, this open-concept style emphasizes a natural flow between your kitchen and its surrounding spaces.
At the turn of 2022, the National Kitchen & Bath Association noted that "transitional design will continue to be popular as organic/natural and contemporary become top trends — and farmhouse/cottage and midcentury shrink in popularity with millennials."
Read on to learn more about how transitional design can be incorporated into your kitchen.
Getting Started
According to Heather Hickox of Homeworks Construction, transitional design begins with a preliminary conversation with homeowners about current design trends they admire, as well as how they want their kitchens to look and operate down the line.
"The ideas are fresh and alive with potential," she says. "My job is to get as much out of those first initial conversations as possible: what type of finishes, flooring, counters, cabinets, appliance choice, window choice, electrical and plumbing. We also talk about where the kitchen makes the most sense in the house; this usually opens it up to the discussion of a transitional kitchen."
Hickox says flooring "plays a big role" in transitional design and that many homeowners are opting for styles that go seamlessly from room to room. Accessibility — or ease of movement from the kitchen to the garage, pantry, mudroom, dining room and living room — is another important consideration.
"Once these particulars have been nailed down a bit, we fine-tune it further by meeting with our kitchen and bath designer, and our selections specialist," explains Hickox. "This is where the real fun begins, looking at and touching samples, and talking color palettes and lighting … Our kitchen and bath designer can create amazing renderings that pull together all the final choices, and the client can see exactly how the kitchen will look."
Selection Process
Elyse Grable, a selections specialist at Homeworks Construction, notes that transitional design works well with multigenerational living in Hawaii. "When I think of transitional design, I think of a space … that is welcoming and speaks to all ages," she says. "Having finishes that create a comfortable setting for the entire family that will last for years is an important design element."
Grable offers the following recommendations:
Colors and finishes: Keep it neutral, clean and simple. Nothing too bold or bulky.
Materials: Seek out stained wood or painted white cabinets, paired with light countertops.
Flooring: Nothing too dark or with bold patterns or shapes.
Lighting: Recessed overhead lighting; simple clear glass pendants with brushed nickel or chrome finishes over islands.
More Tips
Meagan Jensen of Bella Pietra Design says the transitional style offers local homeowners other bonuses. "Since here in Hawaii we all love open-concept living, it lends itself perfectly," she notes. "Also, a main goal is providing a lot of storage, which can oftentimes be very limited in homes here."
While transitional design typically sticks to neutrals and clean aesthetics, Jensen suggests various ways to add fresh, fun details without compromising timelessness. "If you want a pop of color, blues are very common and elegant while still remaining casual and comfortable," she shares. "I personally like to mix finishes in these kinds of kitchens … I like to combine perhaps a really simple gloss counter like a marble or quartz, with maybe a tumbled marble backsplash."
Ceramic subway tile, quartz and wood are versatile options in transitional kitchen styles. Herringbone or chevron patterns work well, too, for added dimension, says Jensen. For countertops, Jensen recommends light tones in quartz, quartzite or marble with straight edges. And she suggests sticking with wood flooring or exploring wood-look porcelain as an alternative.