Editor's Notes: August-September 2023
Drafts, design and dedication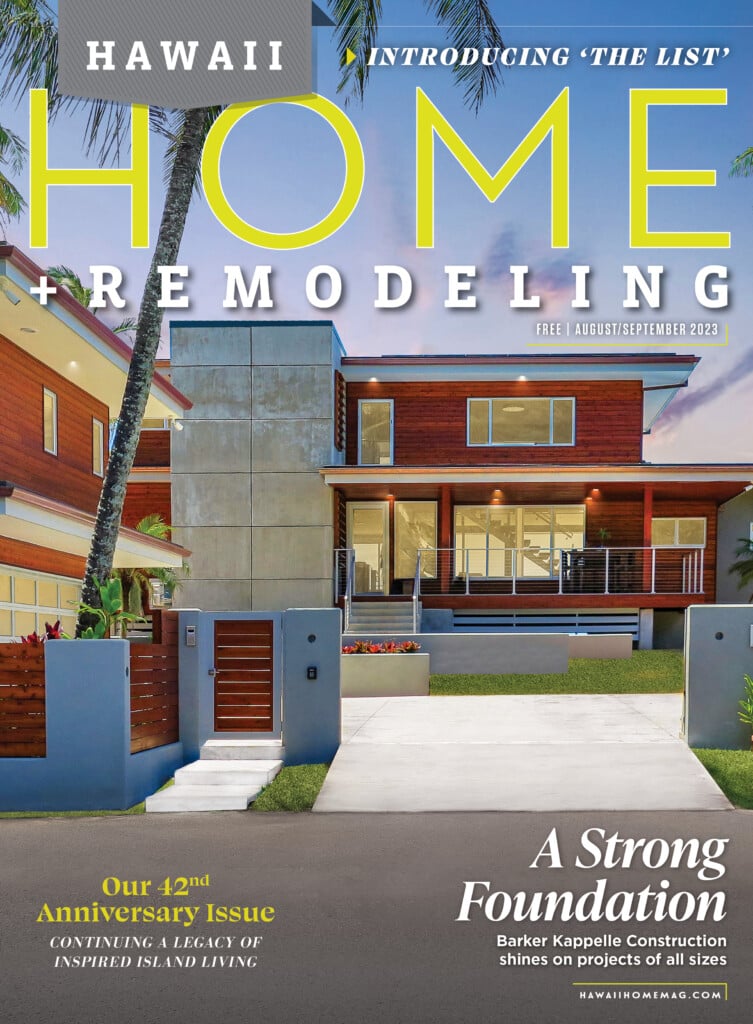 As I'm writing this column, I'm also glancing at my phone for the latest news from the NBA. Pivotal off-season moves are keeping hoops fans on their toes this summer: The San Antonio Spurs drafted rising star Victor Wembanyama to set the foundation for a team rebuild. The Boston Celtics redesigned their roster by trading sentimental-favorite player Marcus Smart for Kristaps Porzingis. All eyes are currently on Damian Lillard, who's dedicated more than a decade to the Portland Trailblazers and is assessing where to take his talents next.
My music teacher, who is a sports fan like me, often talks about how lessons in sports relate to other areas of life, too. Building for the future, putting together complementary pieces for a redesign, figuring out how one person's skills can best serve the team: These are just some of the ways our Hawaii Home + Remodeling August/September issue parallels basketball's off-season.
"Fall in love with one item and then build your space around it," says local contractor J.R. Moorhead in our Expert Advice column. Anchoring the vision for a new home build or major remodel with one foundational decision — like the color of your floors or countertops — is key to drafting right. Moorhead kicks off a fresh format for our Expert Advice page, as we aim to answer questions from our readers with real talk from Hawaii's home industry pros.
Searching for new furniture and accessories can be a fun redesign project for the latter days of summer. Swapping out mainstay pieces that you may have grown attached to can be difficult, but the potential for renewed energy for your spaces can also be exciting. Our August/September pages are full of design-related stories to spark your creativity and showcase terrific local resources and shops available for your décor dreams. We've also launched a special section called "The List" that spotlights some of our favorite Island home finds.
Our cover feature focuses on the great work of Barker Kappelle Construction. It was our pleasure to get to know the folks who work there and learn about their dedication to integrity and detail. After many years of building and renovating stellar spaces on Oahu, they continue to evolve with the ever-changing scope of projects that local homeowners need. We look forward to seeing where Barker Kappelle Construction will take its business, and the building industry, in the years ahead.
But unlike the NBA, there's no off-season in the magazine publishing and digital media worlds — at Hawaii Home + Remodeling we are constantly honing our craft and strengthening our community ties to serve you better. We hope you enjoy our August/September issue. Mahalo for reading! And go Celtics!
Aloha,
Darlene Dela Cruz, Editor