Editor's Notes Dec 2017: Everyone needs a home
What happens when life takes unexpected turns, and what we consider the comforts of home are no longer realistic?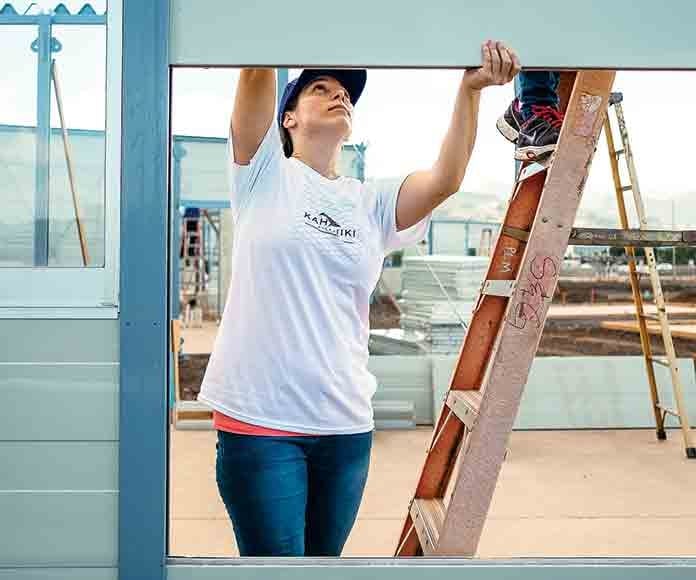 Growing up, my Dad told my sisters, brother and I that we'd always have a roof over our heads and food on the table. All parents want that for their children. But what happens when life takes unexpected turns, and what we consider the comforts of home — the essentials — are no longer realistic?
Unfortunately, family homelessness is a reality. The big picture of homelessness in Hawaii has been discussed for several years, and, while there is no simple solution, a hui of business leaders have come together to address one segment of the homeless population: families with children.
Duane Kurisu — owner of aio Media Group, which publishes Hawaii Home + Remodeling — had a vision to build a plantation-style community for homeless families to live and thrive. More than half the families living in Oahu's transitional shelters will find a permanent home in Kahauiki Village. They'll have access to child care, career training, job opportunities, community gardens and fruit trees just outside the doors to their
new homes.
In this issue of Hawaii Home + Remodeling, we reveal much of the work that's been done to fast-track the project and build this new community, which is a collective effort by local businesses, individuals, the government and military.
It's amazing to see the contributions from our homebuilding industry: HPM Building Supply is donating the roofs, Servco Home & Appliance Distribution is donating the appliances and Ferguson Bath, Kitchen & Lighting Gallery is donating the fixtures. They're not alone. Many businesses have spent countless hours on location, building this new community's infrastructure, donating their time, materials and resources to support the cause. My aio Media Group colleagues and I even pitched in to help assemble the homes, under Coastal Construction's guidance. I encourage you to read more about this incredible community project.
May you always have a roof over your head and food on your table.
Aloha,
Stephanie Silverstein, Editor
stephanies@hawaiihomemag.com