Equipped for the Elements
Steve's Gardening Service upgraded this North Shore yard to ensure it's ready for anything.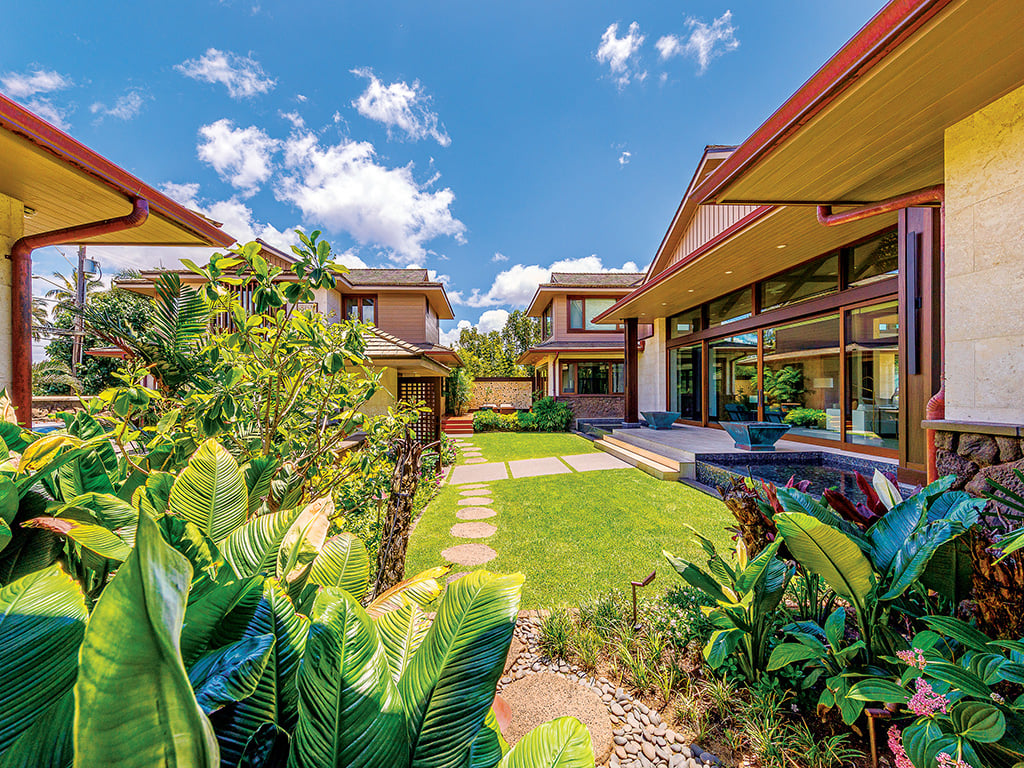 The first step of this two-month-long north shore landscaping project was clearing some of the space for a new home build. "We basically got in there and did the demolition of the existing landscaping," says Steve Dewald of Steve's Gardening Service. "We moved a bunch of coconut trees around, relocated stuff, backed out, let them build the house and then came back in."
Originally designed by Loriann Gordon Landscape Architect LLC, the yard already had a good foundation; it simply needed to be reconfigured to better suit the new abode. "We kind of took the original plan … and made a few tweaks," Dewald explains. "I think we still kept true to the concept of the plan, but we made a few changes with the owners."
He adds that the overall goal of the new space was to create a family-friendly yard where the owners could entertain. Given its proximity to the ocean, it was also important to design the yard in such a way that its beauty could be maintained year-round.
"It's right on the water on the North Shore, so there's a lot of wind and really large surf," and plenty of salt, Dewald says. "We wanted to make sure that everything could tolerate the salt and the wind." Knowing the environment is of utmost importance when designing and installing a landscape, Dewald notes.
Most of the plants he used for this project, he explains, are salt-water tolerant. These include carissa, dwarf tiare gardenia, wax Ficus and hybrid clumping bamboo varieties. "For the lawn, we chose el toro zoysia," he adds. "It's drought-tolerant, really family- and traffic-friendly, and it's also very salt-tolerant."
Balancing the best plants for the environment and creating a space that's not bland or drab, Dewald says, can be a challenge. "That's kind of the hardship sometimes of working near the ocean," he explains. Dewald's company also incorporated other plants that aren't necessarily built for the surroundings.
"We were able to shield or hide those plants behind other things, where we could kind of fake it or cheat a little bit and still obtain some nice flowers and some colors and things like that."
Puakenikeni, red seal wax palms, orchid varieties, Spathiphyllum and golden el dorado are some of the less salt-tolerant plants that he was able to integrate. The landscaping also includes a plethora of accent pieces: steppingstones, river rock, puka lava borders and an outdoor shower featuring a surfboard.
"There are a lot of simple details that just really pulled it all together," Dewald says.
His favorite aspect of the finished project is the dual courtyard. "I really like it," he says. "It has a motor court, and then it's got another little entry gate to this inner courtyard. I like the way the space is laid out; I think it has a really nice flow to it."
Dewald notes that this was a great project to take on because of all the subcontractors he worked with. "DeBiasi did the pools and Gutter King did the gutters," he says, "and at the end, it just made for a really good product for the homeowner."