Everything You Can Expect from Living in a Condo
Discover the charm of condo life in Hawaii.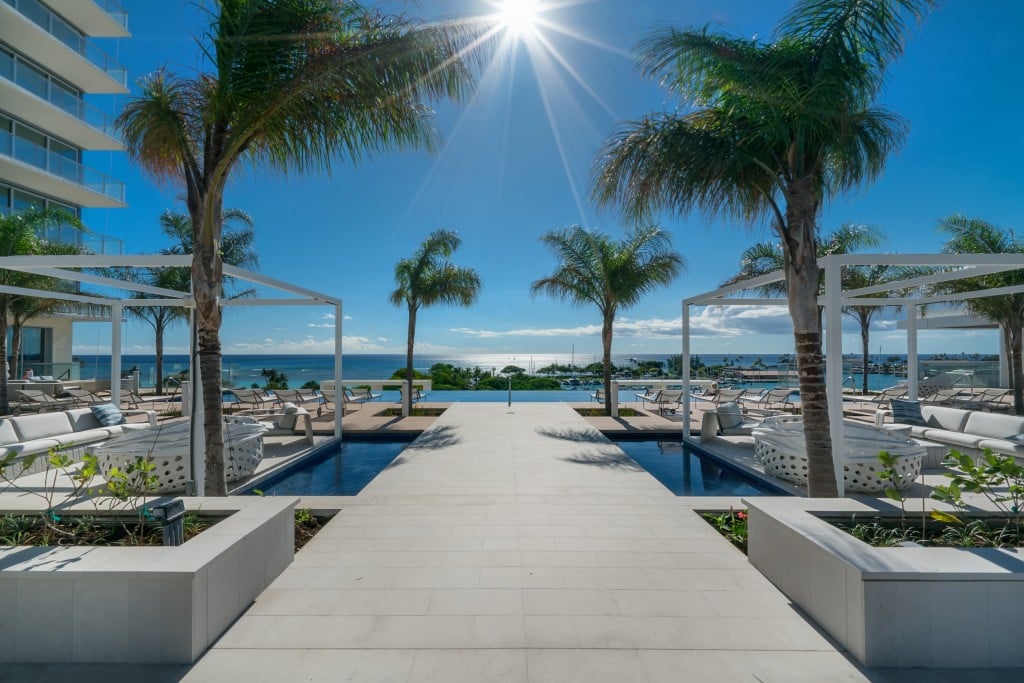 From amazing amenities to top-notch designs — living in a condo can be alluring and worthwhile for many. Are you someone who enjoys the convenience of living near shops and restaurants? Or maybe you're an active person with a pet so access to a gym and dog park is essential? Whether you're putting down roots for the first time or looking to downsize from a larger home, a condo could be the right fit for you.
As the real estate landscape in Hawaii continues to evolve and grow, and with many condo options available and on the horizon, working with a real estate agent from List Sotheby's International Realty is a good way to navigate the market and uncover your ideal place.
"There are a lot of different perks to list depending on what exactly you're looking for in a home," shares Lectie Altman, a real estate agent for List Sotheby's International Realty. Here are just some of the advantages of living in a condo.
Amenities Galore
Lifestyle and fitness amenities are commonly found in condo buildings, and many even have entertainment features built-in, from movie theaters and karaoke rooms to pau hana patios and more. Plus, for those who work from home, many condo buildings have coffee shops in the lobby, or even conference rooms.
While every place differs, Altman shares some common features of many condo buildings: pools and Jacuzzis, barbecue areas, private cabanas, walking paths, tennis courts, saunas, community centers or meeting rooms, fitness facilities (including yoga or cycling rooms), libraries, movie theaters, guest suites. "The list goes on and on with more developments coming up and pushing the envelope of what is available and offered," she says.
As a real estate agent for List Sotheby's International Realty, Diego Miranda has also seen his fair share of options on the market. Condos have great amenities, security and landscaping maintenance, shares Miranda. "Some newer condos even offer concierge service, breakfast, valet parking and even poolside service in some of the real luxurious ones."
Regular Upkeep and Security
Routine maintenance services are another major advantage when it comes to living in a condo. "You don't need to worry about a new roof, or new paint or foliage," shares Altman, because the association takes care of it. Owners contribute to monthly fees — maintenance and association fees — that cover these expenses. With a condo, there's even access to repair services, a major plus in the event something breaks down in your unit.
"Security is another benefit with some buildings or communities being keyed/fob entries," adds Altman. Along with that, some buildings have security guards and/or resident or property managers on-site, he says.
Variety of Options — and Locations
By the ocean or mountains, in urban or suburban communities — whatever lifestyle you prefer, there's sure to be something on the market for you. Some units are centrally located, ideal for busy individuals who enjoy the vibrancy of the city; others are more secluded, away from the hustle-and-bustle.
Something else to consider in your purchase: Do you want to buy a unit in a new or older building? According to Altman, newer condos will typically have all the "bells and whistles" when it comes to amenities while older condos, which might not have all the latest amenities, may have more square footage and space overall.
"It's always a personal preference if you want old versus new," shares Altman. "My recommendation would be to talk to your real estate agent and discuss what you are looking for."
If you're in search of a condo in Hawaii, visit the List Sotheby's International Realty website for a list of real estate agents and properties. 
Lectie Altman, Realtor-Associate® HI LICENSE RS-78689, (808) 450-5652, laltman@listsir.com. Find her agent profile page here.
Diego Miranda, Realtor-Associate® HI LICENSE RS-79642, (808) 330-5694, dmiranda@listsir.com. Find his agent profile page here.