Extending Your Home Outdoors: With local expert Steve Dewald of Steve's Gardening Service
Time-proven tips for creating dynamic outdoor living spaces for your home.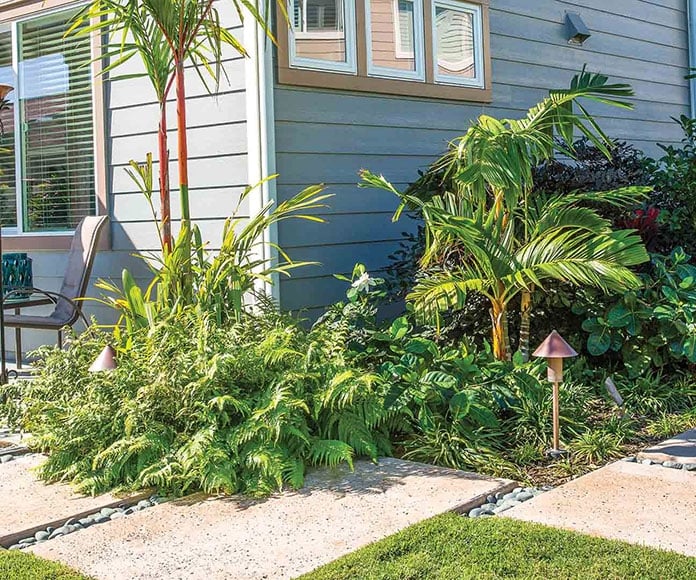 Steve Dewald of Steve's Gardening Service has been in the landscape business in Hawaii for more than 20 years. Here, he shares some time-proven tips for creating dynamic outdoor living spaces for your home.
"Designing a usable outdoor space depends on the families we work with," says Dewald. "Many of our projects are tailored to the phase of life the homeowners are currently in. Do they have children? Pets? Or are they middle-aged and want to entertain more guests?" When Dewald meets with clients for the first time, he asks for their ideas and identifies their wants and needs. "Once I listen to their idea for a dream landscape, I can guide them in the right direction. Most owners have a good draft of what they are looking for and we suggest edits that will improve the value of their property for years to come."
Landscaping for Your Life Chapter
When Dewald and his team plan custom landscapes for families with young children, they take care to install family friendly plants, including nontoxic varieties without thorns and other hazards. Dewald recommends including safe playgrounds and to avoid water features until children are older.
For young professionals or middle-aged homeowners, outdoor entertaining may be a priority. In this case, a concrete or stonework patio makes for a low-maintenance party space. "The key for building out a hardscape is to plan in conjunction with your landscape," says Dewald. "You don't want to build out a patio or lanai and have it end up looking like a parking lot."
Finding a Balance
Dewald and his team are well-versed in creating custom hardscapes using poured concrete and interlocking pavers. These are great options for Hawaii homeowners who utilize outdoor furniture frequently. Concrete hardscapes don't require much maintenance and can be customized with coloring agents, glossy seals or stamps. Interlocking pavers are porous and help mitigate runoff, something to consider if you live in an area with frequent rainfall.
"Our hardscape designs are all about finding a balance between functional hard surfaces and greenery," says Dewald. "An often overlooked feature is the utility of short guarded walls to keep plants inside planters. A nice 20- to 30-inch wall can also serve as a bench when entertaining. Homeowners won't need a lot of outdoor furniture if they can utilize a bench wall."
Small Spaces
When planning a landscape for a smaller yard or walkway, every feature should serve a purpose. "In tight condominium communities without privacy, homeowners can create a visual screen with plants and walls to drown out noise," says Dewald. "Compact water features are great options and add a playful element to smaller spaces."
Steve's Gardening Service
676-9166
landscapecontractorhawaii.com