Family and Friends Come Together in this Renovated Aiea Kitchen
Plus Interiors designs a kitchen space that encourages gatherings.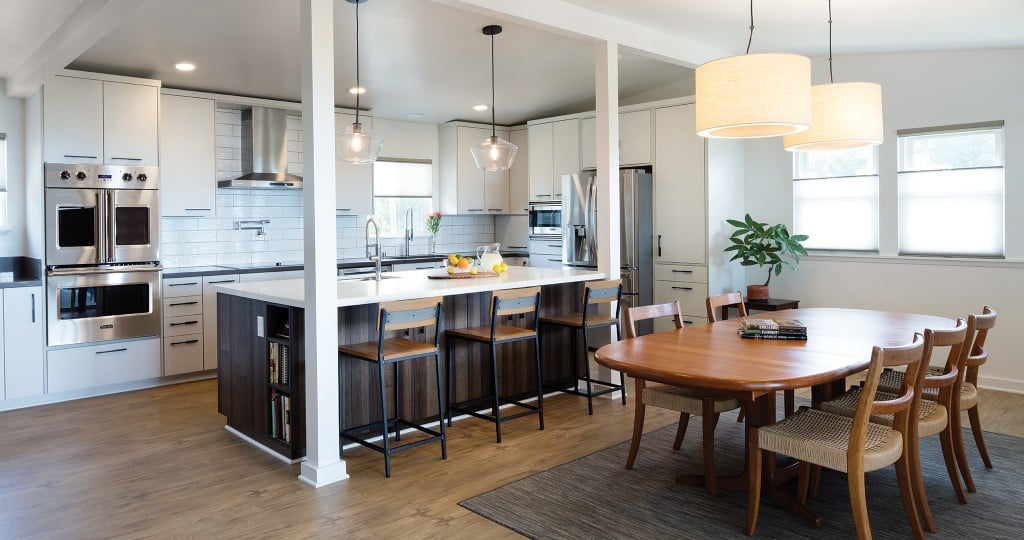 Featuring: Plus Interiors
Designed by: Corrine Tadaki-Davis
Location: Aiea
Style: Modern
Size: 200 square feet
Unique feature: A hidden coffee station, appliance garage, TV-entertainment center and plenty of cabinet storage means this kitchen is ready to entertain at a moment's notice.
Overlooking gorgeous vistas of a dazzling pearl harbor, framed by the lush slopes of Aiea Heights, one local family enjoys hosting weekly dinners for their extended ohana of 14 in their fully renovated home. On evenings like these, loved ones can be found gathering around the spacious kitchen, filling the room with spirited laughter and whiffs of ono food. "We love to entertain, so I wanted the new kitchen to be open with plenty of space," the homeowner says.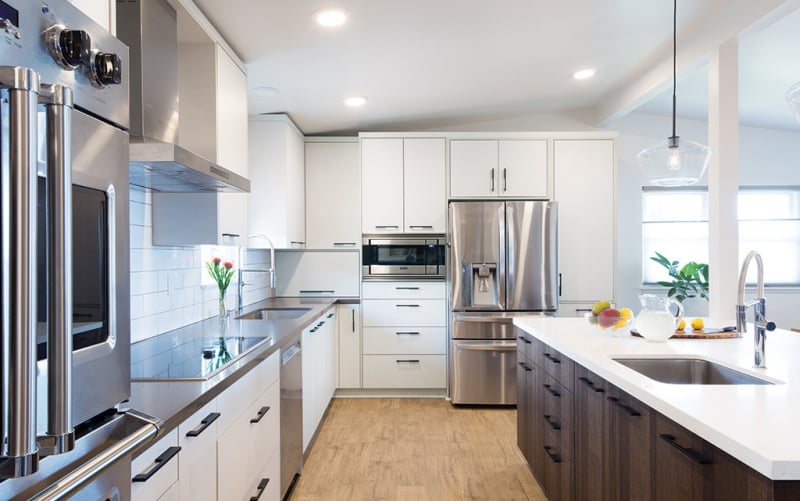 The home, which was originally built in the late 1950s, underwent a total gut renovation by Noguchi Builders, allowing the homeowner and her family to piece together the kitchen of their dreams. They turned to the expertise of Corrine Tadaki-Davis, a designer with Plus Interiors' Exotic Woodlines, for guidance and direction. "What's important is that this kitchen is custom to both [the homeowner's] needs and her budget," Tadaki-Davis explains.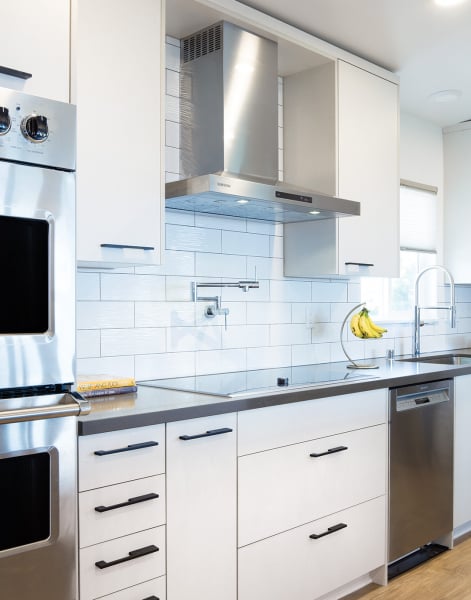 The new kitchen now is as functional as it is spacious, allowing the homeowner to not only host guests, but also cook and bake for them as well. "I feel like this kitchen has made me a better cook," the homeowner says, half-jokingly. There are now two faucets located adjacent to each other, with an additional pot-filler, for maximum cooking efficiency. To the side, a sleek black induction cooktop lies beneath a beautiful stainless steel range hood. There is space for a baking area, replete with a mixer-lift and stand. In the far corner, an appliance garage stows a toaster oven and rice cooker with ease, freeing up valuable counter space for other tasks.
"But my favorite area has probably got to be the large island," the homeowner reveals. "It's so easy to cook and prep food now." For guests, there is a hidden coffee station that can be opened up for company, as well as a TV that's housed above the refrigerator. To the left side of the kitchen, a designated workstation blends seamlessly into the rest of the kitchen landscape, home to a computer and additional bookshelves.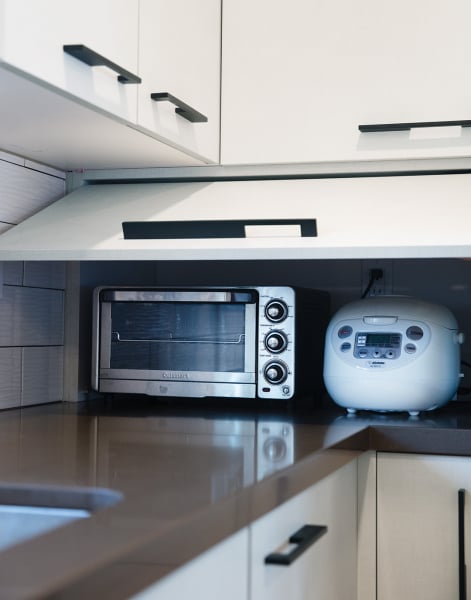 Lining the walls, the upper cabinetry, from Plus Interiors' Exotic Woodlines, is a CLEAF slab with a white linen finish to give it some texture. "These cabinets come from Italy, and its composite composition make it highly moisture resistant," Tadaki-Davis says.
The homeowner explains: "I wanted the lighter color to line the perimeter of the kitchen to open it up and make it seem larger," adding that the lighter color of the upper cabinets also contrasts well with the darker shades below it.
Looking back at her renovation experience, the homeowner is pleased with the results. "Noguchi Builders was a great contractor who gave us fair pricing and almost no surprises," she says. "And Corrine was very easy to work with. She taught us about up and coming styles and was really good at staying on top of trends."
Where To Get It

Appliances: Samsung 36" induction electric cooktop and range hood; Viking 30" electric double oven, trim kit and microwave oven, from Best Buy.
Backsplash: Modern Dimensions in Arctic white, from Daltile.
Cabinetry: CLEAF slab in white with linen finish, from Exotic Woodlines; Shinnoki Tempered Frake veneers, from Exotic Woodlines.
Fixtures: Franke Pescara faucet and pot filler, from Ferguson Bath, Kitchen & Lighting Gallery.
Lighting: Sculptural Glass Geo Island Pendant, from West Elm; Finley Large Wheat Pendant, from Crate and Barrel.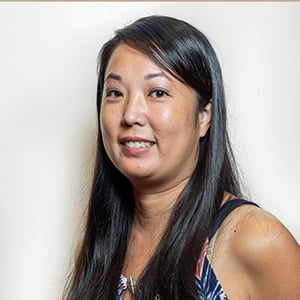 Corrine Tadaki-Davis
Born and raised in Hawaii, Corrine Tadaki-Davis has been bringing the influence of Hawaii's unique melding of cultures to her interior design projects for 17 years. She loves introducing her clients to layouts and designs that they had never considered before – in ways that change their lives for the better. While Tadaki-Davis has experience in a range of designs, she considers her personal style to be sleek and simple.
In every project she works on, Tadaki-Davis is proud to create well-designed spaces that serve her clients' lifestyles, knowing that her work helps to make their lives just a little easier every day.