Feel the Breeze
Beauty abounds throughout this waterfront home.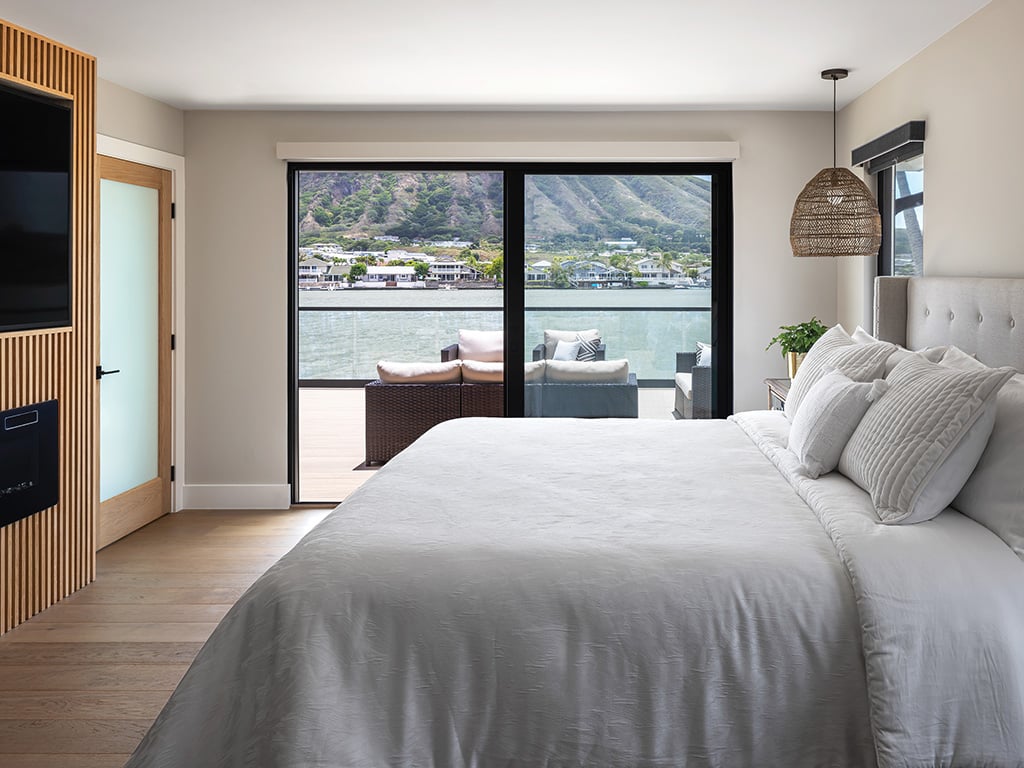 Located along a bank of Koko Marina, a traditional Mediterranean-style home has been remodeled into a breathtaking abode.
"Our overall vision was to design an open and airy home with a contemporary coastal vibe," says the homeowner, Allison Burgess. She and her husband, Kanoa, wanted to blend both comfort and luxury. "We used lots of white with subtle textures, which played beautifully off the warmth of the wood accents."
This was an extensive remodel — everything from the original home was removed except for the concrete slab underneath and the outer stud walls. As a result, the team of builders increased the living area from 1,870 square feet to 2,700 square feet and added 825 square feet of decking for the outdoor space.
Construction began in January 2021, in the middle of the COVID-19 pandemic, when building materials were difficult to come by and long lead times and inflated costs were the norm. "Luckily, I started planning and compiling the color palettes, textures and finishes about six months prior to Day One of the project," says Burgess, who had a hand in most of the home's redesign. "So, we had the bulk of our materials picked out and waiting to go when the time came. We were able to complete it by December 2021."
The home has four bedrooms and two bathrooms. The design flow is centered around the living area, which is perfect for gatherings. The primary bedroom opens to the cool and calming marina.
"Beyond modernizing the home functionally, they needed to make it more elegant and appropriate to a modern home," says Andrew Forman, architect and founder of Blueprint808. "Functional requirements included connection to the kids' bedroom from the master bedroom as well as the two mother-in-law suites.
"While the home is designed to feel comfortable and natural, it is outfitted with all the latest technologies," says Forman. Take the Tesla solar roof, for example, which was completed with help from Tim Johnson at PhotonWorks. This roof is made from high-quality materials for protection in various weather climates. It also has energy-efficient features that are top in the industry.
"The process took over two years from the time my husband initially made contact with Tesla," says Burgess.
When working with Blueprint808, the team begins with initial concept design conversations with the homeowners to understand their goals for the home. Next, they develop layout options during the schematic design phase and then focus on the specifications during the design development phase. "This was especially fun as the homeowners were intimately involved with the interior design and construction," says Forman.
"The involvement of the homeowners from a design-through-construction perspective was unique and surprisingly enjoyable," he adds. "We have found that the more involved the homeowners engage during the process, the better the result of the home."
Burgess and her husband appreciate the result as well. "We have completed several renovations since 2015, but this is by far our favorite," Burgess says, adding that it just might end up being the couple's forever home. "We love the location, indoor-outdoor living, marina community and the great schools nearby. Living on the marina is a wonderful lifestyle for our family, and we feel very lucky to be where we are."