Financial Services
Where banking is ohana.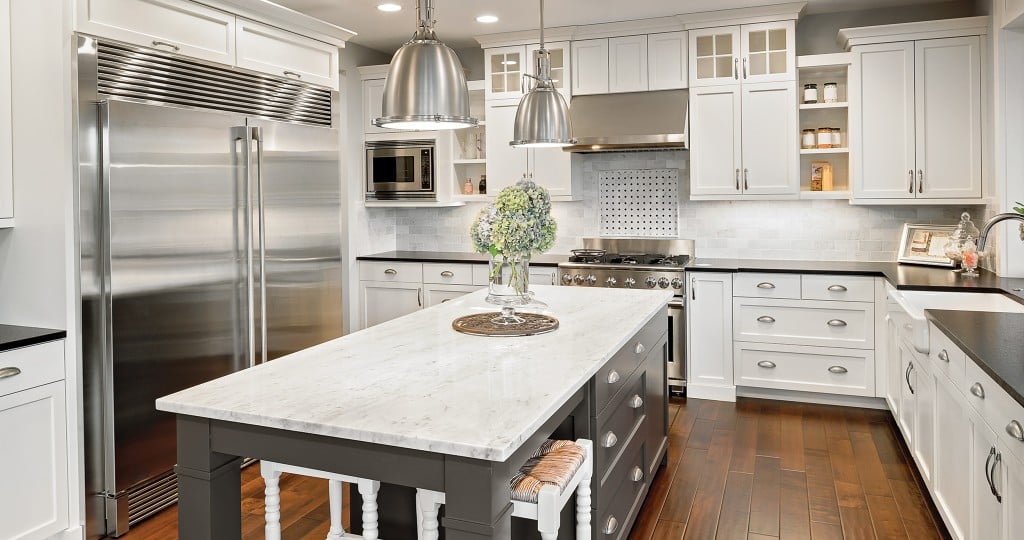 This article is part of the 2020 Hawaii Home + Remodeling Resource Guide, an organized and vetted directory of professionals, services and shops in the building and home improvement industry.

For most Hawaii residents, buying a home is the largest purchase and financial investment they will ever make. Having a good bank at your side to see you through homeownership — from getting you pre-qualified through future investments in the form of additions, renovations and remodeling projects — is vital. First Hawaiian Bank offers all that and more via mortgages, home equity lines of credit (HELOCs) and other financial products. With low rates and the flexibility to spend what you need, HELOCs are a popular and convenient choice to pay for home projects and renovations.
A HELOC provides homeowners with greater convenience and flexibility to use the funds for a wide range of purposes or activities. At First Hawaiian Bank, borrowers also have the option to lock in a portion of their balance at a low fixed rate for longer terms.
First Hawaiian Bank is a full-service financial institution that cares about the communities it serves. Whether you need a mortgage, HELOC or other banking service, you can count on First Hawaiian Bank every step of the way. Their knowledgeable and friendly service are sure to help make your homebuying or remodeling process as smooth as possible.
Having the First Hawaiian Bank team on your side is like having another ohana — they're always there when you need them. For more information, visit fhb.com or stop by any First Hawaiian Bank branch near you.
---
Financial Services
Aloha Pacific FCU
7 branches on Oahu, 1 on Maui
alohapacific.com
American Savings Bank
American Savings Bank has been serving Hawai'i's businesses and communities since 1925 and provides a full range of financial products and services.
______________
49 statewide branches
808-627-6900
Toll-free 800-272-2566
asbhawaii.com
______________
American Savings Bank
Loan Centers
Queen-Ward Loan Center
929 Queen St., Second Floor
593-1226
______________
Kapiolani Loan Center
1600 Kapiolani Blvd., Second Floor
Honolulu, Oahu
593-1226
______________
Pearlridge Loan Center
98-200 Kamehameha Hwy.
Aiea, Oahu
593-1226
______________
Hilo Loan Center
100 Pauahi St.
Hilo, Big Island
808-933-7599
______________
Kailua-Kona Loan Center
75-5644 Palani Rd.
Kailua-Kona, Big Island
808-933-8215
______________
Kahului Loan Center
150 Hookele St.
Kahului, Maui
808-872-4999
______________
Kihei Loan Center
255 Piikea Ave., Bldg. 4
Kihei, Maui
808-872-4999
______________
Hokulei Village Loan Center
4454 Nuhou St.
Lihue, Kauai
808-632-5050
Bank of Hawaii
Main Branch: 111 S. King St.
Honolulu, Oahu
538-4171
boh.com
Bank of The Orient
765 Bishop St.
Honolulu, Oahu
543-3700
bankorient.com
______________
Residential Mortgage Program
800-881-2686
bankorient.com
Big Island FCU
3 branches on Big Island
bigislandfcu.com
Central Pacific Bank
35 branches statewide
Main Branch: 220 S. King St.
Honolulu, Oahu
808-544-0510
centralpacificbank.com
______________
Central Pacific Residential
Mortgage Loans
356-4000
centralpacificbank.com
CU Hawaii FCU
7 branches on Big Island
cuhawaii.com
Fidelity National Title & Escrow
of Hawaii Inc.
11 locations statewide
536-0404
fidelityhawaii.com
Finance Factors
13 branches statewide
Main Branch: 1164 Bishop St.
Ste. 100
Honolulu, Oahu
522-2000
financefactors.com
______________
Finance Factors Mortgage
Sales Center
1164 Bishop St., Ste. 300
Honolulu, Oahu
548-3300
Financefactors.com
First American Title
12 branches statewide
firstam.com
First Foundation Bank
500 Ala Moana Blvd., #2A
Honolulu, Oahu
585-9600
firstfoundationinc.com
First Hawaiian Bank
First Hawaiian Bank (fhb.com) is Hawaii's oldest and largest financial institution. FHB offers a diversified range of banking services, including equity and mortgage products, deposits and wealth management.
______________
Main Branch: 999 Bishop St.
Honolulu, Oahu
844-4444
fhb.com
Garden Island FCU
2973 Kele St.
Lihue, Kauai
808-245-2712
______________
3417 Poipu Rd.
Koloa, Kauai
808-742-6733
gardenislandfcu.com
Gather Federal Credit Union
4493 Pahee St.
Lihue, Kauai
808-245-6791
______________
4434 Hardy St.
Lihue, Kauai
808-245-6791
______________
9936 Kaumualii Hwy.
Waimea, Oahu
808-245-6791
______________
4469 Waialo Rd.
Eleele, Kauai
808-245-6791
______________
985 Kipuni Wy.
Kapaa, Kauai
808-245-6791
gatherfcu.org
Gentry HomeLoans LLC
225 Queen St., Sixth Floor
Honolulu, Oahu
536-8010
gentryhomeloans.com
Hawaii Central FCU
601 S. King St.
Honolulu, Oahu
536-3677
______________
1301 Punchbowl St.
Harkness Bldg., Rm. 139
The Queen's Medical Center
Honolulu, Oahu
91-2135 Fort Weaver Rd.
Fifth Floor
The Queen's Medical Center
West Oahu
Ewa Beach, Oahu
hawaiicentral.org
Hawaii Community FCU
6 branches on Big Island
hicommfcu.com
Hawaii Federal Credit Union
1244 Kaumualii St.
Honolulu, Oahu
847-1371
hawaiifcu.org
Hawaii First FCU
67-1187 Mamalahoa Hwy.
Kamuela, Big Island
808-885-7349
______________
1221 Kilauea Ave., Ste. 160
Hilo, Big Island
808-933-7349
hawaiifirstfcu.com
Hawaii National Bank
13 branches statewide
Main Branch: 45 N. King St.
Honolulu, Oahu
528-7755
hawaiinational.bank
Hawaii State FCU
10 branches on Oahu
hawaiistatefcu.com
Hawaiian Financial FCU
12 branches on Oahu, 1 on Maui
hitelfcu.com
HawaiiUSA FCU
HawaiiUSA's Home-Equity Lines of Credit or First Mortgages can help bring your dream home remodel to life.
______________
Main Branch: 1226 College Walk
Honolulu, Oahu
534-4300
contactus@hawaiiusafcu.com
hawaiiusafcu.com
HELCO Federal Credit Union
1437 Kilauea Ave., Ste. 105
Hilo, Big Island
808-238-3500
helcofcu.org
HFS Federal Credit Union
6 branches on Big Island
hfsfcu.org
Hickam Federal Credit Union
7 branches on Oahu
hickamfcu.org
HomeStreet Bank
2 S. King St.
Honolulu, Oahu
537-9404
______________
3660 Waialae Ave., Ste. 108
Honolulu, Oahu
462-5700
______________
98-1258 Kaahumanu St., Ste. 104
Pearl City, Oahu
484-4750
______________
120 Waianuenue Ave.
Hilo, Big Island
808-961-0666
homestreet.com
House of Finance Inc.
2300 N. King St.
Honolulu, Oahu
847-8493
hofhawaii.com
Kahului Federal Credit Union
25 W. Kamehameha Ave.
Kahului, Maui
808-871-7705
kahuluifcu.com
Koolau Federal Credit Union
151 Hekili St., Ste. 101
Kailua, Oahu
262-1239
______________
6699 Mokapu Rd.
Marine Corp Base Hawaii
Kailua, Oahu
254-3566
koolaufcu.org
Maui County FCU
270 Dairy Rd., #146
Kahului, Maui
808-244-7968
______________
1888 Wili Pa Lp.
Wailuku, Maui
808-244-7968
______________
270 Lahainaluna Rd.
Lahaina, Maui
808-244-7968
mauicountyfcu.org
Maui Federal Credit Union
107 E. Wakea Ave.
Kahului, Maui
808-873-5050
______________
1501 Uakea Rd., Rm. D3
Hana, Maui
808-248-8307
mauifcu.com
McBryde Federal
Credit Union
4469 Waialo Rd.
Eleele, Kauai
808-335-3365
mcbrydefcu.org
Oahu Federal Credit Union
2219 Pauoa Rd.
Honolulu, Oahu
521-6727
oahufcu.org
Ohana Pacific Bank
1357 Kapiolani Blvd., #102
Honolulu, Oahu
237-6551
______________
1070 N. King St.
Honolulu, Oahu
237-6552
ohanapacificbank.com
Old Republic Title Co.
11 locations statewide
Main Location: 900 Fort Street Mall
Ste. 1900
Honolulu, Oahu
566-0100
oldrepublictitle.com
Onomea Federal Credit Union
27-251 Old Mamalahoa Hwy.
Papaikou, Big Island
808-964-1031
onomeafcu.org
Pearl Hawaii FCU
6 branches on Oahu
pearlhawaii.com
Premier Title & Escrow
1601 Kapiolani Blvd., Ste. 110
Honolulu, Oahu
687-6700
______________
614 Kapahulu Ave., Ste. 101
Honolulu, Oahu
687-6700
premiertitlehawaii.com
Territorial Savings Bank
29 branches statewide
946-1400
Toll-free 800-951-8418
territorialsavings.net
Title Guaranty of Hawaii
17 branches statewide
Main: 235 Queen St.
Honolulu, Oahu
521-0211
tghawaii.com
UBS Financial Services Inc.
733 Bishop St., Ste. 1600
Honolulu, Oahu
536-4511
ubs.com
University of Hawaii FCU
4 branches on Oahu
uhfcu.com
Valley Isle Community FCU
160 Paahana St.
Kahului, Maui
808-877-3232
______________
240 Lepoko Pl.
Wailuku, Maui
808-244-7354
______________
40 Kupuohi St., #102
Lahaina, Maui
808-667-2641
______________
101 Pakaula St.
Kahului, Maui
808-442-8099
vicfcu.org
Waialua Federal
Credit Union
67-292 Goodale Ave., A2
Waialua, Oahu
637-5980
waialuafcu.org
Wailuku Federal
Credit Union
133 Maa St.
Kahului, Maui
808-244-7981
wailukufcu.com