First-Time Homeowners Find Joy in Renovating Their Forever Home
After decades of renting, the couple redesigned the perfect condo in Mililani.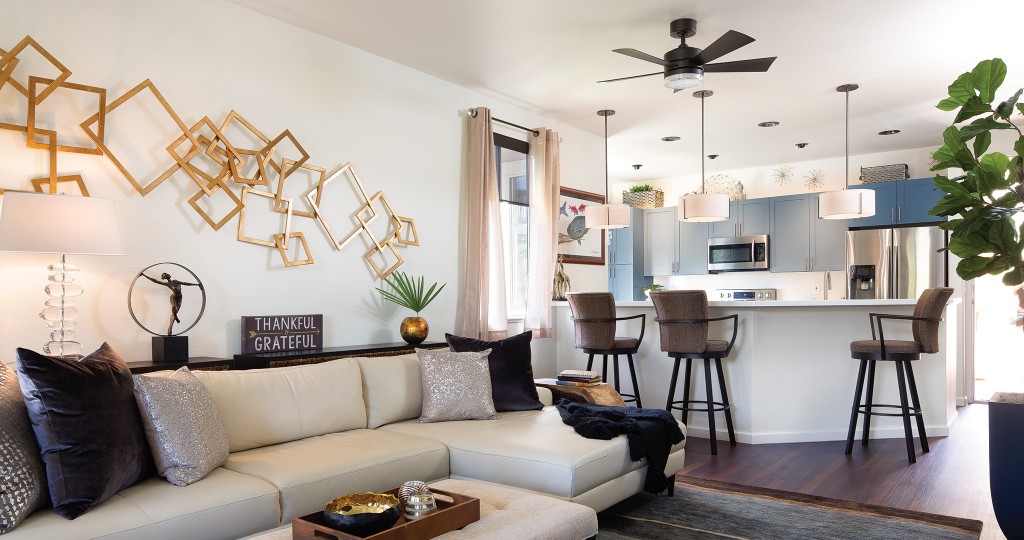 Decades of renting a home in Haleiwa were finally coming to an end for Mike Stacy. The rental was in need of repair, and he and wife Kawita felt it was time to buy a place of their own. The couple, who own the Big Wave Shrimp Truck, found a condo in Mililani's Launani Valley, a short commute to work on the North Shore. They saw an opportunity to put their own touch on the nearly 25-year-old place, which was in its original condition. But they weren't sure where to begin.
After interviewing several designers, they connected with Kathy Norton of KN Design by Design Management, an artist who showcases her creativity through real estate staging and interior design.
The two-bedroom, two-bath condo the Stacys bought still had its stock cabinets, carpet and laminate countertops. "By gutting the whole place, it was a clean slate," Norton explains. New flooring, cabinetry and paint were at the top of the Stacys' wish list, but above all else, Mike wanted it to be a restful retreat for his hardworking wife.
"My wife is an extremely hard worker and I wanted her to feel like when she was going home after work at night that she was on vacation," Mike says.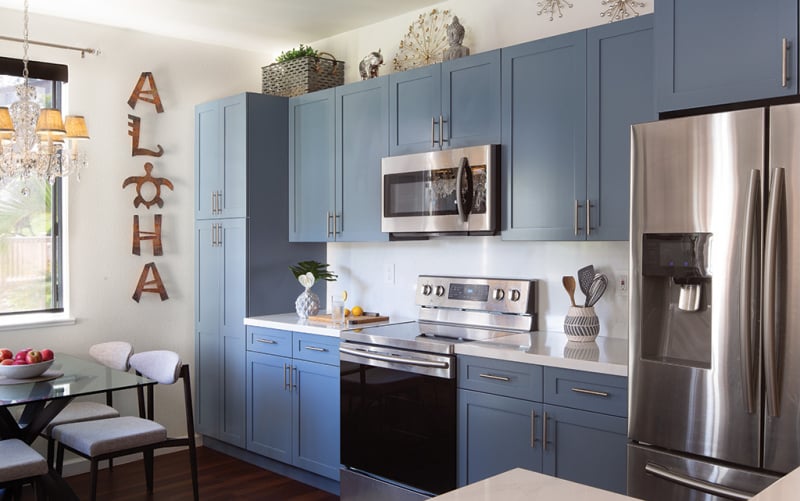 A new look for the kitchen would help set the tone for the renovated condo and its open floor plan. "We wanted to keep the place airy and let it, at the same time, feel nice and homey," Mike says.
Norton tasked Mike and Kawita with pulling pages from magazines to help her determine a direction. She noticed they were drawn to the color blue, a color that would ultimately be tied throughout the home.
In the kitchen, blue graces the new custom cabinetry crafted, painted and installed by Kin Vai Wong of Bekin Cabinets. "They were terrific to work with. They just did a fantastic job," Mike says. The upper cabinetry reaches 6 inches higher than the original, offering additional storage and a shelf to display decorative accessories. The Stacys chose shaker-style doors with high-end hardware and soft-close mechanics, features they enjoy daily when cooking and putting away dishware.
White quartz countertops and a backsplash balance the blue. The depth of the kitchen peninsula's upper level was extended, giving the Stacys enough space to sit and have a meal there as an alternative to their kitchen table.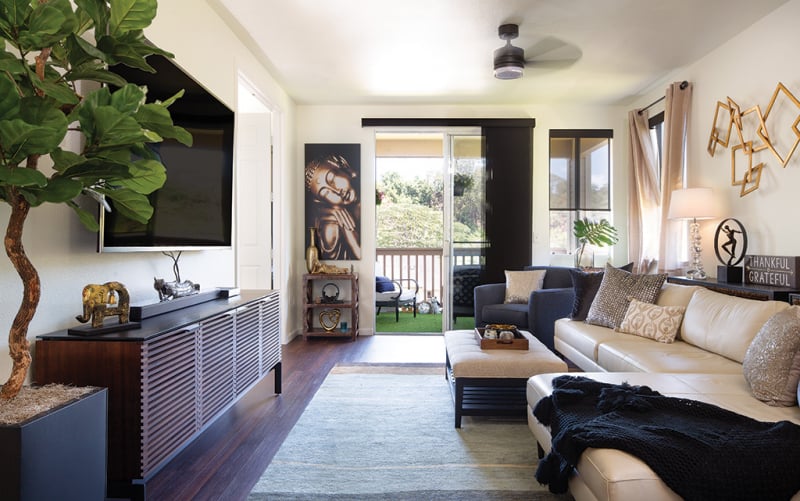 Norton worked with the couple to determine their tastes and to strike a balance between them. She knew it would be important to select high-quality, timeless, neutral furnishings that would last in their new forever home, and to layer it with décor that pays tribute to Kawita's Thai culture.
The living room is the bridge between the kitchen and the master suite, a neutral location that connects the colorful spaces. Norton furnished it with classic, unique pieces that the Stacys can be proud of.
The leather sofa from C.S. Wo & Sons is a comfortable place for the couple to relax and read or watch a movie. A colorful area rug anchors the space, while decorative art from C.S. Wo & Sons ties in the gold accessories throughout the home.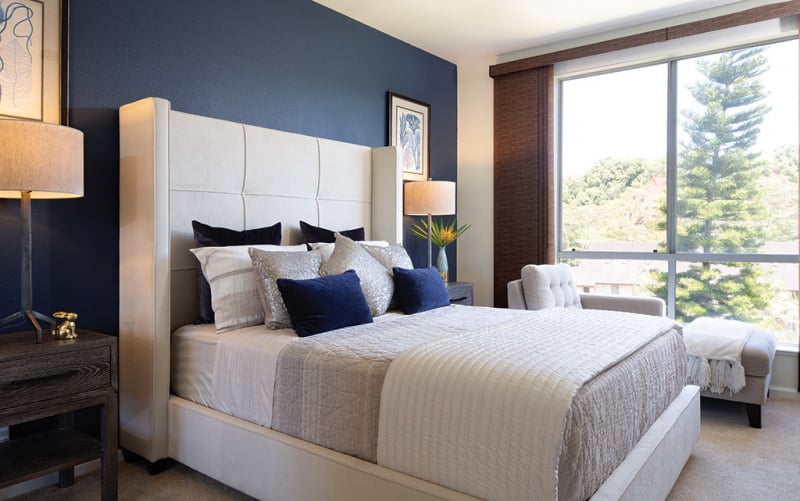 A set of double doors connects the living room to the master bedroom. A deep blue accent wall provides a dramatic backdrop for the white queen bed with a tufted, padded headboard. The bed, along with anchoring side tables, lamps and artwork, were all selected from C.S. Wo & Sons.
The master bath has a completely new, dramatic look, as well. The inspiration for it began with the slate-colored double trough sink from Ferguson Bath, Kitchen & Lighting Gallery, which was a challenge to fit in the relatively small space. "It had to be to scale," Norton explains.
The sink's color, she adds, ties in the look of the master bedroom's lamp bases, and the accent walls in the bathroom and bedroom are painted in the same color blue.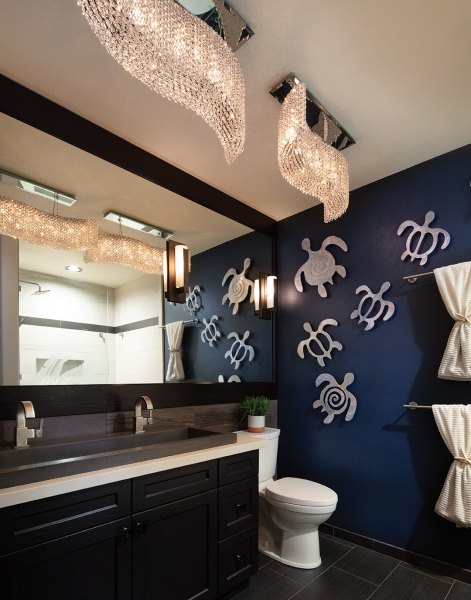 "I love balancing from room to room," she says. "It may not be the same material, but when you have something to tie it together – whether texture or color – from room to room, that makes a project come together."
Bekin Cabinets crafted a custom oak wood frame for the large mirror that hangs above the sink, and made custom cabinetry, painted in a matching dark espresso color. "The grains are so deep and rich that they just come through," Norton says. "To me, it was amazing."
Mike and Kawita wanted a crystal chandelier as the finishing touch to their master bath. Norton selected a Swarovski crystal chandelier from Lighting Elegance and then ordered two, so they could be hung together. "I love it. It's just beautiful," Mike says. "It really brightens the room up."
Mike and Kawita are proud of their new home, which they enjoy every day.
"Every time we go home, we just look at each other and smile," Mike says. "We just can't help it."