Flipside
Beachfront home requires resilient landscaping.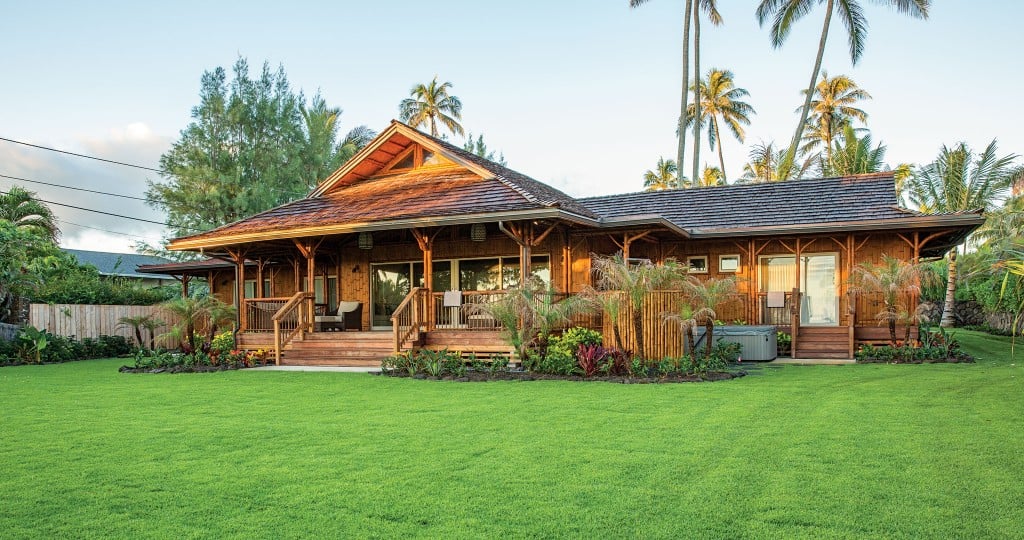 Asked to recall what was here on this picturesque property in Kailua, Steve Dewald just laughs, "Sand. Lots of sand and weeds."
Located just a few hundred feet from the beach, this unique home had lots going for it – a large, private lot, unique architecture and a stunning view. The one thing missing? Sustainable landscaping.
Using a design from landscape architect Douglas S. Saulsbury, Steve's Gardening Service got to work, grading the vacant property and killing all the existing weeds. "It was pretty much bare ground," Dewald says. "Which is always preferable. Any time we can start from scratch, it's nice."
A massive amount of topsoil was then added throughout. "The sand is just too porous. If we don't do something to bind it up, the water just runs right through it," Dewald says.
Plant choices for the landscape included lauhala, variegated hau, wax fiscus, Phoenix palms, red ti, bird of paradise and spider lilies.
Working closely with the project manager, Steve's Gardening Service also installed a full irrigation system, LED landscape lighting, river stone and drainage. Dewald also added a stone pad for the outdoor shower, which is perfect for rinsing off after a walk on the beach.
Dewald says the project wasn't overly complex by design. "The homeowners really wanted to keep it fairly simple," he says. "Because the house is bamboo and has a Balinese feel, we tried to keep as many natural elements as possible. So we used things like rock borders and natural stone walkways. We stayed away from any plastic or brick throughout. We wanted it to be a real organic looking landscape."