Flooring
Flooring factors to consider for your home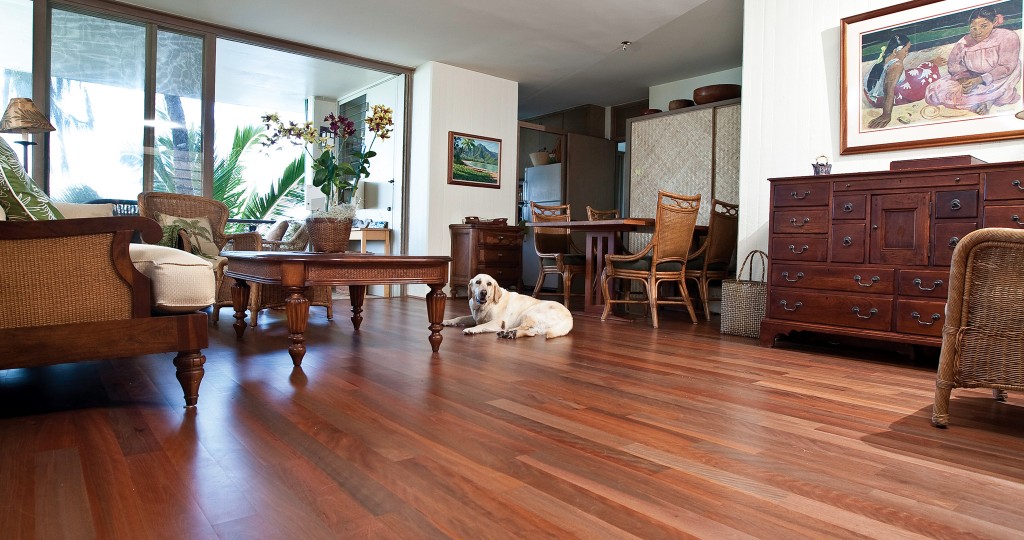 This article is part of the 2020 Hawaii Home + Remodeling Resource Guide, an organized and vetted directory of professionals, services and shops in the building and home improvement industry.

There are several factors to consider when selecting flooring for your home. Is it for a high-moisture area? Will it be used by pets or children? Are you looking for a low-maintenance option? Once those and other important questions are answered, you'll have several materials to choose from. Stone or vinyl? Engineered or solid hardwood flooring? When there are so many choices available, it's best to enlist the help of experts, such as the folks on the Pacific American Lumber team. With a philosophy of "work hard, play hard," they absolutely love what they do. What's more, their first-rate products and materials have been used in both residential and commercial projects alike.
When it comes to selecting flooring, "Make sure it's well-made and fits your lifestyle," says Chris Nied, Pacific American Lumber president. He and his team offer a seemingly endless amount of hardwood flooring options including Aussie species like Brush Box and Koala Wood, Hawaiian Classics like Mango and Monkey Pod, as well as contemporary custom French Oak.
Pacific American Lumber
142 Mokauea St., Honolulu, Oahu
845-8700, sales@pacamlumber.com pacamlumber.com
---
Flooring
808 Flooring
530 E. Uahi Wy.
Wailuku, Maui
808-249-2030
808flooring.com
Abbey Carpet & Floor of Hawaii
560 N. Nimitz Hwy., Ste. 106
Honolulu, Oahu
487-6667
honolulu.abbeycarpet.com
Abbey Carpet of Maui
25 S. Kahului Beach Rd.
Kahului, Maui
808-871-5825
maui.abbeycarpet.com
Allied Floor Corporation
1727 Democrat St.
Honolulu, Oahu
847-0288
Aloha Hardwood Flooring Co.
Honolulu, Oahu
842-5400
alohahardwoodflooring.biz
American Carpet One
302 Sand Island Access Rd.
Honolulu, Oahu
832-2020
americancarpetone.com
Appia Tile
1720 Ala Moana Blvd., Ste. B3B
Honolulu, Oahu
387-7227
appiatile.com
Bauer Flooring & Tile LLC
94-990 Pakela St.
Waipahu, Oahu
698-7976
bauerflooringservices.com
Bella Pietra Design
560 N. Nimitz Hwy., Ste. 107A
Honolulu, Oahu
587-7779
bellapietradesign.com
Bougainville Flooring Super Store
4478 Malaai St.
Honolulu, Oahu
201-1250
bougainvilleflooringsuperstore.com
Carpet Isle Flooring America
424 Kanoelehua Ave.
Hilo, Big Island
877-781-9603
carpetisleflooringamerica.com
Carpet Outlet
4374 Malaai St.
Honolulu, Oahu
423-0907
carpetoutlethawaii.com
Classic Concrete Polishing
Concrete polishing is one of the most desired options for today's floors. Providing lasting beauty, slip resistance, low maintenance and an environmentally friendly product.
______________
754-4070
info@ccpolishing.com
Complete Custom Floors
94-070 Leokane St.
Waipahu, Oahu
479-2342
ccfhawaii.com
Eco Floors & Cabinets
98-019 Kamehameha Hwy., Ste. 2
Aiea, Oahu
484-1500
Evergreen by Debra LLC
47-388 Kamehameha Hwy.
Kaneohe, Oahu
239-6599
evergreenbydebra.com
Floor Coverings International Oahu
1050 Queen St., #100
Honolulu, Oahu
738-9389
oahu.floorcoveringsinternational.com
Flooring Innovations
3093 Peleke St.
Lihue, Kauai
808-246-3401
flooringinnovationskauai.com
Flooring Specialists
1808-A Republican St.
Honolulu, Oahu
842-7755
hawaiihardwoodinc.com
Harvey's Flooring
2-2565 Kaumualii Hwy.
Kalaheo, Kauai
808-332-7533
harveysflooring808.com
Hawaii Glass Block
284 Kalihi St.
Honolulu, Oahu
841-2565
hawaiiglassblock.com
Hawaii Progressive Flooring
2688 Kilihau St., Unit H
Honolulu, Oahu
517-3709
Hawaii Stone Imports
74-5039D Queen Kaahumanu Hwy.
Kailua-Kona, Big Island
808-331-2474
hawaiistone.com
Hawaiian Style Flooring, Division of Bamboo Flooring Hawaii LLC
521 Ala Moana Blvd., #213
Honolulu, Oahu
550-8080
bambooflooringhawaii.com
Homeowners Design Center Inc.
Hawaii's premiere new construction and remodeling resource. Kitchen and bath design, cabinets, flooring, carpet, window-coverings, countertops, appliances and interior design services available.
______________
1030 Kohou St., Ste. 201
Honolulu, Oahu
847-0216
lori@homeownersdesign.com
homeownersdesign.com
Honolulu Tile & Marble Inc.
1602 Auiki St., Ste. B
Honolulu, Oahu
845-3775
In Line Flooring Inc.
2020C Kahai St.
Honolulu, Oahu
842-9933
inlineflooring.com
Island Flooring
411 Alakawa St.
Honolulu, Oahu
847-6577
islandfl.com
Jarrett Floors of Hawaii LLC
99-1285 Halawa Valley St., #A6
Aiea, Oahu
623-6233
jarrettfloorshawaii.com
Kahala Pacific Floors
926 Kohou St.
Honolulu, Oahu
847-7711
kahalapacificfloors.com
Kauai Flooring & Interior
3-3222 Kuhio Hwy., Ste. 101
Lihue, Kauai
808-245-8808
kauaifloors.com
Lahaina Carpet & Interiors Inc.
1036 Limahana Pl., Ste. 3L
Lahaina, Maui
808-661-4268
lahainacarpets.com
Lei Floor & Window Coverings Inc.
430 Alamaha St., #103
Kahului, Maui
808-427-1908
______________
335 Keawe St., #217
Lahaina, Maui
808-427-2575
leiflooringmaui.com
Lowe's
411 Pacific St.
Honolulu, Oahu
528-9370
______________
94-805 Lumiaina St.
Waipahu, Oahu
676-8381
______________
75-5677 Hale Kapili St.
Kailua-Kona, Big Island
808-331-3470
______________
214 Hookele St.
Kahului, Maui
808-872-1920
lowes.com
Masterpiece Construction
1150 N. Nimitz Hwy., #5
Honolulu, Oahu
688-8839
mc-hi.com
M&D Flooring LLC
Maui
808-280-1925
mdflooringllc.com
Modern Flooring & Construction
1133 Waimanu St.
Honolulu, Oahu
546-9779
modernflooringhawaii.com
OCG Building Supply
1199 Dillingham Blvd., A101
Honolulu, Oahu
744-6814
ocgbuildingsupply.com
Pacific American Lumber
Pacific American Lumber supplies interior and exterior finished products to Hawaii's building industry. Flooring, countertops, decking, millwork and more.
______________
142 Mokauea St.
Honolulu, Oahu
845-8700
sales@pacamlumber.com
pacamlumber.com
Pacific Floor Covering LLC
Honolulu, Oahu
741-9925
pacificfloorcovering.com
Pacific Island Floors
101 Aupuni St., Ste. 155
Hilo, Big Island
808-935-3715
pacificislandfloors.com
Pacific Tile Imports
2995 Aukele St.
Lihue, Kauai
808-245-1765
pacific-tile.com
Paradise Flooring
727 Waiakamilo Rd., Ste. B12
Honolulu, Oahu
853-1717
paradiseflooringhawaii.com
Precision Flooring Inc.
Mililani, Oahu
744-7507
precisionflooringhawaii.com
ProSource of Hawaii
4577 Bougainville Dr., Ste. 202
Honolulu, Oahu
833-229-0968
prosourcewholesale.com
Renaissance Wood Flooring
Kaneohe, Oahu
235-2281
renaissancewoodflooring.com
Selective Stone
One of Hawaii's largest suppliers of prefab stone. Full line of stone tiles including granite, slate, quartzite, travertine and more.
______________
2979 Koapaka St.
Honolulu, Oahu
839-2979
kon@selectivestone.net
selectivestone.net
The Floor Store
120 Sand Island Access Rd., Bay 7
Honolulu, Oahu
848-7771
thefloorstorehawaii.com
The Home Depot
421 Alakawa St.
Honolulu, Oahu
521-7355
______________
1021 Kamehameha Hwy.
Pearl City, Oahu
455-1200
______________
4600 Kapolei Pkwy.
Kapolei, Oahu
674-6120
______________
73-5598 Olowalu St.
Kailua-Kona, Big Island
808-326-6013
______________
380 Makaala St.
Hilo, Big Island
808-920-8400
______________
100 Pakaula St.
Kahului, Maui
808-893-7800
______________
4320 Nuhou St.
Lihue, Kauai
808-632-2740
homedepot.com
Tile Warehouse Inc.
2865 Koapaka St.
Honolulu, Oahu
840-8855
______________
73-4076 Hulikoa Dr.
Kailua-Kona, Big Island
808-329-8855
tilewarehousehawaii.com
Top Priority
94-061 Leokane St.
Waipahu, Oahu
638-3838
toppriorityhawaii.com
Universal Hardwood Floors
Makawao, Maui
808-283-3242
mauihardwoodfloors.com
Wayne's Carpet
330 Sand Island Access Rd.
Honolulu, Oahu
841-6183
______________
3025 Waialae Ave.
Honolulu, Oahu
735-3005
waynescarpethawaii.com
Wisteria Lane Flooring
500 Alakawa St., #105
Honolulu, Oahu
842-7100
wisterialaneflooring.com