Form & Flower
Easy flower arrangement ideas and tips for the no frills florist at heart.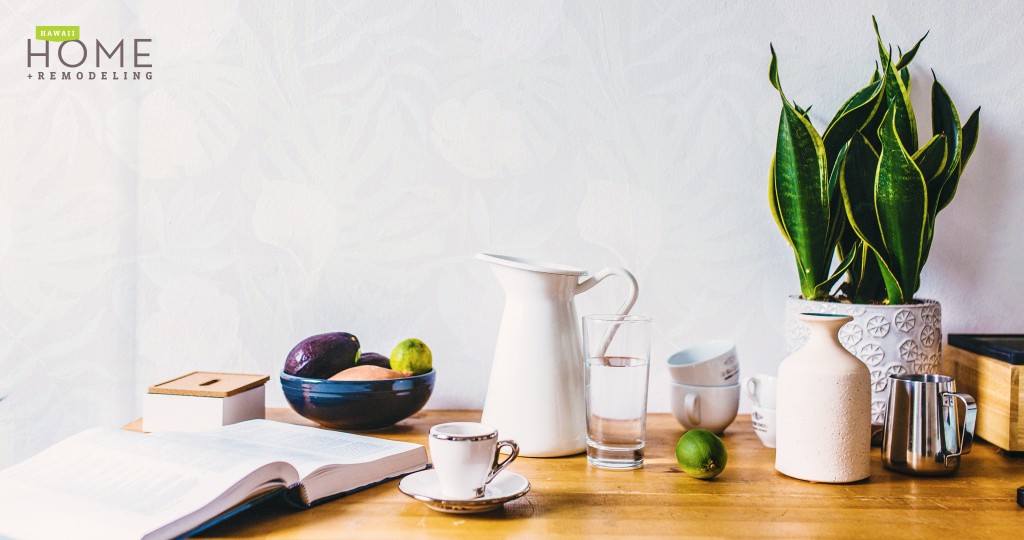 Designing your own floral arrangements is easier than you think. A few quick basics and a little creativity is all you need to become a DIY flower artist.
Flower Arranging 101
Build a foundation with your sturdiest plants and flowers first.
Add in your showstoppers (large or vibrant statement flowers).
Fill in with your delicates and wispy elements.
Hide the mechanics of the arrangement. Add more or shift around foliage to camouflage your frog or wires.
Keep the arrangement relatively proportionate to its container.
Take a step back every now and then to view your arrangement as a whole.
Wild & Whimsical
Use your favorite flora, ferns and vines to build a dreamy bowl bouquet. "If you don't have a vase, it shouldn't stop you from arranging flowers — you can use a cup, a pitcher or even a hollowed-out vegetable as a container," suggests Jan George, Garden Club of Honolulu president. Fit a foam frog to the bowl or stout, wide-mouthed vase and begin to add your elements.  Use fun flowers, like protea, and airy sprigs to showcase texture.
All Green Everything
Experiment with different greens, using both leaves and blooms, to make a simple and fresh statement arrangement. We used light green anthyriums as our heroes, filling in with dark leafy palms and bright, feathered ferns. "Leaves, ferns and palms can make a lush bouquet all on their own," says floral stylist Lucy Schlemmer. "Allowing the plants to lean toward their natural gestures makes the arrangement look effortless and inspiring."
Cut stems at different lengths to start developing an asymmetrical design, which keeps the eye moving throughout the piece.
Monochromatic Medley
Sticking to one color scheme is an easy and beautiful way to form an arrangement. Playing with complementary hues, we surrounded each crimson sunflower with red alstroemeria and used a trio of recycled beer bottles as vases. Sturdy branches with maroon-streaked leaves gave height and balance to our mini arrangements. "Use narrow-necked bottles and vases for a quick and easy introduction to flower arranging," advises Briana Williford, haku lei maker and owner of Mekiko. "These beer bottles hold the flowers perfectly and all you have to do is play around with textures and height."
The Backyard Bundle
Have fun with a flora scavenger hunt. When your yard is overgrown and in need of some pruning, use the cuttings to make a grand bundle of color. "Instead of spending a lot on flowers, use what's growing in your yard," says Jan George, Garden Club of Honolulu president. "And the next time you're on a hike, pick up something you see lying on the ground, like a branch, and use that to add texture and drama to your arrangement."
If you don't have a frog or an oasis, accordion fold any long leaves, such as red ginger or ti leaves, and place them in the bottom of the vase or container to help stabilize the arrangement.