Founded on Memories
Past, present and future come together in a Hawaii Kai family home.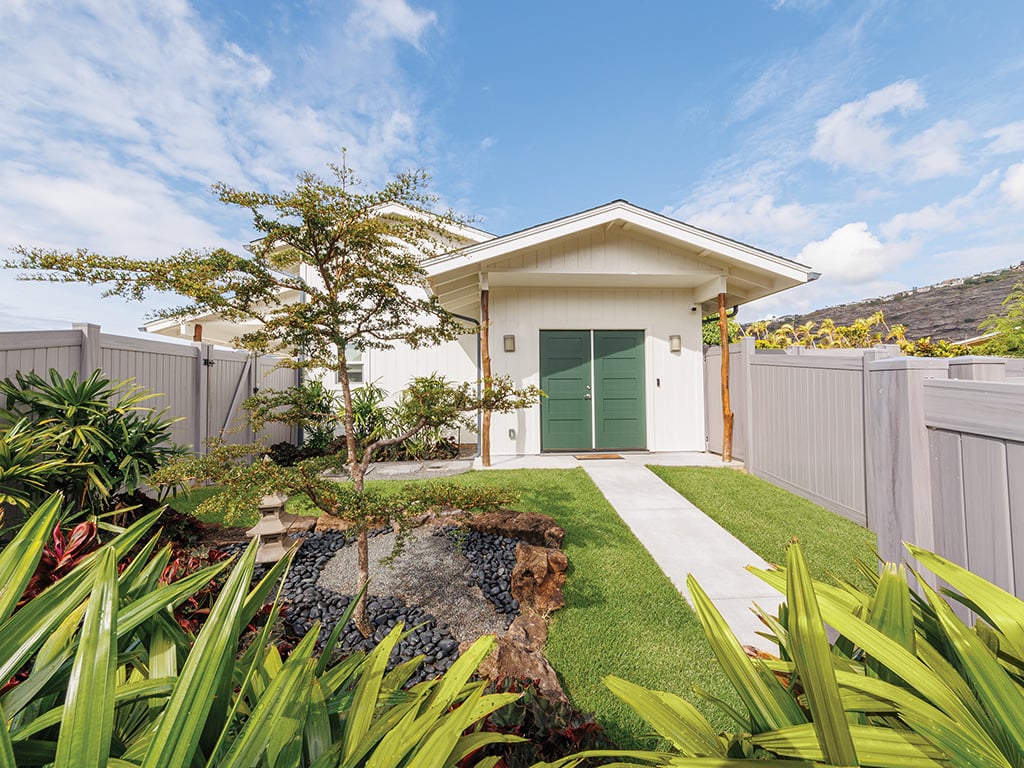 When the time comes to break down your childhood home and construct anew, you'll likely have a range of emotions. Cherished memories collide with pragmatic project decisions — but behind it all is a sense of hope for the bright future a fresh build will bring.
A Hawaii Kai family recently experienced all of that. Connecting treasured elements from their old home with forward-thinking design resulted in a new abode that's inviting and full of character. Initial discussions on the Homeworks Construction project began in 2020, followed by permitting in 2021 and completion in mid-2022.
"We wanted a design-build firm," says the homeowner, who points to Homeworks' "excellent follow-through and communication" and "reliable, responsive and knowledgeable" service.
To plan the project, Heather Hickox of Homeworks met the homeowner and her husband at their family home, which was built in 1962. An on-site walk-through and clear ideas from the homeowner and her husband for a new build established a mutual understanding between contractor and client on how to proceed.
"I walked into a house that was cared for throughout the years," says Hickox of the old home before it was torn down. "There was an intense feeling of pride and love … Immediately, I knew the homeowner wanted to preserve this feeling. Even though she was going to start anew, she was not going to wash away her family's presence."
Adds Elyse Grable, Homeworks selections specialist: "The original house was so interesting and had a lot of traditional Japanese elements to it. There were a few pieces that the homeowner wanted to keep and incorporate in the design of the new home."
The homeowner's parents, for example, had a Japanese rock garden in their furo and shower room. Homeworks re-created this feature beautifully in the current master bathroom, where skylights allow streams of daylight to illuminate a peaceful arrangement of stones and plants.
Outdoor considerations were also handled with heart. Moss rocks from the first iteration of the property were saved and used for landscaping. Reclaimed midcentury redwood planks now line a pool shower. Decorative ohia posts from the old lanai were reused at the front door after being sanded down and naturally refinished.
Perhaps the most appreciated homage inside the home are the wood lattice screens mounted behind the headboard in the master bedroom. These four panels, which are more than 60 years old, once served as dividers between the previous living room and dining room. Refurbished and painted, they're now a one-of-a-kind decorative statement piece. Katen Karlten of Bloom Again Design came up with this tribute to the homeowner's childhood.
"We love the opportunity to incorporate things that have meaning," shares Karlten. "Homeworks designed and built the home; we furnished and added those little touches that turn a house into a home. Everything came together just perfectly."
Grable says the homeowner "was a great mediator" between her designer and Homeworks Construction. "She made it a point to have us on the same page as her so we could work together to complete their vision."
That vision also included modern aesthetics with "clean lines, neutral colors and open areas," says Hickox. The home office, for instance, has a sleek Murphy door bookcase that opens into a closet for internet cables. In the living-dining-kitchen area, the air conditioning unit is cleverly concealed in the attic, with vents blowing cool air down to the entire open space.
"It looks like we have central AC in the living-dining-kitchen but we don't," says the homeowner, who describes the system as an "incredible example of an innovative solution that made the house have clean lines and cool more efficiently."
Despite supply chain issues and an uptick in costs for lumber and materials while construction was in progress, the homeowner and her family are grateful for the outcome of the project. For others who are looking to rebuild an old home or embarking on fresh construction, the homeowner advises patience and a good rapport with their contractor.
"It's a long process so remember to take it step by step," she shares. "Research at least a few companies for your project. Ask to see examples or talk to previous clients. Don't be afraid to ask questions or express concerns. It will be worth it in the end!"
Marshall Hickox of Homeworks adds that it is important "to choose a contractor you feel comfortable communicating with and [who] is equally passionate about your ideas as their own."
Project Team
• Interior Design: Bloom Again Design/Katen Karlten
• Pool: Gemini Pool And Spa
• Landscaping: Turf And Shrub Care Hawaii
• Pantry/Master Closet: Dream Closets Hawaii