Fresh Perspective
Home vegetable garden shifts builder's mindset on food while growing a community of like-minded people.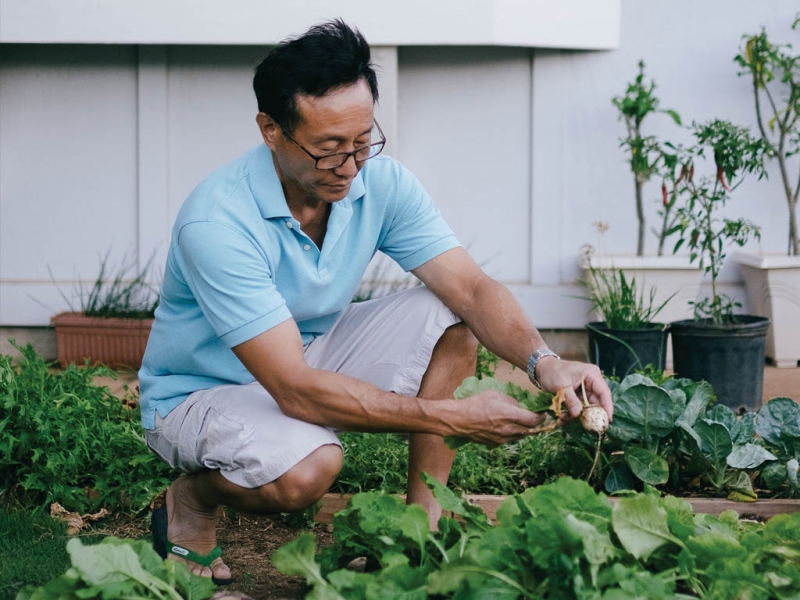 Hours before the sun rises, Evan Fujimoto can be found picking bok choy and arugula from his vegetable garden in the front yard of his Niu Valley home. Harvest in hand, he heads inside to his kitchen to wash and stir fry the yield for breakfast, served over rice.
Fujimoto has always enjoyed working with his hands. The president of local design-build firm Graham Builders, he has been in the construction industry for nearly three decades. When he's not reviewing drawings and estimates and running the business from his Honolulu office, he's likely tending to his vegetable gardens in both the front and backyards of his eight-bedroom, five-bathroom home.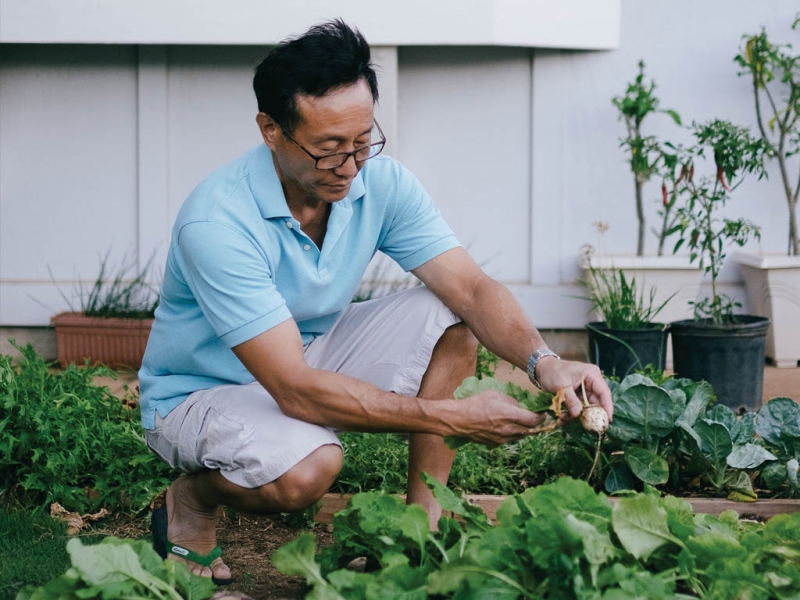 "I've always enjoyed planting things," Fujimoto says. When the Fujimoto family moved from Hawaii Kai to Niu Valley 15 years ago, one of the first things Evan did was plant a mango tree in the yard. "A mango tree is just as pretty as any other tree, and it gives you fruit," he says. "Landscaping should first and foremost be something you can consume."
But it wasn't until about two years ago he began planting vegetables in pots on a table in his backyard. "I started planting chili pepper plants because I like hot food," he says. Craving more, he began experimenting with different varieties. He grew more than he could eat, giving peppers away to friends with similar tastes.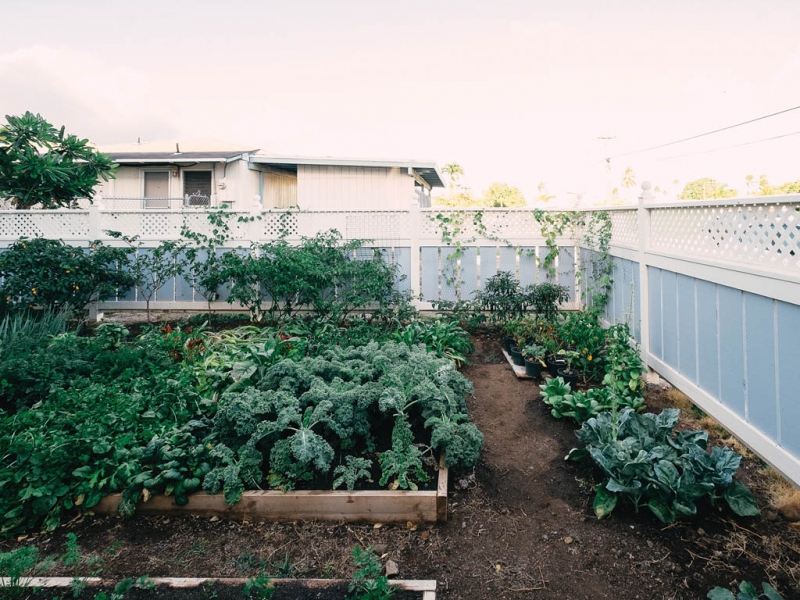 Later realizing the grass-covered front yard received nice sunlight, Fujimoto thought it would be a great place to experiment with gardening. He dug about one foot deep into the soil for root systems to grow and built a six-inch, raised-bed garden filled with Menehune Magic organic soil compost from Hawaiian Earth Products. He now grows a wide variety of vegetables in pots in the backyard as well as three different raised-bed gardens in the front yard.
"The hard work is in the beginning and then, after that, it's really not hard," he says.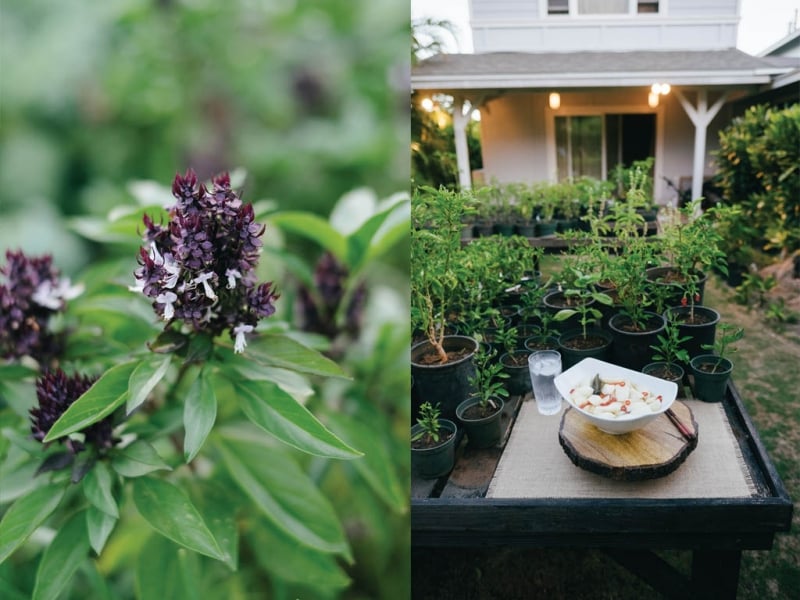 Fujimoto's gardens flourished, growing more than his family of seven has the appetite to consume. In exchange for a $5 donation, Fujimoto trades plants with colleagues at Graham Builders to raise money for New Hope Hawaii Kai and his medical missions through the church. He also exchanges plants with friends who grow other varieties in their gardens.
"There are a lot of people who are interested in wanting to eat better and eat different things," Fujimoto says.
His active family has always kept a healthy diet, but growing much of their own food has made them appreciate food more, he says.
"When you grow a garden you become more aware of what you're eating. You're growing it, you're seeing it every day, and you start thinking about food and where it comes from because you're involved in growing it from a seed," Fujimoto says. "It's fun. You become more conscious about what you eat, and want to eat healthy."
Turnip Nimono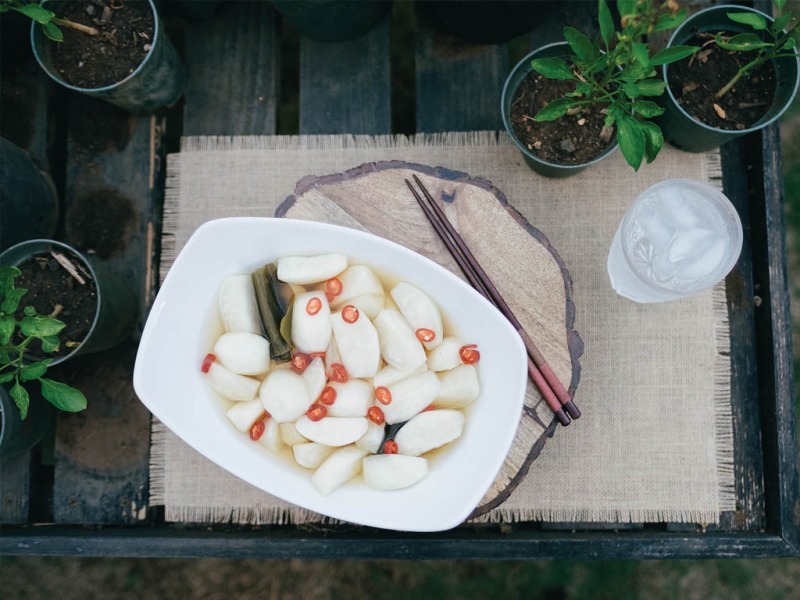 Recipe by Evan Fujimoto
Nimono is a term for vegetables lightly simmered in broth, typically dashi, Fujimoto says. The turnips in his garden are the Hakurei variety. "They have a nice sweetness when picked at about 35 days' maturity," he says.
Ingredients:
8 turnips
2 cups water
1 small steeping bag of katsuobushi (dried bonito flakes)
4-inch piece of dried konbu (kelp seaweed), cut into 1/2-inch-wide strips
2 Tbsp. light soy
2 Tbsp. mirin
1 tsp. sugar
1/4 tsp. salt
Recipe:
1) Peel and cut turnips into quarters, lengthwise.
2) Put turnips in pot and barely cover with water; add katsuobushi steeping bag, konbu strips, shoyu and mirin. Add sugar and salt to taste.
3) Bring to boil on medium-high heat, then turn to low heat.
4) Cover and simmer for about 15 minutes. Don't overcook, or the turnips will turn mushy.
5) Remove katsuobushi bag and serve; garnish with green onions or mild chili pepper.