Garage Doors
Protection and Curb Appeal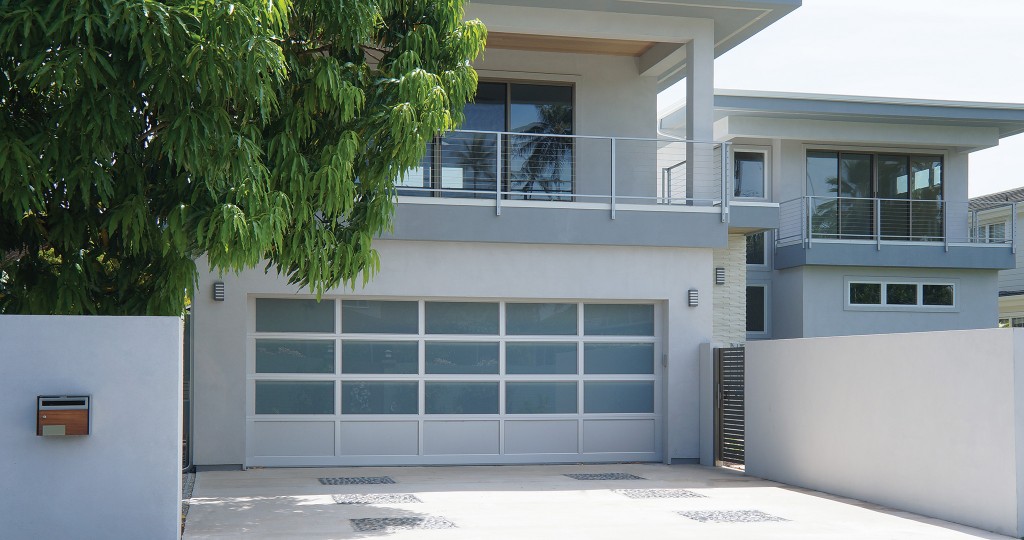 This article is part of the 2020 Hawaii Home + Remodeling Resource Guide, an organized and vetted directory of professionals, services and shops in the building and home improvement industry.

What was once a simple security feature is now so much more. Garage doors still provide protection, of course, but they also offer homeowners another way to personalize their space — with current systems that are much more advanced than before.
"The new technology incorporates six safety systems in place of the three or four on older residential operators," says Peter Eldridge, president of Fire Doors Hawaii, a division of Raynor Hawaii Overhead Doors and Gates Inc. "And the customization options are almost unlimited today; we have hundreds of designs and thousands of colors. You can use your garage door to express yourself a lot more than you could before."
In addition to ensuring customers end up with the perfect garage doors to suit their homes and personalities, Raynor also provides them with all the information they need to use their new devices in any situation — whether it's everyday opening and closing, or operating the door during a power outage.
Raynor Hawaii Overhead Doors
96-1368 Waihona St., Suite 4, Pearl City, Oahu
(808) 676-3667; hawaiidoor.com
---
Alliance Overhead Garage Doors
Honolulu, Oahu
533-4111
allianceoverheaddoors.com
Classic Concrete Polishing
Concrete polishing is one of the most desired options for today's floors. Providing lasting beauty, slip resistance, low maintenance and an environmentally friendly product.
______________
754-4070
info@ccpolishing.com
Hawaii Garage Doors
Honolulu, Oahu
836-0029
hawaiigaragedoors.com
H & H Overhead Door of Oahu
94-155B Leowaena St.
Waipahu, Oahu
671-8880
handhoverheaddoors.com
Oahu Garage Doors LLC
94-150 Leoleo St., Ste. 108
Waipahu, Oahu
625-5759
oahugaragedoors.com
One Stop Windows and Doors
720 Iwilei Rd., Ste. 416
Honolulu, Oahu
550-2402
onestopwd.com
Pella Window and Door
560 N. Nimitz Hwy., Ste. 105-B
Honolulu, Oahu
841-3200
pella.com
Raynor Hawaii Overhead Doors
Raynor Hawaii offers a complete line of garage doors with several design options to secure and complete your home's aesthetic. Steel doors, wood, modern aluminum and garage screens.
______________
96-1368 Waihona St., #4
Pearl City, Oahu
676-3667
hawaiidoor.com
RK Oshiro Door Service Inc.
1115 Mikole St.
Honolulu, Oahu
845-9933
rkoshirodoor.com
Takase Doors & Service
1824 Kahai St., Ste. A
Honolulu, Oahu
841-9134
takasegaragedoors.com
Tradewind Hawaii Inc.
73-5568 Olowalu St., Ste. F
Kailua-Kona, Big Island
808-329-2310
tradewindhawaii.com