Going with the Flow: John Cook Kitchens creates a spacious Kahala kitchen
A kitchen renovation reveals an open space for entertaining.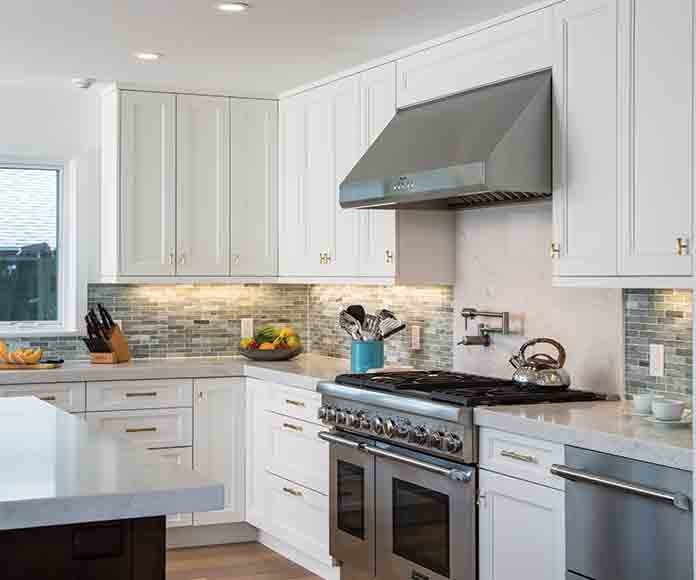 A bright, open-concept kitchen and dining area is punctuated with the jewel-toned hues of the ocean that flow from one area to the next. It wasn't always this idyllic, though. When Kahala homeowners came to Shelley Tanner of John Cook Kitchens for their kitchen remodel, she knew exactly what needed to change.
"It was stuck in the old style of white laminate and corian countertops," Tanner says. "Everything needed to be freshened up."
Of course, it was not only countertops and appliances that had to be refreshed — the galley-style kitchen was completely isolated from the adjacent dining room. "I wanted the kitchen to open up," says the homeowner. "People naturally gravitate into the kitchen." Tanner affirms: "They liked the space, but it wasn't conducive to their lifestyle."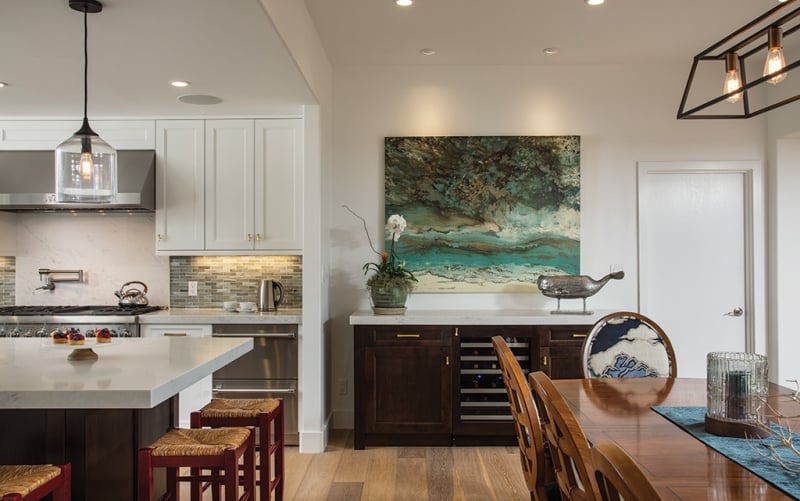 In order to create a more open kitchen plan, the focus first needed to shift upward, not outward. The dining area ceiling had drop soffits enclosing the perimeter and defining the area, which limited the dining table to one location in order to have it centered with the ceiling. To streamline the space, the drop soffits were completely removed to expand the kitchen area and create a more flexible option for the dining area, and to also create a sense of flow from one room to the next.
The kitchen got the update it needed. All new Thermador appliances from Ferguson Bath, Kitchen & Lighting Gallery were integrated throughout, among which include two dishwashers that flank both sides of the new stainless steel apron sink. Certain aspects of the kitchen remained, though great care was taken to refresh those areas. "The existing reverse osmosis system was kept, but the faucet was changed to tie in with the new fixtures," Tanner explains.
To unify the look of the kitchen, appliance overlay panels matching the color of the built-in cabinets were added to the refrigerator, freezer, and dishwashers. The wainscoting pattern harmonizes well with the deep espresso hue of kitchen island and buffet in the dining room.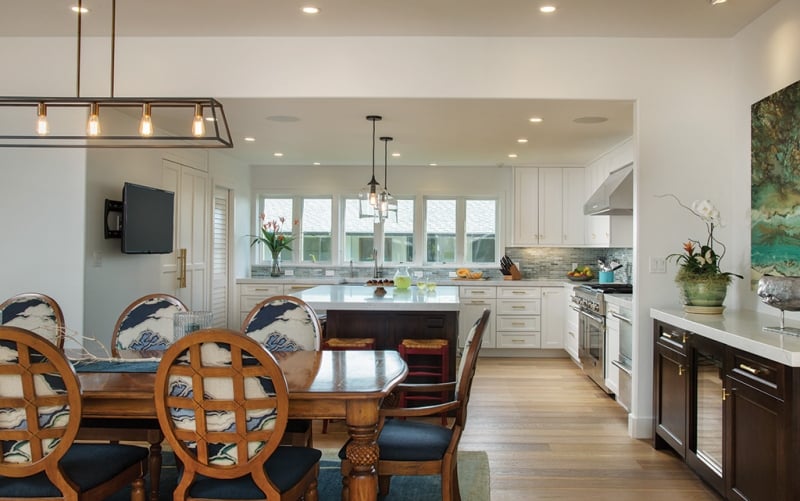 The renovations resulted in an open-concept kitchen with plenty of space to maneuver from one room to the next. The newly renovated space is much more welcoming now that more people are able to flow back and forth from the kitchen to the dining room. "I love to entertain," the homeowner notes. "Everyone gathers here."
Where to get it
Appliances: Thermador dishwashers, hood, microwave drawer, refrigerator, freezer, oven and range, from Ferguson Bath, Kitchen & Lighting Gallery
Appliance overlay panels: John Cook Kitchens
Backsplash: Minka glass tile in satin finish from Tile Warehouse
Cabinets: Bellmont Cabinet Co., 1900 Series shaker style in white, from John Cook Kitchens
Countertops: Quartz London Sky by Zodiaq, from John Cook Kitchens
Sink: Strive by Kohler, from Ferguson Bath, Kitchen & Lighting Gallery
Windows: Pella