Good As Gold
An almost 50-year-old condo is given a second chance at luxury with a modern makeover.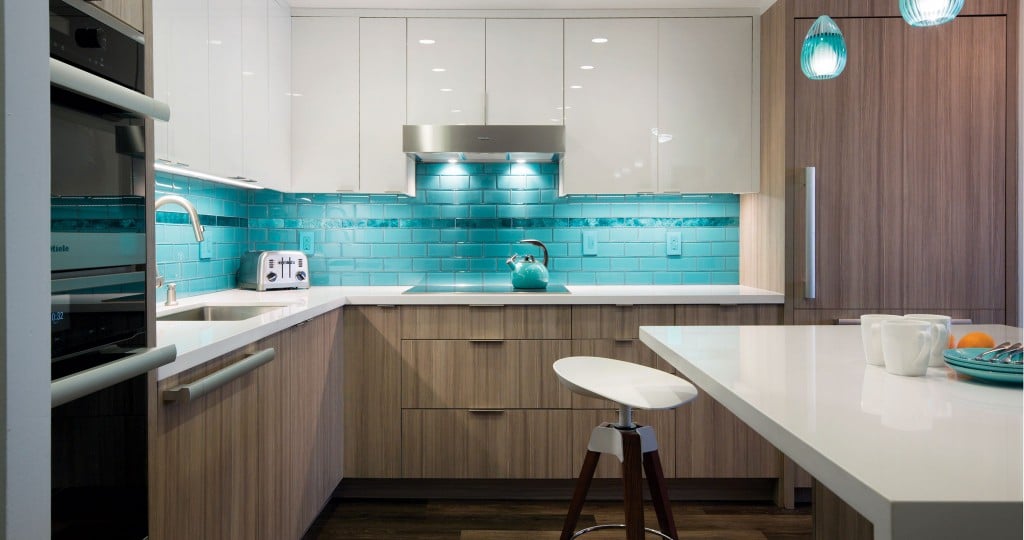 As new, high-end condo buildings sprout throughout Kakaako and Ala Moana, the older residential buildings in the area can begin to feel a little less luxurious. But with inspiration, upkeep and remodeling, these older condos can be precious treasures among the new.
Built in 1968 and considered to be Honolulu's oldest luxury residential condo building, 1350 Ala Moana is well kept. Located at the corner of Ala Moana Boulevard and Piikoi Street, its direct views of Ala Moana Beach Park and the ocean will likely never be obstructed by new development. Its neighbors, like Park Lane Ala Moana and new developments in Kakaako down the street, are bringing even more luxury living to the neighborhood.
Eric Rosso bought into 1350 Ala Moana largely for its proximity to work and the renovated unit's view of Ala Moana Beach Park. "The unit was in decent shape when I bought, but I knew I wanted to renovate," Rosso says. "It wasn't my taste."
Rosso toured the showrooms of newer residential condo buildings nearby and got a feel for what he wanted to bring into his renovation. He was drawn to the trendy look of two-tone cabinetry, clean lines and hidden technology, but wanted to personalize his space with more character and color. After shopping around, Rosso knew most of what he wanted, but needed a certified kitchen designer to draw up the plans and finalize important details.
Rosso connected with detail-oriented designer Shelley Tanner of John Cook Kitchens, who has been designing home projects — both new and remodeled — for two decades. "There were a few tricky little things about his layout," Tanner says.
The ceiling had different heights through-out the kitchen due to a soffit that concealed electrical wiring for lighting. Tanner gained an additional six inches of height for the 6-foot-tall homeowner by bringing the soffit up and aligning it with the hallway's ceiling and new cabinetry, providing more breathing room and cleaner lines.
"In condos, the ceiling is concrete most of the time, unless it's a drop ceiling with empty space above. That allows people to relocate lighting and have a better lighting plan," Tanner explains, noting that the new soffit takes up less space. The ceiling now has recessed can lighting and pendant lighting on a track over the island.
Rosso selected cabinetry from Bellmont Cabinet Co.'s 1900 Series, which is on display at John Cook Kitchens' showroom. The Firma door style in straw color has a vertical grain on its drawers and doors, a nice choice for the lower cabinetry, island base and the panels with the Miele wall oven, Miele microwave and Sub-Zero refrigerator/freezer. "I love how it's hidden and looks like furniture," Rosso says of the Sub-Zero refrigerator.
To give the kitchen cabinetry its two-tone look, Rosso selected a white acrylic cabinet door for the upper cabinets, also from Bellmont Cabinet Co.'s 1900 Series. "It's a higher-end series," Tanner says, noting its better hardware, solid birch doors and undermounted soft-close glides and hinges.
Tanner designed the cabinetry to have a recessed bottom modification, which conceals the light valance for the LED undercabinet lighting. "The factory will recess the bottom of the wall cabinet box by an inch-and-a-half so the light valance is behind the door," Tanner says. "That adds to the cleaner look. Plus, we finished the bottoms of the wall cabinets in white to match the door."
Since the condo lacks a designated dining area, Rosso wanted to incorporate a kitchen island that could seat as many as six people when he's entertaining family and friends. It has a waterfall edge on one side, for a modern look, and seating for two on each of the three other sides, for functionality. It also has storage, making this island a multifunctional center of the kitchen. A white Silestone countertop on the island is consistent with the kitchen countertops and complements the kitchen's color scheme.
Rosso says the backsplash — a blue subway tile with border detail and dark grout — was one of the most difficult decisions to make for the renovation. The choice brings character and color to the kitchen, echoed in its details of pendant lighting, switch covers and accessories.
"The blue accents are perfect for Hawaii's look and feel," Rosso says. "Even the turquoise outlet plugs are fun."
Where To Get It
Cabinetry: Bellmont Cabinet Co. 1900 Series Firma door style in straw, and Lustro door style in white acrylic, from John Cook Kitchens.
Cooktop, Oven and Microwave: Miele 30-in. 4-Burner Electric Smooth Top Cooktop and Miele hood; Miele CountourLine 24-in. Single Electric Wall Oven with convection cooking; and Miele 24-in. Built-in Microwave Oven, from American Cabinetry.
Counter Stools: Bonaldo Plumage Bar Stool in solid walnut painted ash legs, from The LOFT at INspiration Interiors.
Refrigerator: Sub-Zero 36-in. Integrated Over-and-Under Refrigerator/Freezer, from American Cabinetry.
Lighting: Tech Lighting Ava Aqua Pendant lighting, LED undercabinet lighting and recessed can lighting from Lighting Concepts and Design.
Countertops: Silestone in White Zeus Extreme with waterfall edge on island, from Pioneer Marble & Granite.
Sink: Franke Kubus Undermount Single Bowl sink, from Ferguson Bath, Kitchen & Lighting Gallery.
Faucet: Moen Align Pull-Out Spray Kitchen Faucet, from Ferguson Bath, Kitchen & Lighting Gallery.