Grand Approach
A Dilapidated Condo Gets a Much-Needed Makeover.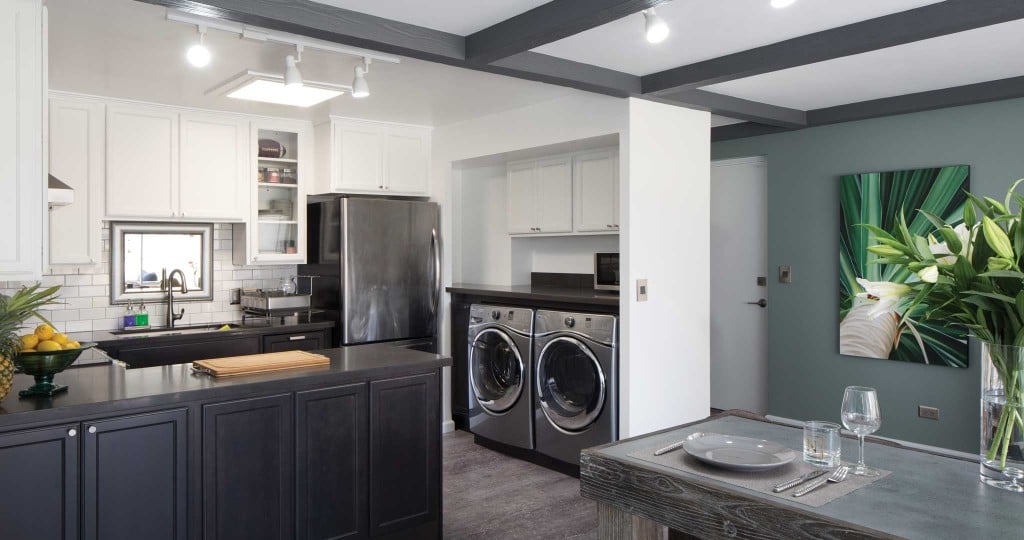 It all started with Kelii Wilson's grandfather.
"He wasn't formally trained, but he built homes," says Wilson, whose grandfather, Ted Wilson, built, sold and lived in beautiful homes around Hawaii — mainly in the Diamond Head area and in Princeville on Kauai. "He'd live in it for a year or two, buy the lot next door, build a home there and then repeat the whole process. I'd guess you'd say building has always been in our family.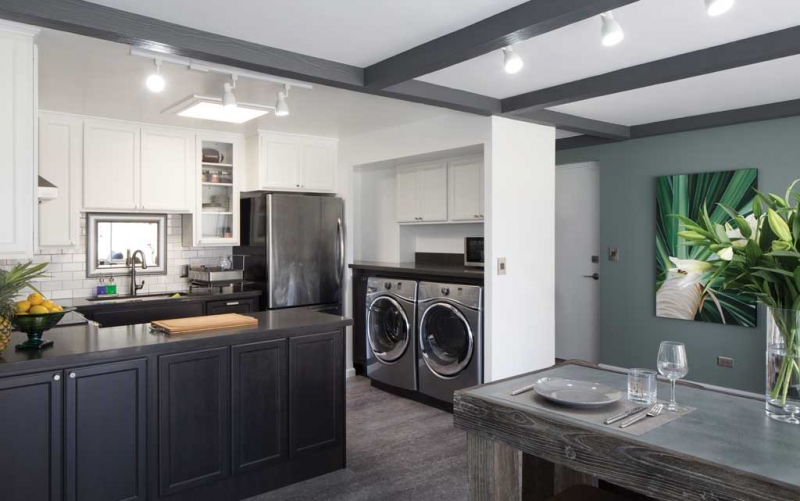 "As a result, his grandchildren all gained an appreciation for architecture, construction and design. He was extremely focused, professional and had an amazing work ethic. He always had a lot of respect for old-time kamaaina knowledge."
In late 2014, Wilson put that kamaaina knowledge to work while "casually" looking for a project to work on. "At the time, I was buried at work and wanted another creative outlet for my evenings and weekends," Wilson says. "My agent and I found a listing, but we were forewarned that there had been a hoarder in the unit for 30+ years. Once inside, I could tell my agent was pretty disgusted. I leaned in and said, 'It's perfect.'"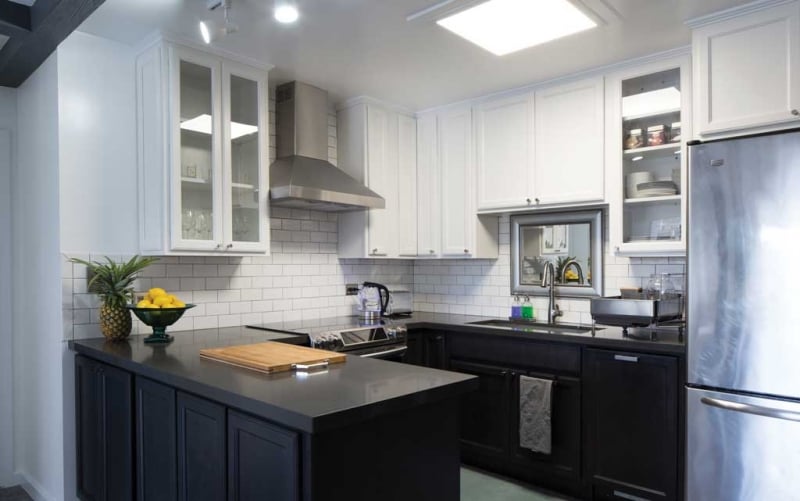 It would be the only property Wilson looked at. "We closed the next month, and I got straight to work," she says. "I knew I could do this. I was super excited."
Located near the heart of Waikiki and a short walk to the beach, the single-level, two-bedroom, two-bath, 863-square-foot condo featured a large lanai, an open floorplan, a washer/dryer unit and plenty of storage. Those were the positives. On the flipside, the condo was in bad condition. "You could not even see the floor," Wilson says. "It was falling apart."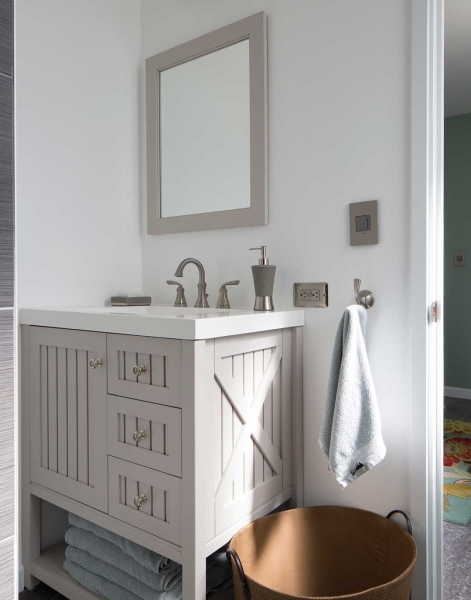 So, Wilson got to work on turning awful into awesome. "I went over there every day after work," says Wilson, who hired contractors for the skilled labor like electrical and plumbing. For the rest, it was on-the-job training. "I totally winged the rest of it, as best I could," she says. "I definitely made mistakes, but I learned a lot along the way."
Wilson says her favorite part of the the process was spending time with her grandmother. "We'd have weekly cocktail meetings to review samples. She's 96 and has an amazing eye for design and an appreciation for good bourbon," laughs Wilson. "We watched a lot of HGTV together."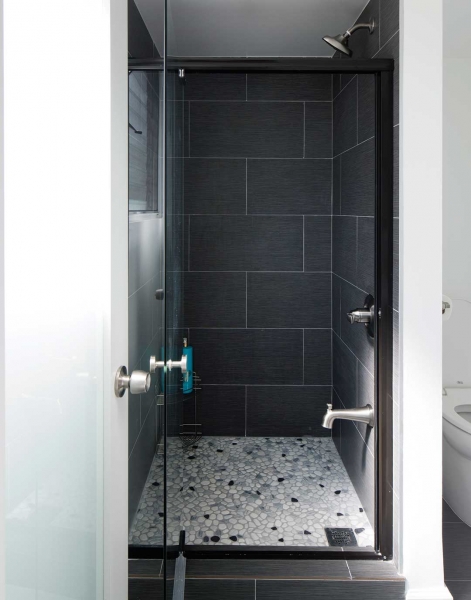 In the end, she couldn't have been happier with the results. "It was a total gut job, but I think it came out great," says Wilson, who plans to turn the condo into a rental property and is already looking for her next renovation project. "It was hard work, but it was super rewarding."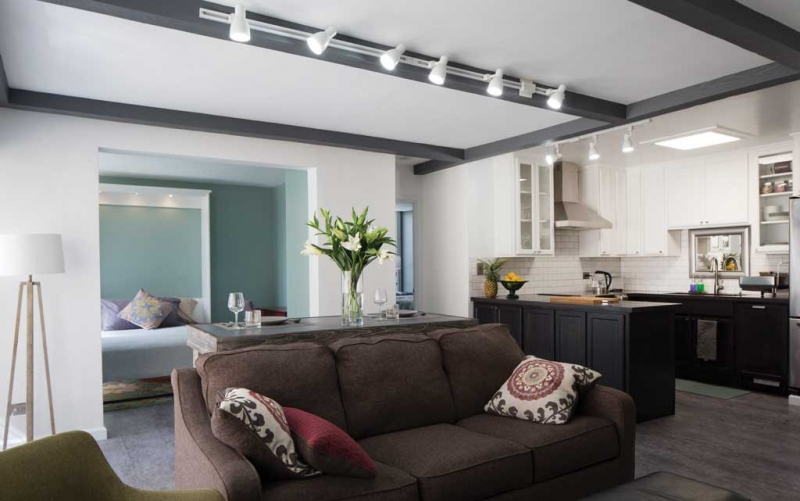 ---
Favorite Remodeling Apps
Houzz
Home Depot
Calculator
Favorite Remodeling Shows
Fixer Upper
Flip or Flop
House Hunters
Favorite Brand
Milwaukee Power Tools
Must-Have Remodeling Tool
Measuring Tape
---
Considering remodeling? Before you get started, check out these tips from remodeler Kelii Wilson.
1. Make sure the bones are good. There is no point in having a beautiful home if your sewer pipes explode.
2. Don't overdesign. Keep it simple. Put in what you love, not what other people love.
3. Pay close attention. Check with the condo association before beginning any remodeling project.
4. Find excellent help. Don't punch a hole in your pocket but beware of choosing the cheapest option. You want the perfectionist who is efficient and values their work.
5. Be patient and find creative solutions. There was no electrical in the ceiling so I found some faux beams to run cable and power throughout the condo.
6. Don't waste time on too many options. If you start with too many it will take too long to get to "the one."
For paint, pick a few shades (two to four) of the color.
Be ruthless. Choose one and don't look back.
---
WHERE TO GET IT
Flooring: ProSource of Honolulu
Appliances: Pacific Appliance Group
Countertops: Selective Stone
Paint: Home Depot
Plumbing: Home Depot
Cabinetry: Home Depot
Tools: Borrowed from family and friends