Green and Growing
Embracing the food sustainability movement.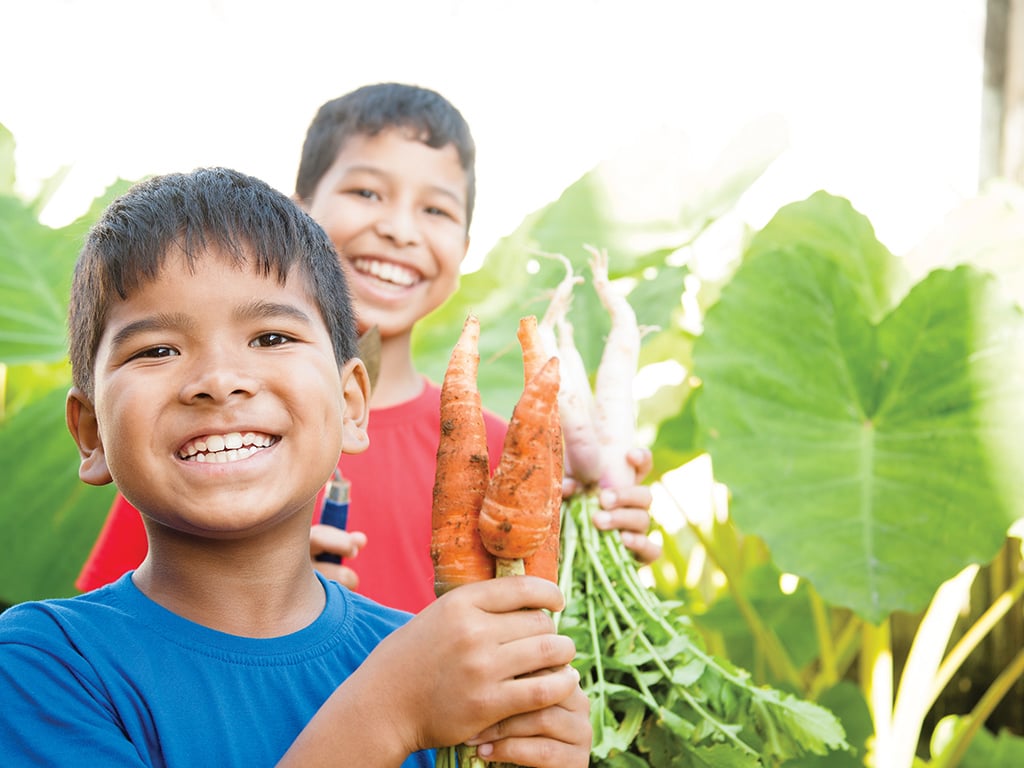 From the White House Kitchen Garden to multi-acre food forests in the islands and family "foodscapes" in neighborhood backyards, many people are reaping the benefits of cultivating their own food sources. And some of those people playing key roles in global initiatives to create sustainable food systems — and enjoying fresh, nutritious fare at home in the process — are local homeowners.
Understanding the food sustainability movement starts on a macro level. Today's food supply chain results in 25% to 30% of global carbon emissions, according to a report by the World Economic Forum. Manufacturing, shipping and distribution of food takes a toll on the environment and global events, natural disasters and rising costs can greatly affect what's available on grocery store shelves.
"While consumers understand the issues, it is up to everyone else in the food system to act now to help them — access and affordability will play a critical role," explains Dr. Gunhild Stordalen, founder and executive chair of EAT, a science-based nonprofit for global food system transformation, in a press release.
"The fact that so many people around the world are becoming more interested in eating healthy and sustainable food is an encouraging sign," she says.
In Hawaii, the state's Office of Climate Change, Sustainability and Resiliency notes that more than 80% of the Islands' food supply is imported. To counter this, many hands — including programs like the Oahu Compost Project, Hawaii Food Garden Fund and Oahu Good Food — have joined together to help local residents rediscover the traditions and techniques of regenerative farming and food cultivation. Foodscaping, for example, is a fun way for local homeowners to combine landscaping with food production.
"Foodscaping has been around for a long time," says Elton Hara, general manager of Koolau Farmers. Hara notes that getting started with foodscaping is easy. "There's no rules; it basically comes down to your particular environment and matching your garden to the environment. You can grow edible flowers to add color and other plants for structure. Each person can be their own artist."
Koolau Farmers' store locations in Windward Oahu and Honolulu carry a variety of seeds, starter plants, soil options and more. Hara and his staff can share with residents a wealth of knowledge for their personalized foodscaping projects — Hara himself grows food plants among others in his home garden.
"Sunlight is key," he says, to making sure your home crops grow optimally. "It's just a matter of understanding the microclimate at your home and making the time every day to take care of your garden. Plant with that in mind."
Mindful changes like foodscaping can result in a ripple effect as Island neighborhoods in urban and rural areas come together to share what they grow. A single seed and a supportive community can do wonderful things to ensure a thriving local food system that honors
our aina.
---
Koolau Farmers: A Legacy of Growing Better Communities
As a locally owned and operated business since 1938, Koolau Farmers has been a leader in meeting the needs of the community as Hawaii has changed through the decades. During the COVID-19 pandemic, our focus turned to assisting our clients with the opportunity to be an active participant in changing the food landscape of our Island home. Our team jumped into action and provided crucial answers to important questions that ranged from "How do I get rid of these pesky aphids?" to "I planted cucumbers and as soon as they started to fruit, my leaves turned white. What do I do?" to "Why isn't anything growing in my garden?"
As we've learned since then, food security is more vital than ever here in Hawaii — and you can make a big difference in even the smallest ways. We are proud to support the community with thoughtful expertise and quality products that will ensure a new generation of home "foodscapers" gets growing. And here's a free "tip" for you: soil quality is everything! Visit us to learn more!
Koolau Farmers Locations:
(808) 247-3911 | 45-580 Kamehameha Hwy, Kaneohe, HI 96744
(808) 263-4414 | 1127 Kailua Rd., Kailua, HI 96734
(808) 949-7000 | 1935 S. Beretania St., Honolulu, HI 96826