Grow Your Curb Appeal
Create a welcoming outdoor space for your home with a landscaping project that fits your budget.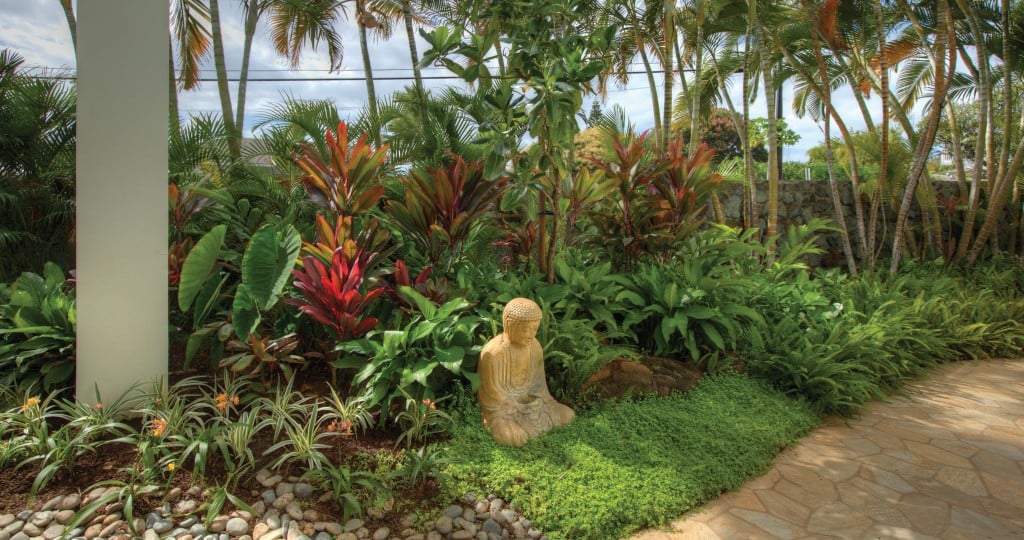 A well-designed, maintained landscape can provide your home with curb appeal, privacy and a sense of comfort. The options for plants, water features and hardscapes are seemingly endless, but where you live and what your goals are will help determine what's appropriate for your situation, so you'll want to plan ahead before spending time and money on experimenting.
"Seek professional expertise for your design, and seek financial guidance for your dollars. It's important to come up with a complete plan in the beginning to lower the chance of surprise costs and unexpected changes," recommends HawaiiUSA FCU.
The size of your yard will factor into the cost of your project, but there's much more to consider. Take a look at these three projects at three different price points by Steve's Gardening Service for inspiration and insight into the costs of landscaping.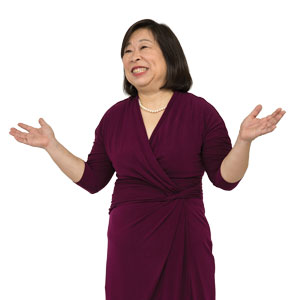 Factors to Consider
Green or Black Thumb
Will you maintain the landscaping year round? If not, consider low-maintenance elements, or factor in the cost of a gardener.
Grow Slow
If you can't afford all you want now, create a three- to five-year plan to add in new features. Be sure to include drainage, irrigation and grading from the start.
"We welcome every opportunity to help you make the best financial decisions toward achieving your unique dream home."

— Joni Young, Aiea Branch Manager, HawaiiUSA FCU
$   $10,000 — $15,000   The Essentials
A great way to get a high-end landscape at a lower price point is patience. Consider younger plantings, which are available at a fraction of the cost of mature plants. Just be sure to factor in the time it takes for them to grow in. Lower-cost lighting and finishes will save money now and can be upgraded later. Three areas to never cut corners on, however, are drainage, irrigation and grading, recommends Steve Dewald of Steve's Gardening Service.
$$   $50,000 — $60,000  Peaceful Privacy
Size is one factor in the cost of a landscaping project, but a small yard doesn't necessarily mean a low cost. This small yard has screens of thick foliage along its property lines to increase its privacy while also framing the view of Kaneohe Bay. Durable, energy-efficient LED lighting from Beachside Lighting gives the space an inviting glow at night, while a Pentair Intellitouch system provides remote control of the yard's spa, lighting and water features. River rock and hardscape finishes including a retaining rock wall provide functional protection and add to the aesthetic. Certain plant selections, including sealing-wax palms, also add to the cost.
 $$$   $100,000+  Resortlike Experience
A resortlike experience isn't just reserved for vacation. The landscaping in this Kahala home spans multiple levels, providing privacy and seclusion from the neighbors. The pool was redesigned with multistory water features, including faux waterfalls with planter pockets of lauae fern, ti leaves, heliconia, ginger and gardenia. Beachside LED lighting is installed throughout the landscape as well as a new sprinkler system.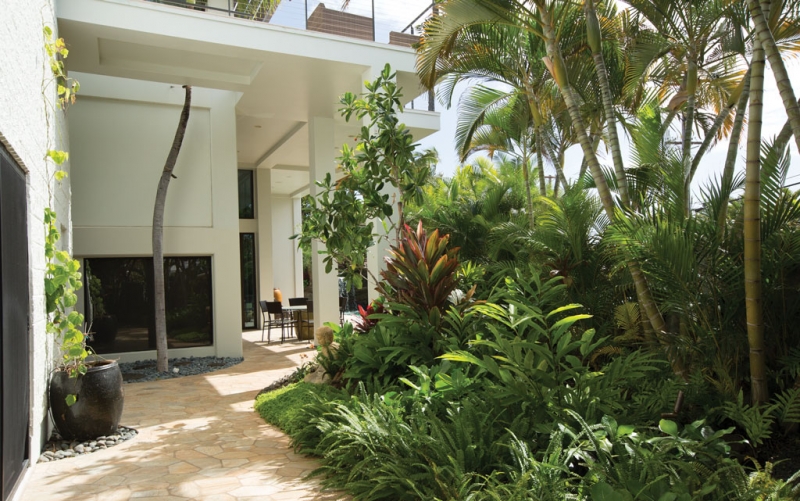 Good to Grow
HawaiiUSA FCU recommends financing options for landscaping projects at each price point.
Although decisions vary from person to person, refinancing your mortgage loan is a great way to afford a high landscaping price point. Refinancing helps you wrap home-improvement costs, along with a first and second mortgage, and any other consumer debt (e.g., credit cards, auto loans) into one mortgage bill payment.
How does your equity measure up? Equity represents the difference between your home's current market value and what you owe on your mortgage. Compare this estimated amount to the proposed cost of your landscaping project to see if a Home Equity Line of Credit (HELOC) makes sense for you. With higher credit limits than a credit card or personal loan, a HELOC can offer access to more funds. Additionally, you gain more control over getting the funds you want, when you need them. Enjoy flexibility of borrowing smaller amounts periodically, and only paying interest when you make a withdrawal. As an added benefit, the interest on your HELOC may be tax deductible (consult your tax advisor). Though attractive, a HELOC isn't for everyone. While they provide lower monthly payments at a good rate, remember that your home is collateral, so it's a good idea to not overuse it.
Alternatively, credit cards or personal loans don't rely upon home equity and are often great choices for smaller loans. These typically have a quick turnaround period, competitive rates and commonly start at lower minimums, under $10,000. You have the flexibility to choose how to use these reliable types of financing for a wide variety of expenses, such as home improvement, travel, medical expenses or emergencies. Additionally, you may find it helpful to consolidate other credit-card debt into a single lower-rate credit-card or personal loan. By transferring your high-interest loan balances, you can lower overall debt faster, reduce multiple payments to one payment and save money.